Order Everything at Finn Town, SF's Tavern and Late-Night Food Haven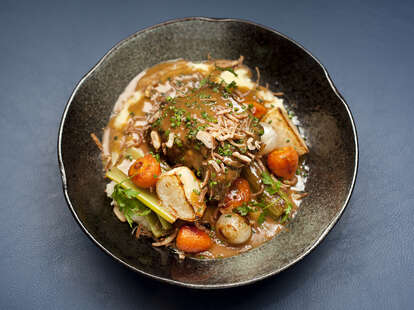 Back in the 1860s, The Castro was called Finn Town thanks to a dense population of Finnish seamen. Today the seamen are all gone (sort of), but the old 'hood is revived with the opening of Finn Town, the new tavern venture from wunderkind Top Chef alum and Today Show regular Ryan Scott (Gary Danko, Market & Rye). Now open and taking reservations at 2251 Market between Noe and Sanchez Streets, Finn Town figures to be The Castro's classiest late-night cocktail- and nosh-haven with two bars both serving the full menu, a plush-booth dining room with a seriously '60s interior, and a comfort food menu that's easy on your wallet with all entrees priced $25 or less.
"We built a 'Cheers' for San Francisco," Chef Ryan Scott told Thrillist just hours before Finn Town's ribbon cutting and opening on December 2nd. "This is a place that we want you to call home. It's comfortable, it has large seating, it has small seating, it has that 'I just want to stop by for a martini and oyster' kind of feel. But it also has a late-night burger feel at the same time, or if you're in a dessert mood we have desserts for you."
Finn Town's late-night bar menu might make it the popular new kid in town, serving food until 1:30am Thursdays through Saturdays and 'til 12:30am Sundays through Wednesdays. San Francisco has never been much of a late-night food town, but Finn Town's nightcap options of smoked trout roulettes, Finn clam chowder, and a huge Grasshopper sundae may change that in a hurry.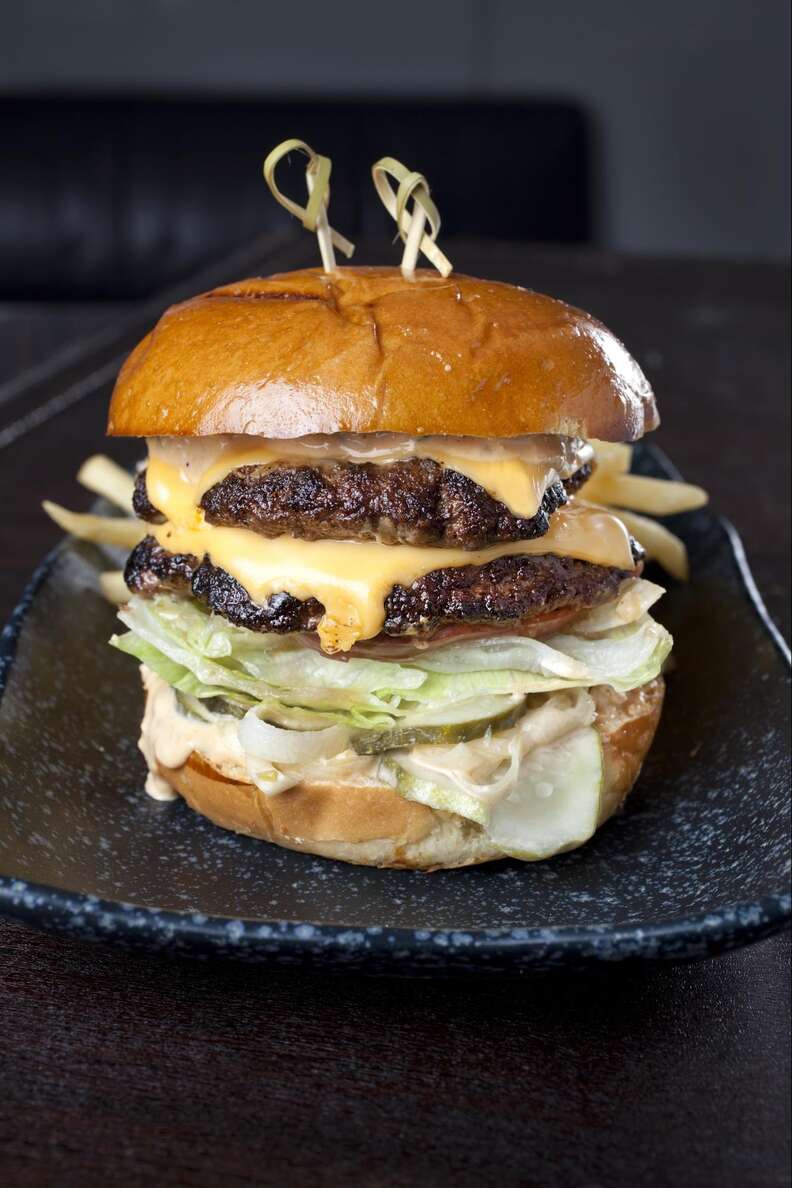 Serving up comfort food with a serious twist
Finn Town sounds like a Scandinavian food place, but the brunch and dinner menus are home-and-hearth comfort food just like grandma would make (if grandma had the gourmet skills to be featured on Top Chef).
"The cuisine itself is contemporary comfort fare with a twist," Scott said. "It's everything that we're familiar with, everything that we understand, everything that we crave on a daily basis. We bring that on a contemporary side, with a twist. It has everything that we know, but then there's a little nuance, there's a little twist to it that surprises people."
So what is this "twist," exactly?
Look no further than the Finn Town Burger, an epicurean double-decker that's proudly prepared with American cheese. "We take our hamburger meat which is done just for me by Golden Gate Meat Company, a third-generation family-owned meat purveyor in the Bay Area, and they grind this hamburger made just specifically for Finn Town," Scott told Thrillist. "Then we have this proprietary mix that we have done, which is the umami bomb."
If this has you jonesing for the dearly departed Umami Burger, hold on because it gets even better.
"What Jason Raffin, our chef de cuisine has done, he's come up with this salt mix that has porcini powder in it," Scott continued. "We crush it into the outside of this amazing house-ground hamburger that comes just for us, hit it with this spice that goes directly onto our plancha -- we don't do a grill, it's a plancha so it's that really hard sear."
"Once it's caramelized and gorgeous on one side we flip it over and we add American cheese," Scott said, praising American cheese in superlatives I've heard from no chef ever before. "American cheese is what we've known for so many years. It's our favorite cheese out there. American cheese is layered on top and bottom, and we make our own homemade Thousand Island sauce, which is a three-cooked egg Thousand Island."
The burger is served up on a house-made bun. In fact, every bread at Finn Town is house made -- from cracked-wheat oat bread to salt and pepper crackers.
A toast to uniquely San Francisco cocktails
Plenty of places in the city serve craft cocktails, but few represent San Francisco like those at Finn Town. The Finn Town cocktail menu is based on your favorite historical San Francisco icons, including the Harvey Milk-themed drink called The Milkman -- a vodka, lychee milk, and ginger concoction served in a glass milk carton that is the cutest damned cocktail you've ever seen.
"My background goes as far back as before I was able to drink," said Finn Town's resident mixologist Anthony Parks (Rickhouse, Bergerac) "We built a cocktail menu around people who have done something special in San Francisco, or that were from San Francisco, or have influenced The City in some way."
Other San Francisco signature cocktails at Finn Town include the Jerry Garcia-inspired Captain Trips (hemp seed oil, rum, lemon, matcha tea, green cardamom, honey, and egg whites), the Janis Joplin-themed Ball & Chain (bourbon whiskey, Averna, and raw honey) and a Carol Channing homage called Show Girl (vodka, aloe vera, strawberry soda, and rosemary).
To top it off, Finn Town throws down an inspired craft cocktail selection at two -- count 'em -- two happy hours every night (5-7pm and 10pm till midnight).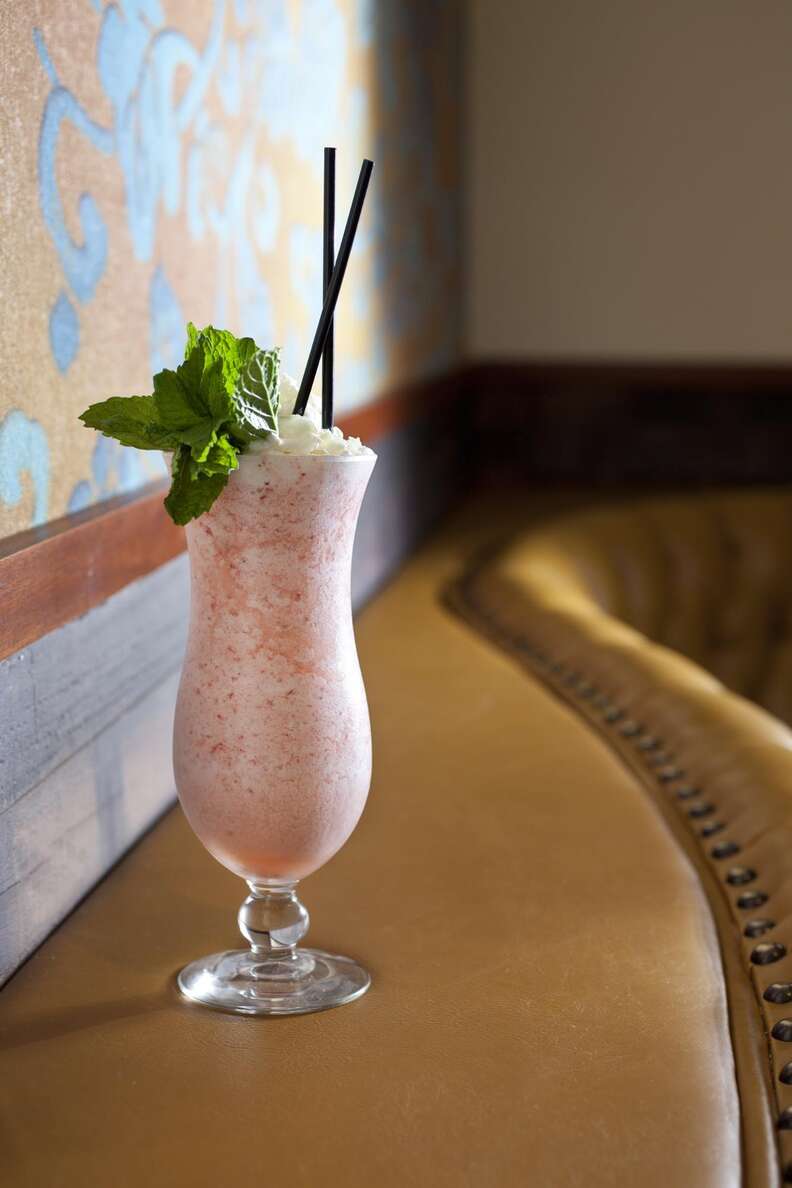 The Down-Low Menu
Plugged-in locals and Finn Town regulars will quickly become familiar with Finn Town's down-low cocktail menu, which will not be a matter of public knowledge. "We've put together this down-low menu that is going to be by request only," Parks told Thrillist. "It's going to be a little bit more of our raunchier side, having a little bit of fun with the menu. We're doing a cocktail called Fire In The Hole, which is a house-made Fireball that we're bottling in our own little airplane mini bottles."
Just between us, the down-low menu also includes scandalous offerings like the Scissor Sisters (gin, vodka, lemon, strawberry-elderflower, and coconut cream) and the Pillow Biter (vodka, espresso liqueur, cream, egg, and nutmeg).
San Franciscans love a good secret -- from the secret menu at In-N-Out to any number secret bars -- so do some digging and keep these offerings hush hush.
Be sure to save room for dessert
In-house pastry chef Cheryl Storms (Pinkie's Bakery, Citizen's Band) takes the cake by creating all of the breads and desserts at Finn House, with standouts including baked to-order Madeleines and a pumpkin pie and chocolate crumble dish called the Pie Hole that's served with a homemade Fireball shot.
"We really put our heads together to come up with some stuff that was comforting and kind of reminiscent of what your Mom or Grandma would have made you, and then elevated that and brought our expertise to really make it unique and different and exciting," Storms told Thrillist.
Also included on the Finn Town dessert menu is a dish called Hummingbird Cake, which Chef Ryan Scott will show the world how to prepare when he appears again on the Today Show December 12th in a segment called "Rock Star Desserts." A take on carrot cake, the Hummingbird Cake has bananas and roasted pineapples inside with a cream cheese topping and buttered rum sauce.
Catch Chef Ryan Scott, a man about town
If Finn Town is a "Cheers" for San Francisco, you best get to know the name of the man running it all. In addition to his December 12th appearance on the Today Show -- his "bazillionth appearance on there" -- Chef Scott will also be on the Rachael Ray Show on December 23rd. You can also hear Scott on his weekly radio show on KGO-AM (Saturdays from 5-7pm), promoting his new cookbook called One To Five: One Shortcut Recipe Transformed Into Five Easy Dishes.
Or you can just catch Ryan Scott at Finn Town, praising American cheese in superlatives you've heard from no Top Chef ever before.
Sign up here for our daily San Francisco email and be the first to get all the food/drink/fun SF has to offer.
Joe Kukura is a freelance writer who couldn't pick Hoda or Kathie Lee or Rachael Ray out of a police lineup. You can admonish him for this on Twitter at @ExercisingDrunk.