New Zealand is popping up the next must-go spot
Throughout history, it's been hard to discount the cultural contributions of New Zealand, which a) was the first major nation to have universal suffrage and b) produced the chick who played Xena, Warrior Princess!!! Now adding a c) to that already great list: Waiheke Island Yacht Club, a Kiwi-born restaurant now popping up for America's Cup (which apparently runs until September??) at Pier 29.
With the restaurant being from the team behind NZ's Clooney Restaurant -- one of only two restaurants in the Land of the Long White Cloud with a "Three Hats" distinction (NZ's version of the Michelin star program) -- the bar program's a blend of Zealand and local, with cocktails like this also-named-after-what-you-are-often-told-after-bad-pick-up-lines Yeah Nah, a combo of whiskey, smoked plum, PX Sherry, and Creme Yvette.
These are tap handles from the premium NZ brewery Moa, which relies on "traditional, costly, inefficient, and labour-intensive techniques"!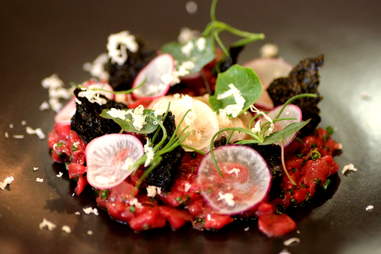 With the food also from the award-winning team, their goal is to show you what exactly New Zealand cuisine is, actually flying in ingredients from the island to make unbelievable dishes like this oyster-, radish-, fresh horseradish-topped "Hawke's Bay" cervena tartare.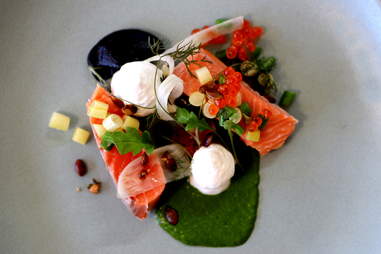 This artistic edible is their salmon with eggplant, coconut, roe, and rocket emulsion (which sounds a lot cooler than arugula emulsion... which is what it is).
Their version of a Bloody, this Red Snapper is a combo of Bombay East (Bombay Sapphire with black pepper and lemongrass), Clamato, and Sawyer's nickname for Kate in a bikini (Waiheke Island spice).
Nice (Silere Merino lamb) rack (w/ olive, tomato, feta & parsley puree), Waiheke.
This cocktail has violet jelly on the rim. Discuss.
Incorporating the work of the local chocolatier, this pile o' deliciousness is a TCHO "Crunchy Bar", with honeycomb, Mandarins, and a New Zealand honey, or Lucy Lawless if you happen to be Gabrielle.