Chances are, if you live in SF, at some point you'll date someone who has a crazy dietary restriction. And we want you to know that we're here for you. Not like, we're-gonna-go-on-the-date-with-you "here for you", but we do have five places that cater to five of the most common diets.
Vegetarian
Ike's Place
Castro
What your date will get: Tom Brady (avocado, cheddar, garlic & herb sauce, mushrooms, vegan breaded chicken)
What you'll get: Anything off the hidden menu
Grab a bottle of wine, head to the park, and try not to think of how emasculated Tom Brady makes you feel.
Vegan
Nopalito
Western Addition
What your date will get: Off-menu vegan enchiladas
What you'll get: Carnitas
A Nopalito secret is that they will make you vegan enchiladas if you just ask. Meaning, while your date is chowing down on some enchiladas made of a medley of seasonal grilled veggies, you'll be housing braised pork with orange, milk, bay leaf, cinnamon, and beer.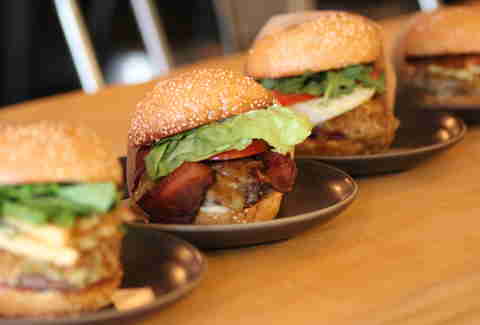 Paleo
ROAM Artisan Burgers
Lower Pac Heights/Cow Hollow
What your date will get: Double bison patty, classic-style with a lettuce wrap
What you'll get: Pretty much the same thing, but with bread like a normal person
While your date is avoiding (possibly?) harmful GMOs and filling themselves with as much protein as humanly possible, you'll be not doing that. Oh, and the fries are made with rice bran oil, so your date might be able to eat those, too? We think?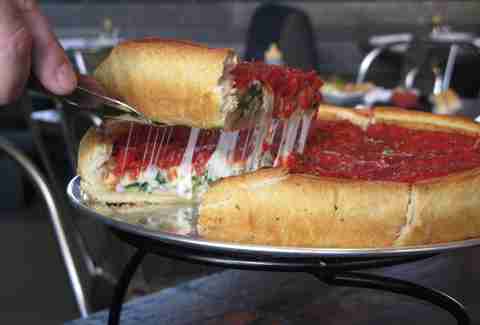 Gluten-Free
Patxi's Pizza
Hayes Valley/Noe Valley/Marina/Inner Sunset
What your date will get: Prosciutto & arugula on a gluten-free, thin-crust pizza
What you'll get: The Matt Cain (deep dish with Zoe's pepperoni and fennel sausage)
While your date is munching on their gluten-free disc, you'll try to ignore multiple scientific studies that prove, unless they have Celiac's Disease, their gluten intolerance is BS.
Juice Cleanse
Dolores Park Cafe
The Mission
What your date will get: Mighty Cleanse (kale, spinach, carrot, beet, cucumber)
What you'll get: Pastrami on rye (Russian dressing, pickles, red onion, and melted Swiss cheese)
You and your date can grab a bite to eat on the edge of Dolores, wistfully talking about how much you love the park, and this city, and -- did they just steal one of your potato chips?? You're pretty sure they just stole one of your chips!!!!
Sign up here for our daily San Francisco email and be the first to get all the food/drink/fun SF has to offer.