Paid Content For
United Airlines
How a Hawaiian Vacation Changed the Way This 'Top Chef' Cooks
Paid Content For
United Airlines
When most people think of visiting Hawaii, they think of white-sand beaches, active volcanoes, and a laid-back surfer culture. Melissa King -- Top Chef Season 12 finalist, first-ever chef ambassador for Whole Foods Market, and one of the best female chefs in San Francisco -- thinks of food.
"As a chef... I want to learn about the regional cuisine, see where their food comes from, what's growing there, and how are they using it and turning it into dishes," she says.
"When I travel, I'm always eating; that's why I enjoy it so much."
After hearing about Hawaii's developing culinary scene a couple of years ago, King decided to take a trip to Oahu to visit several farms and eat her way around Honolulu and the North Shore. In addition to gaining some much-needed R&R, she returned to the mainland a different chef. Here are her picks, from literally farm to table, as well as what she learned along the way.
Stay (and cook) on a farm
"Every time I travel, I end up cooking. I can't help it," King says. "I try to get a place where I have a kitchen because it's hard to go to these places and see all of the amazing products and produce and not cook with it and play with it."
King's passion for produce turned out to be a huge benefit for everyone else staying at Mohala Farms on Oahu's North Shore, where King rented a cabin via Airbnb during her stay. At night, guests would gather in the outdoor communal kitchen and cook dinner. "I didn't even know any of the people on the property, but we had a great night, playing music and grilling and eating outdoors," she says. "That's the whole feeling of Hawaii; the people are just so friendly and they're all about community."
There, King had access to cook with some of the farm's vegetables (its crops include collard greens, kale, arugula, green beans, turnips, radishes, and tomatoes) and grilled marlin caught that morning by the local spear fisherman. "Now, I try to become friends with as many hunters and fishermen as I can," she says. "They might have something really cool that I want, and it's so fresh."
Taste local taro
Taro, a purplish root, was once a staple crop in Hawaii, and its production has been rising in recent years at farms like Kako'o Oiwi, which King visited with a few friends, including pastry chef Kimberly Oi. "I got to see how it's grown and turned into poi. I didn't know too much about taro and didn't cook with it before, but being able to really learn about it was exciting," she says. "So when I came back from the trip, I started playing around with it."
Visit an ancient fishpond
Built nearly 800 years ago, the He'eia Fishpond has weathered natural disasters and human development; since 2001, a nonprofit has been working to repopulate its fish. Currently, they raise moi (pacific threadfin fish), limu (seaweed used in poke and salads), and oysters; and offer guided walking tours for visitors.
"I linked up with my friend, chef Mark Noguchi -- he's a pretty well-known chef on the island and a big advocate for Hawaii's sustainable food movement -- and he took me [there]," King says. "It looks like a lagoon with a walkway, so you can walk from one side to the other. It's a really beautiful place, and Chef Mark told me about the work he's doing there and the volunteers that come and clean the pond and make sure the fish are doing well."
Eat shaved ice… and supermarket seafood
Because you can't cook every meal while on vacation (even when you're a chef), King also made sure to sample local foods prepared by other people, including that famous Hawaiian treat, shaved ice. (She recommends Matsumoto's Shave Ice on the North Shore.) As for the traditional poke dish, she swears by Foodland.
"You might think it's odd to go to a supermarket deli counter for poke, but it's seriously the best place to try an assortment of awesome poke," King says of the chain, which has 15 locations in Oahu. "It was the first thing I did when I got there. We ordered a little bit of every kind of poke, went to a park, laid it all out, and tasted all of it."
And while poke enjoys a trendy status on the mainland, King promises the poke on the island is completely different. "That's something you don't really understand until you actually go to Hawaii," she says. "I came home wanting to experiment with it more."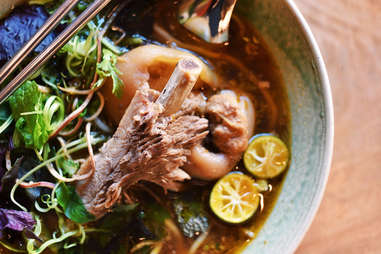 Dine at Pig & The Lady
The only restaurant King was really looking forward to eating at on her trip? The Pig & The Lady in Honolulu. "Chef Andrew Le is well-known on the island for reviving Asian cuisine and making it more modern," she says. "He takes the home-style Vietnamese dishes that he grew up on, like chicken fat rice and Vietnamese pho, and adds his own twist to it."
Le, who was born in Honolulu to Vietnamese parents, opened The Pig & The Lady ("Lady" refers to his mother, who is also involved in the business) as a pop-up in 2011. The restaurant now has permanent digs in Chinatown and a presence at several area farmers markets, where it serves dishes such as spring rolls, vegetarian stews, and French-inspired soups.
What made the meal particularly memorable for King was noticing fellow diners appreciate Asian food in a new, elevated light. "I came back to the mainland thinking, 'I am Chinese and I need to do more with my style of cuisine and really be proud of the food I grew up with and share that through my dishes,'" she says.
Try the shrimp at Fumi's
The North Shore boasts a lot of shrimp trucks, but King names Fumi's Kahuku Shrimp as her favorite. "Giovanni's is another really popular one, but if you go 10 minutes past Giovanni's, you'll find Fumi's," she says. "It's so simple -- garlic shrimp with two scoops of rice and a little bit of lettuce on the side."
But that simplicity really resonated with King, who grew up eating comfort-style dishes such as dumplings, noodles, and porridge. "The food of Hawaii is comfort food," she says. "It's very simple, but done in a delicious way."
Daisy Barringer is an SF-based freelance writer who was once lucky enough to eat Chef King's food. She counts it as one of her favorite meals she's ever eaten. Follow her on Twitter.