Remember that time you went to that mansion in The Mission where that guy who used to work at Gary Danko butchered that entire goat while you sipped on flights of mezcal cocktails and pummeled pinatas and a mariachi band (wait, where'd they come from?) serenaded everyone and you talked to some cute blonde chick (wait, where'd she come from??) about how this was the first time either of you had had tequila-braised octopus?
Oh wait, no, that wasn't you! That was the guy who had been to one of SF's seven secretest supper clubs (which we've kindly listed out for you below, along with how to join every single one).

Lazy Bear
When: Several times a month
Where: Right, like we're gonna tell you that up-front
Why you should join: The food, cooked by a former practicing lawyer (who has popped-up at Nopa, Commonwealth, Mission Street Food, [insert Michelin-starred restaurant here], etc.), is so good that the wait list for every 120-person dinner is 1,000 people. Every. Single. Event. 
How to join: Get in the loop here, then apply to their lottery system. Yes, this super-secret supper club has a lottery system.
Canvas Underground
When: Every few months
Where: Shhhhhhhhhhhhhh
Why you should join: One of them was held on a pier off of the Embarcadero. No, we're not sure how either.
How to join: Either hang out by the one of the mid-40 piers at night with your fingers crossed, or keep refreshing this. Constantly.
Wild Kitchen
When: Monthly-ish
Where: Could be a rooftop in The Mish, could be a houseboat
Why you should join: It's from the people behind Forage, so you know the food will be amazing. Also, the whole rooftop/houseboat thing. Every dinner seats 60 (!) around a table for eight courses, each featuring a locally foraged ingredient. Bacon is forage-able, right?
How to join: Make sure you weren't followed, then click this.
Naked Kitchen
When: Monthly-ish
Where: An aforementioned mansion in The Mission with the mariachi band and the blonde
Why you should join: This supper club plays host to some of the hottest pop-up dinnering operations in SF, including the likes of Tango & Stache, Sous Berre Kitchen, Ante Meridian, and a zillion others -- all of which serve several-course meals in a house you could never afford.
How to join: Practice your secret handshakes, like, a LOT, then fill this out. When/if they contact you, reserve a seat at the spot, because they'll be gone if you try to call back later.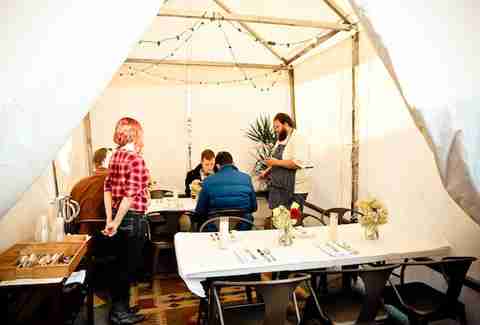 Stag Dining Group
When: Bi-monthly. Sometimes.
Where: A park? Fort Mason? Both possibilities.
Why you should join: Started by five friends in 2010, their two chefs have worked at a myriad of amazing restaurants, and currently are the co-exec chefs at Alembic. Plus, they have boozy sno-cones.
How to join: This.
Our Gourmet Life
When: Bi-Monthly
Where: Not even we know
Why you should join: As you may have guessed from the photo, this dining group is an "erotic experience" where you go for the food and wine, but also the attractive waitstaff in sexy clothing that may or may not play around with each other while you're dining.
How to join: Make reservations for an "Introductory Level", then come back for an "Intermediate Level"... whatever that is.

Spice Supper Club
When: Usually monthly. Usually.
Where: If only we knew...
Why you should join: It was founded on three principals: "1) We love good food and wine, 2) We love our friends … and meeting new ones, and 3) We love the outcome when the two collide... and we are held responsible for it." So, you know they are serious about their eats and drinks.
How to join: Once they start accepting new members, you should contact them here. Before then? Contact them there anyway, and beg to be put on the waiting list.
Joe Starkey is Thrillist's San Francisco Editor, and feels like a mask would get in the way of eating. Follow him on Twitter.