How to Make Some of San Francisco's Best Super Bowl Party Snacks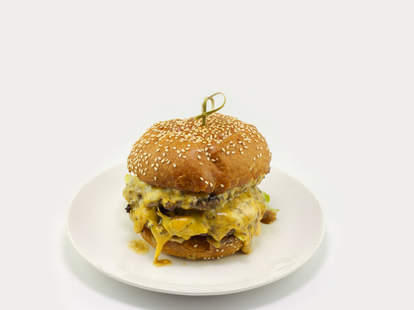 Courtesy of Scotland Yard
You could serve chips and dip at your Super Bowl party (yawn) or you could seriously wow your buddies for a change by making these bomb-ass dishes from Chef Jason Raffin of Scotland Yard. There's a burger we count as one of our favorites in SF, ribs that don't actually require Wet-Naps because you'll lick your fingers clean, and Tuna Ceviche tacos, which are a healthier option, but don't taste like it (a compliment, in case that wasn't clear). And don't worry; even if you don't have crazy skills in the kitchen, Raffin was kind enough to simplify the recipes so that anyone (yes, even you) can whip 'em up. Only problem? Once your friends taste this food, they're going to insist you host the Super Bowl party every year from now on. Just make sure they bring lots and lots of beer.
Courtesy of Scotland Yard
Orange-Glazed Ribs
INGREDIENTS:
1 tbsp mustard seed
1 tbsp black pepper
1 tbsp coriander
1 tbsp chili powder
1 tsp cumin
2 tbsp smoked paprika
1 tbsp paprika
2 tbsp salt
2 cups honey
¼ cup soy sauce
4 cups orange juice
2 tbsp lemon
¼ cup chopped garlic
½ cup fish sauce
1½ cup Sriracha sauce
¼ cup rib spice rub
1 rack St. Louis cut sparerib
1 tsp cilantro, shredded
2 tsp toasted crushed almonds
1 radish, sliced thin
DIRECTIONS:
For the rib dry rub: blend ingredients in a spice grinder (or use pre-ground spices).
For the glaze: cook all ingredients in a rondo pot until thick and small bubbles form. Stir occasionally.
Dry-rub ribs and grill till blackened (4 minutes per side).
Grab oven-stable dish, which fits the full rack of ribs.
Cover twice with plastic wrap and once with tin foil.
Cook in a 350-degree oven for 1 hour.
Turn oven up to 450 degrees.
Cover ribs with glaze and cook 5 minutes. Remove, and cover with almonds, cilantro, and radishes.
Advertisement
You've been working pretty hard on your culinary crowd-pleaser for that Super Bowl Party, so treat yourself with a cold one, and make it a Budweiser.
Courtesy of Scotland Yard
Tuna Ceviche Tacos
INGREDIENTS:
1 cup tuna, sashimi grade
1 tbsp lemon juice
1 tbsp grapefruit juice
1 tbsp fish sauce
1 tbsp asian pear, small dice
1 tbsp watermelon radish, small dice
1 tsp shallots, minced
1 tbsp chives minced
Salt, to taste
1 ea avocado
2 tsp serrano, minced
2 tbsp aioli or mayonnaise
1 tsp lemon juice
1 tbsp sour cream
Micro-herbs (optional)
10 ea taco shell
DIRECTIONS:
In a food processor, mix the avocado, serrano, mayonnaise, lemon juice, and sour cream until smooth. Set aside.
Mix all remaining ingredients in a separate bowl and marinate for 20 minutes.
On the bottom of the taco shell, layer a small amount of the avocado cream.
Top with marinated fish and micro-greens.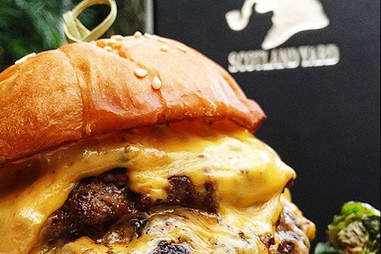 Courtesy of Scotland Yard
The Yard Burger
INGREDIENTS:
1 ea brioche sesame seed bun
2 tbsp cornichon remoulade
5.5 oz ground beef patty
Iceberg lettuce
1 oz aged english cheddar
1 slice American cheese
S&P, generous
2 tsp mushroom powder (either porcini, shitake, or portabella)
1/2 clove garlic, minced
1/4 tsp salt, plus more to taste
3/4 cup mayonnaise
1 1/2 tbsp onion, minced
1 1/2 tbsp bread and butter
Pickles, chopped
1 ea large egg boiled, shredded
1/2 cup cornichons, chopped
1 tbsp yellow mustard
6 tbsp ketchup
DIRECTIONS:
For the cornichon remoulade: mix all thoroughly.
Season meat generously with salt, pepper & mushroom powder.
Sear on a flattop or in a pan at medium-high heat.
Flip over, scraping the bottom to make sure all the crispy brown meat stays attached.
Top with white cheddar. Cover with a bowl or another pan and steam till cheese is melted. Top with American cheese and steam until just melted.
Toast bun.
Spread both sides of toasted bun with cornichon remoulade and put lettuce on the bottom half. Top with burger and let rest for 1 minute.