Glowing blocks of ice and glazed ribs: yes, this IS the Japanese steakhouse of your dreams
Because you only eat steak from restaurants with palindromes for names, you're gonna want to check out Roka Akor, the SF iteration of the Japanese steakhouse/sushi hybrid that is a two-level food-topia with the main dining room centered around a giant korubata grill that also doubles as a traditional shou-sugi-ban counter (charred wood, duh).
Not actually a picture from your cousin's vacation to the Grand Canyon, this is one of the light charred birchwood tables around the space.
Even though they also have an extensive sushi menu, you're really gonna want to get to the meat of things with these Spring onion- and cashew-topped glazed baby back (baby back baby back) pork ribs.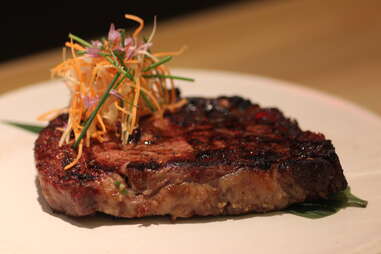 Or one of their six prime steaks that are all cooked on the open flame grill and served with Japanese-inspired dips and dressings that are just as delicious as they are hard to pronounce.
Downstairs is the sexy Roka Bar with optical illusion-y wooden slatted walls, a cocktail program by the guy behind Alembic's 'tails, and a giant glowing block that is actually ice and not uranium.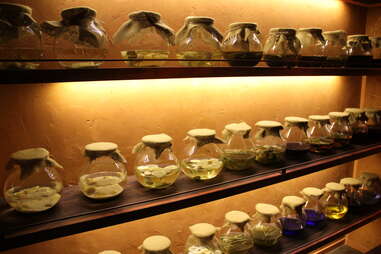 Not pictured: animated Nixon's head, haroooo!
Tired of eating glazed ribs? Well, dig into bar bites like this delicious Japanese fried chicken with smoked aioli, that is like, so much more mellow than other aiolis, bro.