Because you only eat steak from restaurants with palindromes for names, you're gonna want to check out Roka Akor, the SF iteration of the Japanese steakhouse/sushi hybrid that is a two-level food-topia with the main dining room centered around a giant korubata grill that also doubles as a traditional shou-sugi-ban counter (charred wood, duh).
Recommended Video
Roasted Red Pepper Deviled Eggs: Perfect for Parties, Grandma-Approved
Not actually a picture from your cousin's vacation to the Grand Canyon, this is one of the light charred birchwood tables around the space.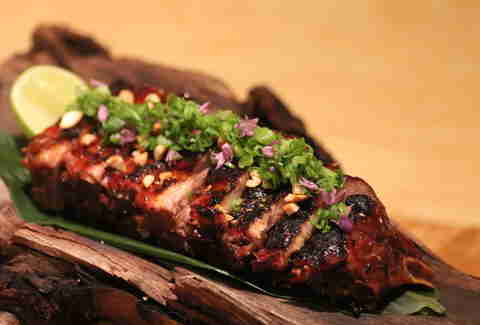 Even though they also have an extensive sushi menu, you're really gonna want to get to the meat of things with these Spring onion- and cashew-topped glazed baby back (baby back baby back) pork ribs.
Or one of their six prime steaks that are all cooked on the open flame grill and served with Japanese-inspired dips and dressings that are just as delicious as they are hard to pronounce.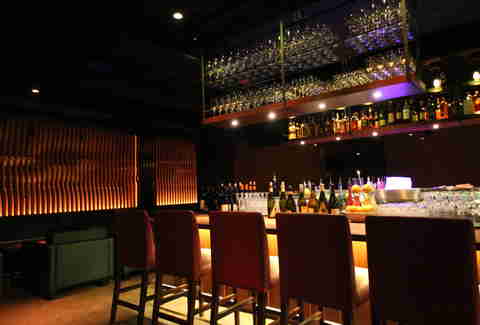 Downstairs is the sexy Roka Bar with optical illusion-y wooden slatted walls, a cocktail program by the guy behind Alembic's 'tails, and a giant glowing block that is actually ice and not uranium.
Not pictured: animated Nixon's head, haroooo!
Tired of eating glazed ribs? Well, dig into bar bites like this delicious Japanese fried chicken with smoked aioli, that is like, so much more mellow than other aiolis, bro.
Previous Venue
Next Venue
Venue Description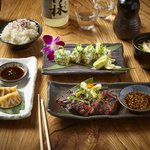 1. Roka Akor
801 Montgomery St, San Francisco, CA 94133
Roka Akor is a contemporary Japanese steak, seafood, and sushi restaurant featuring Robatayaki cuisine. The principle Robata Japanese dishes -- primarily steaks and pork -- are prepared atop 1,900 degree mesquite coals on the centrally located 12ft robata grill, providing an engaging and authentic atmosphere for guests. The meticulously grilled meats are accompanied by other classic Japanese menu items like signature sushi rolls, sashimi and nigiri, crispy tempura, and two omakase menus. And the extensive beverage list is leans heavily on Japanese culture as well, featuring sake, Japanese whiskey and beer, and sochu -- the latter offered in traditional form and in house-infused flavors. An evening at Roka Akor is an all-encapsulating, sensory experience in Robata Japanese dining.