You Can Actually Find Great Late-Night Food in SF. Here's Where.
Wings Wings

| David Won
Wings Wings

| David Won
San Francisco's robust food scene tends to lack one crucial element: kitchens that are open past 10pm. Luckily, a few spots will help you make sure that late-night hanger never has to ruin your party plans. From piled-high nachos and Portuguese breakfasts, to truffle oil-spiked tater tots, San Francisco has got your late-night hunger pangs covered. Keep the night going, or end it with the most perfect snack at one of these 10 restaurants. Food tastes better after midnight, right?
NoPa
Open until 1 am
Enjoy your hungry night owl tendencies and get one of the hardest-to-get tables in town by living it up after hours. When you want sophisticated post-midnight grub, Nopa's full dinner menu is available until 1am. Enjoy classy late-night eats like tender house-made pappardelle, roasted king salmon, or crispy little fried fish. Nopa is typically a place where you need a reservation, but if you come by late, you should easily be able to snag seat at the bar or a communal table.
Financial District
Kitchen open until 1am
Who said that the Financial District is dead after working hours? Southside Spirit House's menu is perfectly curated to your rumbling late-night hunger pangs, and they're serving awesome twists on classic cocktails to pair with your late-night snacks. Truffled tater tots, burrata pesto flatbread, big platters of charcuterie, and coleslaw-topped fried chicken sandwiches are served up late. Late night food is available until midnight Monday through Wednesday, and until 1am Thursday through Saturday.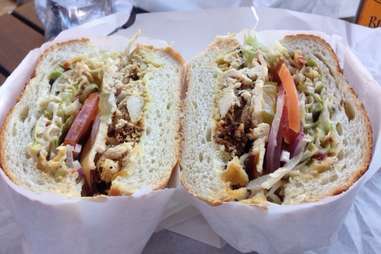 Lower Nob Hill
Open until 2am
Bite is the place to go for a late-night sandwich fix, with fresh bread, fantastic fillings, and flavor combinations that will haunt your dreams. Sure, you could go during "normal" sandwich eating hours, but a big fresh sandwich tastes way better after midnight. Closing time is 2am seven nights a week, so order up a Mama Mia (hot coppa salami, ham, provolone cheese, and presto sauce on sourdough) or a Moshe Moshe (rotisserie chicken, pepper jack cheese, teriyaki sauce on soft roll).
Noe Valley
Open 24/7
This is not a dream, but you could certainly chow down during the hours where most of the city is dreaming (they clearly don't know what they're missing). Happy Donuts on 24th St has a super-fresh selection of glossy, puffy donuts, as well as dense cake donuts for your late-night sugar fix. They also offer an assortment of pastries and perfect breakfast sandwiches on bagels or croissants. Watch the sunrise while biting into a warm glazed donut and forget that you might have to be at work in a few hours.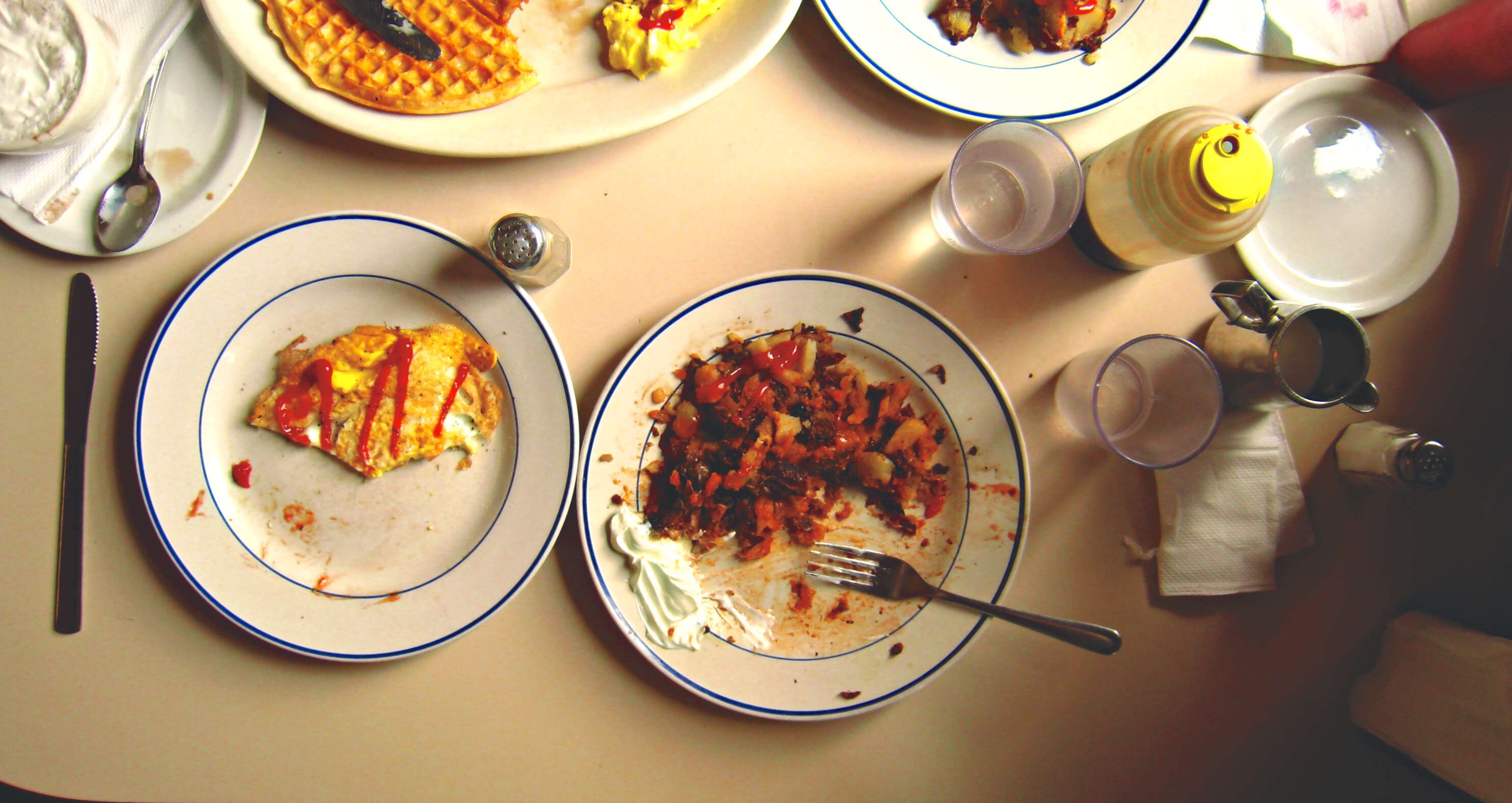 Upper Market
Open until 3am, Monday-Sunday
Some nights call for a classic diner ending, complete with slick booths, a jukebox on every table, and a waitstaff in throwback diner duds. You know the drill: roll in buzzed and chow down on a heap of waffles and pancakes, or get the ball rolling with a hamburger and a crispy golden pile of perfectly fried onion rings. For late-night breakfast lovers, don't skip out on the stuffed waffles, which you can jam full of cinnamon apple pie, bacon, and more. It's technically the morning, right? Right.
Lower Nob Hill
Open until 1:20am
The pure crackling energy of Ryoko's keeps the lively nightlife vibe (complete with live DJ on the weekends) alive while you indulge in some of San Francisco's freshest sushi. This little underground Japanese restaurant on Taylor St is perfectly located for post-drink, end of the night wandering, or another round of sake and Sapporo. There are also plenty of other delicious Japanese foods on the menu for folks not into sushi, as well as a great assortment of drinks. Last call for the kitchen is 12:50am and last call for sushi is 1:20am, because we know you'll want another roll after the clock strikes one.
Mission
Open until 2:30am or 3:30am
You can't go wrong with late-night Mexican food, and El Farolito always delivers. From thick and juicy super burritos, to fresh tacos, to an order of nachos that could feed a small army, this SF franchise feeds the late-eating masses all over the city. It's also cheap and guaranteed to fill you up if you're hitting a surprise wall of late-night hanger, or just gearing up for the next few rounds of the evening. All of the Mission locations are open until at least 2:30am on Fridays and Saturdays. For major night owls, the Mission and 24th location is open until 3:30am on weekends.
Nob Hill
Open until 4am seven nights a week
A little late-night Portuguese feast, anyone? Or how about a gigantic diner breakfast? Take your pick, but know that The Grubstake late night grub game is strong from steaming caldo verde soup to classic diner patty melts. This SF institution is housed in an bustling, cozy old red railroad car that's bursting with wild decor and memorabilia. Upcoming construction may put an end to Grubstake's days in a railcar (though the diner promises it will reopen in a new space), so head over there soon to chow down in the original locale.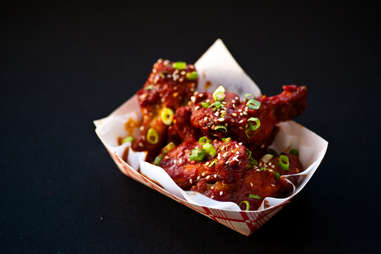 Lower Haight
Open until 2am
What says late-night food like wings? It's like they were invented to be the spicy, finger-licking conclusion to the evening (or you know, to get you psyched for round two). Wing Wings' menu is full of different sauces and add-ons so you can create your ideal wing -- throw in chicharrones or bacon, or get your wings slathered in orange miso or papalote salsa. Fried chicken, fresh-cut fries, and a bunch of biscuit options makes this the perfect late-night menu if wings aren't your thing. Wing Wings is open until 2am Friday and Saturday, and until midnight every night but Tuesday.
North Beach
Open until 4am
Sam's is the late-night king of burgers. A classic San Francisco hole-in-the-wall, this no-frills spot on Broadway slings the finest burgers and fries a late-night reveler could hope for. It's also perfectly situated on the border of North Beach and Chinatown, stumbling distance from all kinds of good times. And it's Tony Bourdain approved, so you know you can trust it. Check out their whole menu, including their famous double cheeseburger, until 4am every night of the week.
Sign up here for our daily San Francisco email and be the first to get all the food/drink/fun SF has to offer.