The 35 best bars and restaurants in Marin
At some point in the near future, a friend or cop or hitchhiker will come to you and say, "Hey, let's go to Marin". And so off you will go -- via ferry, Uber, or even your own fancy vehicle -- to cavort amongst the redwoods, and lakes, and thousands of people wearing extremely pricey biker spandex. And then you will get hungry and thirsty and need to figure out where to go.
Luckily I, friends, have taken it upon myself to move to Marin specifically for the purpose of telling you where to eat and drink in 10 towns (sorry Tiburon, everyone has already been to Sam's). So here it is: the 35 best bars and restaurants in the county, starting close to the city and ending somewhere near Napa.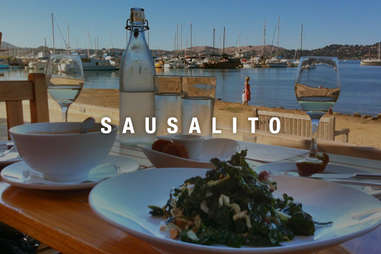 Sausalito
Right over the GGB, sitting in the Cavallo Point Lodge in Fort Baker, this is a great starting point (actually THIS is a good starting point, our guide to the best places to drink Sausalito, but Farley is cool too...), partially because it's so close. And also partially because it's hard to beat sitting outside on this casual bar's deck, eating the essential coal-roasted onion dip, homemade chips, and some spicy duck wings, washing it down with a Falling Slowly (Irish whiskey, apple, lemon, maple syrup, salt), and staring back at the Golden Gate bridge, thinking, "man, I can't believe I've traveled almost four miles from my apartment". Murray Circle is right next door, if you're feeling like a particularly fancy full dinner afterwards.

Sausalito
From the crew that brought you Zero Zero, Bix, etc., BB has been around for three years, and is intensely popular -- especially during the Summer months when you can roam the (adult-only!) bocce court, and then head back to your table by the fire pit in shame after losing to other adults. Get there early, snag an outside spot, and get the speck pizza and the meatballs.

Sausalito
From celebrity chef Joanne Weir (she's on PBS, friends), the place has all sorts of booze (87 tequilas, in fact), and very legit comida. Skip the big moves, and focus on the small plates (Mexico City-style quesadillas), and tacos (fried pork belly and the fish one with roasted pineapple pico de gallo should do nicely).
Sausalito
Considered by many to be the best sushi place both in and outside of the city, Sushi Ran is perpetually packed, so consider going late, as the Marin crowds tend to disperse by 9pm to go pay babysitters. Sit at the bar if you can, order the sashimi, and watch Chef Takatoshi make delightful, delicious things you'd normally cringe at.

Sausalito
The newer, fancier place to drink, this is where you want to go for barrel-aged and house craft cocktails (go for the Wicked), house-made sodas (try the Fires of Mordor), and upscale bar snacks like umami ribs with apple slaw.

Sausalito
If you are looking for the dive bar in Sausalito, you have found the dive bar in Sausalito. Just leave me a drink on the drink board, please.
Mill Valley
It's small and cool and does all of the things you'd expect a small, cool restaurant to do in the city, except for the whole not-being-in-the-city part. A positive Michael Bauer review has made it pretty damn crowded, but it's worth it for the damn well thought out small eats (especially the Manila clams with house bacon and chili oil), and a cast iron ribeye that doesn't eff around.

Mill Valley
A celebrity chef and a former rock star going in on a restaurant together seems like a disaster, but El Paseo has endured the spotlight that came when Tyler Florence and Sammy Hagar teamed up to restore the old famous space, and it remains the place to go if you want to do the steakhouse move in Marin. Get the pastrami marrow.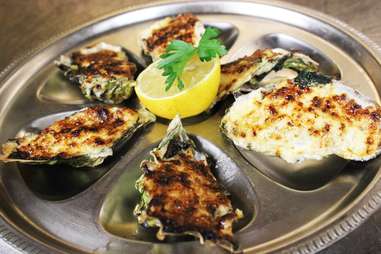 Mill Valley
Speaking of legends, this place on the Shoreline Highway has been around since 1937 and is basically a must-hit if you're really going to do Marin. Also, I'm not really giving you a choice on what you're getting: just order the damn famous Oysters Bingo, smoked chicken wings, some BBQ ribs with maple mashed yams, and the s'mores pie, and you will have hit the cult-favorite grand slam.

Mill Valley
If you're ever wondering where Marinites who have recently finished a relatively stressful hike or bike ride around Mill Valley go to eat brunch, it is here. The wraps are the move, as are the fresh juices located in that fridge right by the counter.

Mill Valley
The staff makes their own (delicious) beer (I'm partial to their Sweetwater Kolsch), offer an extensive, well curated list of others (right now I'm looking at 2011 Dieu du Ciel Solstice d'Hiver from Canada, and a L'Olmaia Karkade Zymatore from Italy) and serve roasted pig cheek as an app. So yeah, go do that.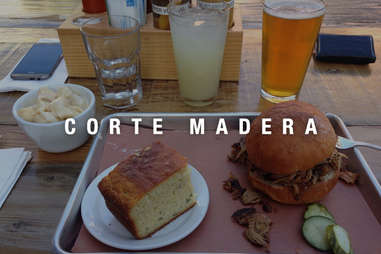 Corte Madera
Everything in Corte Madera seems tucked into weird shopping centers, and Brick & Bottle is no different, but it's got a legit happy hour with a must-get pimiento cheeseburger, solid wood stone oven pizzas, and, yeah, did I mention a pimiento cheeseburger?

Corte Madera
This is a gem I discovered by accident while wandering around waiting for my broken phone to become magically unbroken. From Damon Stainbrook, it's a simple, small BBQ joint with some of the best 'cue in the county, especially the sandwiches like the Wagyu/Black Angus Cross Brisket on a homemade milk bun, and the Pulled Mary's Chicken Salad sandwich with Alabama white sauce, which, like Marin itself, freaked me out at first, before I got really into it.

Corte Madera
FINE YES, IT'S A CHAIN, and they make things with veggies, but damn if it isn't a delicious cultish chain, and this is the only one within 35 miles of the city, and just go there and see for yourself.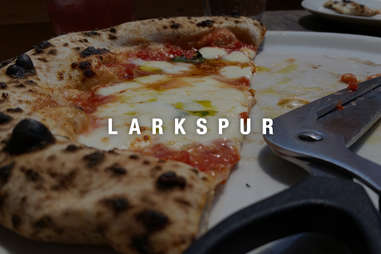 Larkspur
Always crowded, always popular, and possibly the best restaurant in Marin, Picco would kill it in the city too, with its thoughtful menu (fresh risotto comes up every 30 minutes), seriously legit cocktails, and -- on top of that -- a side pizzeria offering up some of the best pies in Marin

Larkspur
It's expensive as hell for the sliced meats, but once you taste them, you'll be like "wait, I can probably stop washing my clothes, just so I can eat this ham". Also, you can add jowl bacon to the burger. So you should add jowl bacon to the burger.

Larkspur
I've said it before, I don't even care about the rest of the fancy stuff on the menu, because I end up just eating all of the damn delicious pizzas every time I go there. Plus, you get to cut them with scissors, and that's pretty fun.

Larkspur
One of the best dive bars in the country, the Peso is always a good time for cheap drinks and conversations with people who're so old and tan they could honestly be either 60 or 95 years old. Oh, don't go there the night before Thanksgiving, as it becomes EVERYONE'S WORST NIGHTMARE.
Kentfield
If you find yourself in Kentfield, staring at the College of Marin with nothing to do during brunch, don't fret (or bother going to the Half Day Cafe) -- hit up Woodlands instead for strawberry pancakes, or the shredded flank steak machaca with scrambled eggs, refried beans, pico, plantains, queso fresco, and tortillas.
Ross
Ross is so small it barely registers as you're flying down Sir Francis Drake, but Marché is worth the venture within the two block town center, especially on a warm summer night where you can sit outside on the front patio. Start with the avocado and salt-cured tuna on focaccia, as well as some of the Medjool dates wrapped in maple bacon with pecorino cheese, and then get the orecchiette with fennel sausage, and bring home some of that ridiculous Marché bacon cured with maple syrup and brown sugar.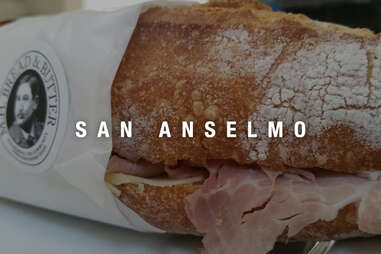 San Anselmo
My favorite lunch/breakfast/pastry shop in Marin, M.H., from Nathan Yanko -- a former Tartine baker -- sits just past one of the many bike shops in San Anselmo, and has the best artisan breads in the county, as well as pastries (the monkey bread makes me weep), and sandwiches (the Cubano and the pastrami are legit). And if you truly want to get Marin with it, there is also house-brewed kombucha. Not that I've had it or whatever.

San Anselmo
Named for the owner's mother, in a pretty adorable fashion, Taco Jane's sits down a side street off the main drag in SA in a former private home. You feel like you're walking into someone's redone, sweet Mexican-themed man cave when you enter, with a tiny bar in the center, and colorful tables dotted throughout the rest. I'm a fan of the griddled sweet plantains, and the grilled chicken tacos with achote onion pepper salsa, chipotle aioli, chopped lettuce, jack and cheddar, but the rock shrimp burrito served "wet" (pause for giggles to die down) is also very legit.

San Anselmo
It's a solid pizza place with a rotating lineup of live music. But what puts it on the list is the owners' little tiny craft beer bar/speakeasy located in the back of the shop (shhh).

San Anselmo
Another legendary spot on the Marin culinary tour, this mostly take-out resto/bakery feeds half of central Marin (okay maybe not half) with its famous Chinese chicken salad and chicken okasan, which usually sells out well before closing time. But the cafe is no slouch either, especially once you try the Shannon Ranch lamb sandwich with mint marmalade.

San Anselmo
If you want to do the upscale Mexican move, this is your spot. Do yourself a favor and go on a Wednesday -- not only will the bar not be crowded, so you can get a Deluxe marg, but it also has an amazing Tacos de Borrego special with braised lamb shoulder, cilantro, and jalapeño sauce that has made grown men cry. Or at least slightly tear up or whatever.
San Rafael
The most popular restaurant in San Rafael, and possibly all of Marin. Sol Food makes Puerto Rican cuisine, and -- once you start eating it -- you get obsessed and no longer mind the long lines snaking out onto Lincoln Ave. Get a Puerto Rican "po' boy" with plantain-fried prawns, or the pan-fried pork chops, then get immediately back in line to wait for some more.

San Rafael
Although I'm not knocking the food here (I very much enjoy the spicy chicken sandwich!), this spot -- started by former Grateful Dead bass guitarist Phil Lesh -- is more of a music venue with food, rather than vice versa. Also, did you know the Grateful Dead were essentially a San Rafael band?

San Rafael
It's a tiny little spot next to the Trader Joe's with a strange clientele made up mostly of old people who seem slightly angry about the amount of fries they get. But these burgers are certainly solid -- especially if you keep it simple and get the cheeseburger with American, grilled onions, pickles, and "sauce" (a mixture of ketchup, mayo, and mustard). Just cut them some slack, and don't bitch about the fries.
Fairfax
I've heard good things about the lunch and dinner menus, but I can't speak to them, as I've only ever crushed lots and lots of chorizo scrambles, and cinnamon walnut French toast here. Luckily, they serve breakfast 'til 3pm so you, too, don't have to make hard decisions.

Fairfax
If you've ever wanted to drink really good German beers, and eat all sorts of delicious brats, amongst so many people who've recently gotten very into mountain biking, this is your spot.

Fairfax
The best ice cream in Marin is made right here at this tiny shop. They cycle through about 100 flavors, and while I could get into the whole local and organic spiel, really, once you stand in that line and watch a maybe-stoned dude pressing out homemade waffle cones for all those damn delicious flavors, you'll see for yourself.
Novato
It's a Novato institution for breakfast. It's got all sorts of Benedicts on the menu. It has a spicy hollandaise. It's got those delicious shredded hash browns that look like strips of paper, fried. I don't need to go on.

Novato
You'd think Toast would be a breakfast spot, and yes, it does have breakfast, but it's mostly an upscale all-meals restaurant, popular enough that another one opened in Mill Valley. Get the buttermilk fried chicken with jalapeño cheddar corn bread, or the old fashioned meat loaf. For Will Ferrell's mom.

Novato
It's got a beer and bison burger with pub cheese. So just go in knowing that.

Novato
It just seemed like it was worth pointing this one out.
Sign up here for our daily San Francisco email and be the first to get all the food/drink/fun SF has to offer.
Kevin Alexander is the Food & Drink Executive Editor and he thinks all cheeses should be pub cheeses. Challenge him to an adult bocce game you will DEFINITELY win @KAlexander03.