Bocce, fire pits, and a huge outdoor patio come to Mission Bay
If there's one thing in short supply in SF, it's actually really legitimately cool places to hang outside. Sure, there's always Zeitgeist, but does Zeitgeist have bocce, good food, and awesome views of the bay? Yeah, not so much. New to Mission Bay STEM Kitchen & Garden, however, has all of those things (and other stuff, too!). Here are five things you need to know about SF's newest awesome al fresco option: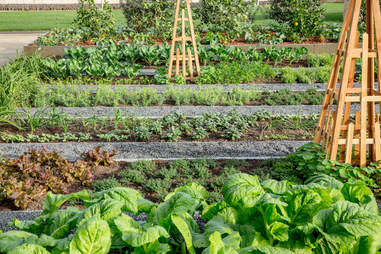 Aubrie Pick
1. STEM does farm-to-table food -- quite literally
The back patio is filled with raised beds and planters of edible plants, 100% of which are incorporated into STEM's dishes. There are even farmers dedicated to overseeing the planting, growing, and harvesting of the produce.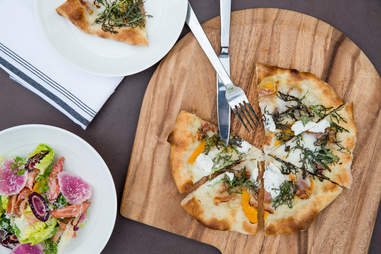 Aubrie Pick
2. It's open for breakfast, lunch, and happy hour
STEM opens at 7am, so you can score a chocolate croissant or a frittata (w/ maitake mushroom, spinach, Cypress Grove Gouda) before heading into the office -- if heading into the office is something you do. Lunch starts at 11am and you can feast on California-Mediterranean fare or chow down on a really good pizza, including a Cinderella pumpkin number w/ sage ricotta, pancetta, and red frill mustard. The best part, though? Happy hour starts at 3pm. Now we're talking.
Daisy Barringer
3. There are fire pits and bocce
Is there anything better than sitting around a fire pit, drink in hand, while taking in sweeping views of the bay? Yes. And that thing is beating your friend at bocce. At STEM, you can do both.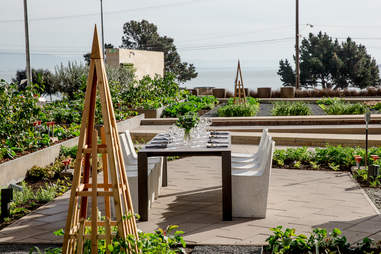 Aubrie Pick
4. No, seriously -- the outdoor space is huge
And there's also a back patio that seats 20 and is covered and heated, which should come in handy 300+ days of the year.
Aubrie Pick
5. And now the bad news: it's only open Monday-Friday
We're hopeful that will change one day, but for now, STEM is only doing the do from 7am-7pm, Monday-Friday. Good news, though? That means 1/3 of every day is happy hour.
Sign up here for our daily San Francisco email and be the first to get all the food/drink/fun SF has to offer.
Daisy Barringer is Thrillist's SF Editor and her dream in life is to one day have a backyard with a fire pit. And a hot tub. And a pool. And a donkey. And maybe a few goats. If you have a yard with any of those things, follow her on Twitter @daisy and ask her to marry you, please.