Your new Mission late-night must-have
Besides being something you probably shouldn't type into a Google image search, Stuffed is also now a Mission Street eatery perfect for pre- or post-bar cravings, largely because they specialize in two delicious necessities: pierogies and beer.
"What's a pierogi?", you ask? Why, dear non-Eastern-European-descended reader, it's a Polish dish traditionally consisting of potatoes and cheese wrapped in dough, boiled, then fried. Though in the case of Stuffed, they have a wide variety of way-less-traditionally-Polish ones, including this bacon and cheese, which, depending on the day, may come with the option of a bacon wrap (!!!).
Along with this delicious Buffalo pierogi (bleu cheese, more cheese, and Buffalo sauce), they'll have rotating special 'rogies (that's a nickname, right?), and sides like coleslaw, sauerkraut, and Brussels sprouts.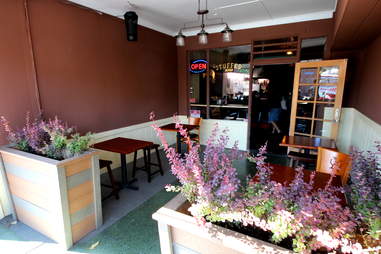 And about those beers... They've got an all-bottled/-canned/-Tall-Boy-ed program that's starting off pretty basic, but should be bringing over Yuengling and Great Lakes brews which are almost impossible to find West of the Mid... West. Enjoy 'em inside at the bar or on their covered patio where you can leisurely watch Mission passerby(-on-a-fixie-)s.