SF's Year In Fat: Our 11 favorite fatty foods from 2013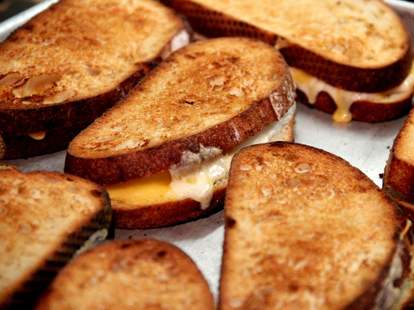 Though San Francisco may be stigmatized as a health-food paradise, that certainly hasn't stopped chefs around the city from creating some seriously unhealthily amazing dishes (using fresh, farm-to-table ingredients, of course). And so, to make you feel totally terrible about all of your resolutions, we take a look back at our 11 favorite fatty foods from this year (calorie counts included!).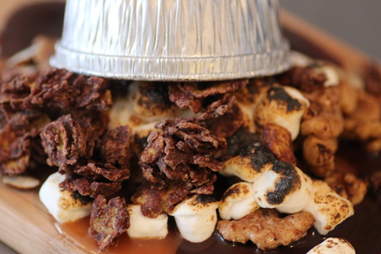 The Inception
Creme Brulee Cart, The Mission
Approximate Calorie Count: 707
Putting together this Thrillist-created, Leo DiCaprio movie-nodding, off-menu exercise in food ecstasy is easy: just take whatever toppings you might want (we did chocolate cornflake clusters, toasted nuts, and sea salt caramel), and top THEM with YOUR BRULEE.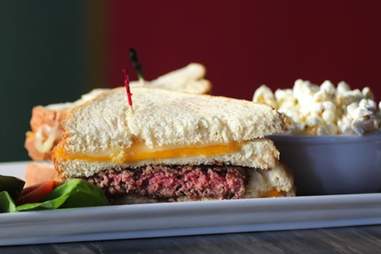 Deluxe Burger
Wild Hare, Pacific Heights
Approximate Calorie Count: 740
There're no frills about this, other than the main twist of replacing the buns of a half-pound patty with two full-sized grilled cheeses. It's almost like you came up with this recipe in college. Or after seeing Trevor in Dolores Park.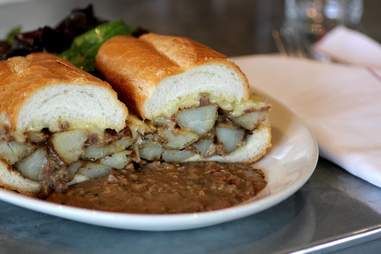 Korean Spicy Pork Cheesesteak
Kitchen Mojo, Potrero Hill
Approximate Calorie Count: 1025
Sure, your friend from Philly might question this way-less-traditional spicy pork c-steak (w/ peppers, onions & spicy Korean aioli)... and then he might ask for a bite of it... and then he might eat the entire thing while running from you...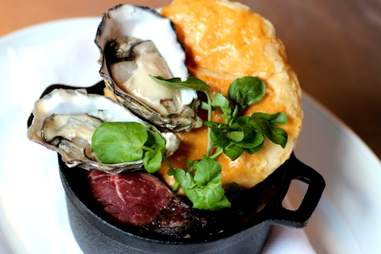 Steak and Oyster Pie
Cavalier, SOMA
Approximate Calorie Count: 1197
Probably the reason that all British people are so overweight (What's that? It's Americans? Huh.), this version of a pot pie has a pastry shell exterior filled with beef cheek, hangar steak, and ribeye, all topped with oysters on the half.
Ike's Place<br />
Menage a Trois
Ike's Place, Castro
Approximate Calorie Count: 1219
Ike's has some of the best sandos in the city, and the real champion has to be this gluttonous combo of three cheeses (cheddar, pepper jack, Swiss), chicken, and three sauces (honey mustard, real honey, and dirty)... which is exactly how you feel after a non-sandwich Menage a Trois.
Fried Chicken Platter
Proposition Chicken, Hayes Valley
Approximate Calorie Count: 1224
Showing us that you really can't beat the classics, Proposition Chicken in SF is frying up some positively golden chicken dinners, like this one, which's sided with a buttermilk biscuit, honey butter for dipping/spreading on your body, and spicy cole slaw.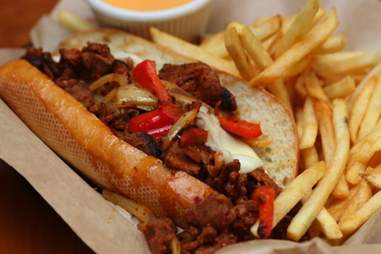 French Fry Po' Boy
Boxing Room, Hayes Valley
Approximate Calorie Count: 1300
This is awesome, Saints-hat-wearing Chef Justin Simoneaux's secret Creole version of poutine: he slides cheddar-topped French fries slathered in bacon and giblet gravy into a roll, and bakes the whole damn thing. Then serves with a side salad, ya know, to keep things healthy again.
California Gold
Mission Cheese, The Mission
Approximate Calorie Count: 1345
Combine San Joaquin Gold & chevre cheeses, Dalmatia fig jam, and La Quercia prosciutto. Press that sucker on olive oil-slathered Josey Baker Bread. Consume while drinking a Pac Brew Lab's Squid Ink. Or don't... we don't control you. But if you're already treating yourself so well with food, you might as well go for the gusto.
Ramen Burger
OneUp, Union Square
Approximate Calorie Count: 1451
It's like a regular burger... except so much better, seeing as a perfectly circular egg, bacon, and a grass-fed patty all get sandwiched between two ramen discs that've been baked and seared in oil... ya know, in case things were getting too healthy.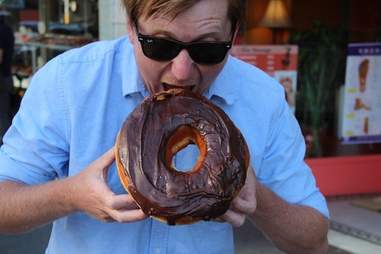 Giant Donut
Bob's Donut and Pastry Shop, Nob Hill
Approximate Calorie Count: 1846
What more can we say about this other than it's a piece of fried dough that's about a foot in diameter and probably bigger than your head? Unless you are John Madden, in which case, we are so sorry.
Grilled Cheese Cake
American Grilled Cheese Kitchen, The Mission & SOMA
Approximate Calorie Count: 18,901
No, this isn't a grilled cheesecake. That would be ridiculous. This is a cake made from anywhere between 34-36 grilled cheeses, with Cheez Whiz flourets (and the option of adding bacon), all consisting of sourdough, cheddar, Havarti, and Jack.