6 new menus from 6 San Francisco favorites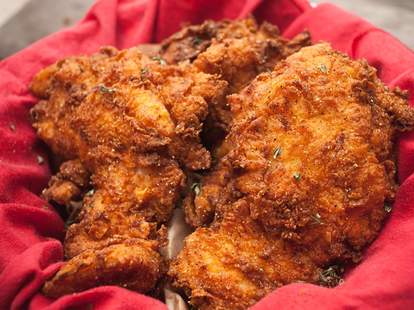 San Francisco Sure, you might not be able to to teach an old dog new tricks, but no one ever said anything about an old... restaurant! To wit: here are six insanely good-sounding, completely brand-new food and drink menus from some of your favorite SF spots.
Trick Dog: The city's (arguably, we guess) best cocktail bar has rolled out yet another ingenious new menu (with drinks on postcards of destination tourist spots around the city, like The Painted Ladies or Sutro Baths), which features three kinds of rum, Sightglass Coffee (?!), grapefruit, fenugreek, and lime. Continue Reading
The Residence: The guy behind Wesburger has brought in his brother to start a new pop-up on Tuesdays from 6-10pm. Like the burger pop-up, they'll be slinging a differently themed fried chicken offering (along with chicharrones starters) every week, including Southern-fried birds w/ pimento mac 'n cheese and fried okra w/ remoulade.


Marla Bakery: Marla Bakery's new dinner menu is also its FIRST dinner menu -- they just added after-work hours (Thurs-Sat, 5:30-9:30pm) where they'll feature delectables like pork chops with bulgur wheat and sautéed king trumpet pioppini mushrooms, plus Sunday family dinners -- a prix fixe setup that starts at 6pm, where everyone is supposed to sit down and share. So basically, the opposite of actual family dinners.
The Willows: This awesome SOMA bar and pub just rolled out an almost-literally unbelievable Sat-Sun brunch menu with the likes of pork belly donuts, sausage waffles on a stick, and Cap'n Crunch peanut butter chocolate mousse pancakes -- which you'll wanna down with your own creation at the build-your-own Bloody Mary bar.
South: Charles Phan's restaurant at SFJazz has decided to go even further South, all the way to Mexico, which means chipotle shrimp w/ citrus sopes, toasted garlic & crema, or pork in salsa verde with pinquito beans, turnips, and purslane.


Rye Project: The owner of 1058 Hoagie has decided to turn his once-a-week, Jewish deli, in-store pop-up into the store, and renamed 1058 Hoagie "Rye Project". That means a new everyday menu of traditional Jewish deli meats (which they swear you won't beat) served on rye bread imported from Detroit (the owner's hometown), along with sandwiches made on par-baked NYC bagels that're shipped to the store.