Guys, Winter is coming. And not, like, "Ahhh invasion of really icy zombies you can't kill unless you light them on fire!!!" but rather, "the season when SF opens a shload of awesome new restaurants". Here's a rundown of the ones that're worth caring about/HodorHodorHodor.
Name: Belly Burgers
The Mission
Opening: January/February
Why You Should Care: Making burgers with patties that're 100% pork belly, this one-time pop-up is getting a brick and mortar that'll feature three core styles: The Classic (fried-pepper aioli, Cotija cheese, tomatillo pickles), All-American (rosemary mayo, sliced apple, sharp cheddar cheese), and "Banh Baby, Banh"  (Vietnamese caramel-jalapeno, hardboiled egg, fresh cilantro) -- plus a rotating cavalcade of additions.
Recommended Video
Cauliflower Crust: Pizza or Health Fad?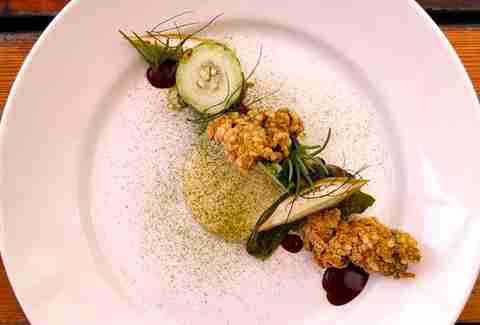 Name: Verbena
Russian Hill
Opening: January
Why You Should Care: Situated in the short-lived Marbella space on Polk, this spot is from the same folks behind Berkeley's outdoor paradise Gather, and'll feature Californian cuisine and a wine program curated by the same guy who did Quince and French Laundry's... ya know, those old dumps? (Not really! Please give us reservations!)
Name: Fist of Flour Dough-Jo
East Oakland
Opening: January
Why You Should Care: Not just the least-useful Wonder Twins transformation ever, Fist of Flower was started by a guy who loved pizza so much he built his own pizza oven... then took it on the road to do pop-up 'za events, and is now opening a permanent locale in Oakland. He'll do a list of his most popular 'zas with intentions of developing a sandwich line down the road... not literally though, because that would be a waste of sandwiches.
Name: Doc Ricketts
North Beach
Opening: January/February
Why You Should Care: Named after the John Steinbeck marine biologist character in Cannery Row who you totally remember, this guy'll fill up a 102yr-old building in boot country, courtesy of the guys behind super-awesome SOMA sandwich-ery Darwin Cafe and a former 15 Romolo chef. Expect approachable, affordable fare for lunch and dinner on the main floor, plus a basement entertainment venue with a full bar called Doc's Lab.
Name: Long Bridge Pizza Company
Dogpatch
Opening: January/February
Why You Should Care: Set to open in early 2014, this Dogpatch pizzeria is the project of two buddies who've worked in 'za joints all around town (including PizzaHacker), and'll be doing "San Francisco"-style pies... which we assume is referring to the sourdough starter they'll use as opposed to upping their prices by $1000 every time someone has an IPO.
Name: Magnolia Dogpatch & Smokestack
Dogpatch
Opening: January
Why You Should Care: This. Is. Huge. Both literally (it's 10,000sqft), but also figuratively, because MB is expanding to its new Dogpatch location on the 1st of January. They'll use the extra room for more beer offerings (yayyyy) and Smokestack, a BBQ restaurant overseen by Chef Dennis Lee of Namu Gaji (ohmygodohmygodohmygod). And don't worry, their old spot will stay open and function as a beer lab of sorts (*fainting*).
Name: 4505 Burgers & BBQ
NOPA
Opening: February/March
Why You Should Care: If you thought it couldn't get any better than a 4505 Meats Butcher Shop that makes chicharrones nachos, you'll be pleasantly surprised when we tell you you're totally wrong, thanks to this definitely-better burger and BBQ spot using all of 4505's super quality meats.
Name: Three Twins Ice Cream Shop
Lower Haight
Opening: Mid-January
Why You Should Care: Like a very slow phoenix rising from the fire that also hates fire because it melts, Three Twins is finally going to be re-opening its Lower Haight ice cream shop in the same building that burned down years ago (and now houses our favorite apartments in the entire city!!).