4 brand-new SF burgers that you need to eat immediately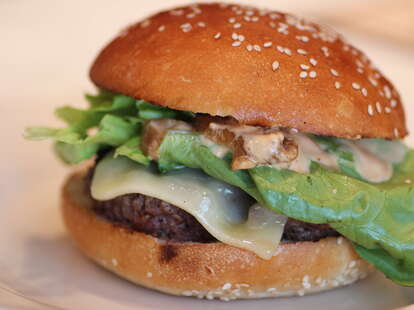 San Francisco There are just some things in life you can never get enough of: Game of Thrones fight scenes, Game of Thrones sex scenes, Game of Thrones fight scenes... that are sexy... oh, and BURGERS! Man, how good are burgers? Someone's job should literally just be to tell you about four new SF burgers every day. Someone like, um, us.
Trade Winds Burger at Palm House: From the awesome people behind Bergerac and Foreign Cinema, this light, bright (but not Lite-Brite) spot in Cow Hollow is your new go-to for West Indies comfort food like the Trade Winds Burg, served with Maui onion relish, jerk-Dijon mayo, and mango ketchup with island fries. Continue Reading
The Crispy Pork Trotter Burger at Red Dog Restaurant & Bar: This giant, industrially charged, 120-seater from the genius woman behind Il Cane Rosso is an all-grown-up effort with a full cocktail menu and brunch, lunch, and dinner service all already a go. Get the burger at all three of them; it uses a fried-pigs-feet patty that's actually delicious, and's topped with pickled red cabbage and served with fries and a mustard aioli.


Le Gaspar Burger at Gaspar Brasserie: It's served with a shallot confit and oven-dried tomatoes on a brioche bun that you don't have to -- but totally should -- add brie to, since this is a high-end, 115-seat French spot. Oh, and get your cocktail here liberally: former Jasper's Corner Tap & Kitchen bar star Kevin Diedrich is the dude running the drinks show, and he's running it very, very well.
The Belcampo Cheeseburger at Belcampo Meat Co.: Finally available in San Francisco proper at BMC's first restaurant-cum-butcher counter in the 7x7, its c-burger uses a patty made from its humanely and organically raised beef harvested at a later age for better and more flavorful marbling, with NY cheddar and caramelized onions on a perfectly toasted brioche bun. Oh, and definitely order it "for here" and sit at the leather banquettes, which're custom-crafted from Belcampo's own steer hides.