Pop quiz, ace: what do Oakland, Santa Clara, and Geary Blvd have in common? If you said "they're home to Thrillist's picks for the 10 best Korean BBQ restaurants in the ENTIRE Bay Area," then you passed. Just barely. If you said anything else, you're probably gonna want to read this...
Recommended Video
Acquired Taste: Live Octopus With Timothy DeLaGhetto and Trevor Wallace
Oakland
There are strikes and spares at this joint, but either way you will definitely score. Delicious BBQ, that is. In classic 2014 start-up culture style, Bowl'd aims to be the user-friendly, virtuous, and healthful Korean BBQ experience. It's a different breed of barbeque, where proteins are grilled table-top on stone tablets, caveman-style. The smoke and char are replaced with cleaner flavors and softer textures than you'll find at the other spots on this list. Give the salmon a try. It works perfectly with this technique and avoids the dreaded, dreary dryness of grilled fish.

So, why "Bowl'd" and not "Grill'd" you ask? Because it's the spin-off of a bibimbap specialist called Bowl'd Korean Rice Bar (note, this place used to be one of the East Bay's best Korean BBQ spots, Sura, and now is owned by the same family as Ohgane, though it's a very different place). Bold + bowl = ... you got it. This is bold BBQ, just minus the bowling and bowls. Okay?
Inner Richmond
Oh, Brothers. Channel your inner Charlie Brown and shrug your shoulders indifferently when it comes to the quintessential Korean BBQ experience of SF -- for mostly better and occasionally worse. And here's why: Brothers' décor is an American Legion banquet hall with massive exhaust hoods above. Frankly, it smells terrible. The service is brusque. The lines can be long. But this is a rare place in the city to gaze at the rip-roaring charcoal coals on the table and get to work grilling bulgogi (beef sirloin) that's oozing with marinade and fat drippings.

The best thing on the menu just might be the powerfully spicy, yet truly seductive stir-fried octopus nakji pokkum, which isn't BBQ, but who cares? Not you! Any question of why charcoal grilling is good for the meat and bad for the environment is answered here. You'll smell like an ashtray after dinner and you'll love it.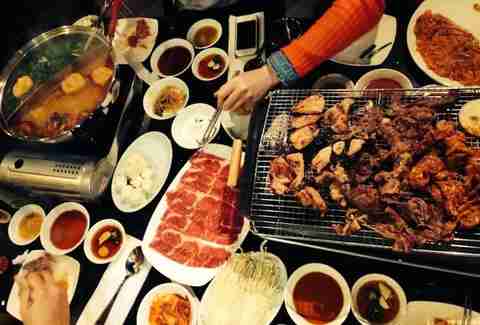 Oakland
Folks, you can grill Spam here. Spam! Gogi Time is the star of the "new establishment" of Korean BBQ, where you still grill over charcoals or gas (don't choose gas; just don't) at the table -- but the surroundings are much brighter and cleaner and the menu is simpler. The only decision you have to make is when to stop eating. Yup, it's $25 for all you can eat. Pick and choose. Go at it Falstaff. Premium steak meats are available for a small additional fee added to the all-you-can-eat deal (pay the small additional fee), plus you choose your own banchan, waver between white rice and multi-grain rice, and can (/oh my God definitely should) make a Korean BBQ "taco platter" with tortillas.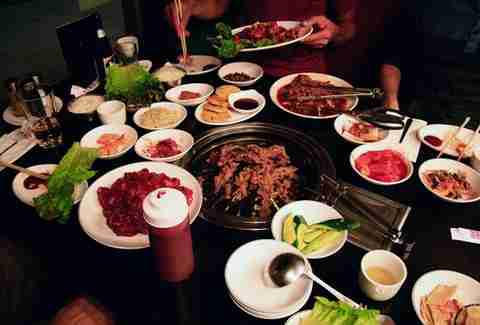 Outer Richmond
Most Korean restaurants serve everything under the sun, but in reality are divided into bibimbap specialists, BBQ specialists, or tofu soup specialists. Han Il Kwan says screw it and specializes in all three, and does a pretty decent job at them all.

It's the big ol' grande dame legend of the city's Korean restaurants, where the tour bus crowd mingles with the Uber crowd and the MUNI crowd in a main room with a fun, blue-tiled pagoda roof for décor and drab back areas that look like bureaucracy conference rooms straight out of the 1950s. Luckily, the grilled meats at the massive tables are a step above the chewy supermarket norm and it's worth springing for the swoon-worthy soft eel. Like Swan Oyster and Tadich, it's a San Francisco bucket list spot, only with Anchor Steam swapped for soju.
Santa Clara
You thought the only food to eat around Levi's Stadium was pricey Michael Mina cuisine. But, it turns out, there's a least one other kind! Venture just barely two miles away to blah mini-mall land and next to the Hometown Buffet is one of the great examples of charcoal Korean BBQ: Han Sung. The bulgogi is as tender and intensely doused in sweet-soy marinade as it gets. And the gop chang gu e (tube-like beef intestines) are like al dente cannelloni filled with sweet pâté. Not digging eating a cow's inner tubes? Grow up; you'll be a convert.
Inner Richmond
Hanuri is more upscale and refined than its rivals: it's kind of like the Korean power-dining version of House of Prime Rib with banchan instead of Yorkshire pudding. Finding a non-Sonoran Desert-dry grilled chicken anywhere is rare in the KBBQ game, but Hanuri achieves it with its bul dang (spicy BBQ chicken). There are some trade-offs here: slightly higher prices, slightly smaller quantities in general, and slightly better meat (best bulgogi around) where chewing can be superfluous at times. Though the outside sign says "wooden charcoal" BBQ, like many of its regional peers, the good ol' days for that are over thanks to the government health and environmental folks who love their indoor grills to be gas. The meat hasn't suffered, though and the trees are apparently much happier.
Outer Richmond
Nestled on Geary's Korean BBQ row, Jang Soo always gets deserved praise for its atmosphere, because who doesn't love a spruced-up grilling room with stone walls and murals that remind you of a monastery in Lisbon? It's not exactly the Garden Court, but the waitresses do wear traditional dress. Still, this is honest, thorough BBQ where the meats and banchan don't let those gorgeous walls down. You'll be too busy to look around with the textbook galbi (short ribs) and prawns that soar when given a little grill glaze.
Santa Clara
You'd never guess that the Bay Area's (possibly) best Korean BBQ is next to a food court in the center of a monotonous-looking mini-mall. Jang Su Jang actually functions as half tremendous Korean restaurant and half KBBQ stalwart. Pre-barbeque, go nuts for wang mandoo dumplings and the craziness of yukhae, a beef tartare. Then switch gears, 'cause it's gas grill time. Plow through vividly marinated yangnyum galbi (beef short ribs) and non-marinated beef tongue that proves the genre doesn't have to be all gelatinous mush. This is downright tranquil, posh Korean 'cue, completely different from the smoky, masculine frat houses we're used to. Is there a Michelin star ahead? Perhaps. Jang Su Jang is also in Milpitas for the Great Mall groupies.
Oakland
Maybe 99% of restaurants with no limit on your dining intake are not worth the price of the meal. Ohgane is the 1% with its optional $25 eye-popping bounty at night (grilled with charcoal or gas) and lavish $12 buffets during the day. There's also a la carte for those who prefer restraint (so... not you). With tender loving care and patience, the galbi has been marinated for 72 hours, and it shows.
Outer Richmond
"And the winner for longest and most descriptive restaurant name in San Francisco is... Wooden Charcoal Korean Village Barbeque House." So the name is stupid long. Still, WCKVBH excels at charcoal Korean BBQ thanks to really, really-hard-to-find-anywhere-in-the-Bay-Area charcoal grills made of wood (!). Bonus: you can grill here at 2:15am, after last call -- sleep is so unnecessary compared to pork belly.

Sign up here for our daily San Francisco email and be the first to get all the food/drink/fun SF has to offer.

Trevor Felch is a restaurants writer for the San Francisco Examiner and SF Weekly and a contributing editor for Vino 24/7. He once was an elementary school spelling bee champion and is terribly afraid of riding bicycles -- seriously, don't try to get him on a bicycle. Follow Trevor @TrevorFelch.