15 New Oakland Bars & Restaurants That're Worth Crossing the Bridge For
Courtesy of Grange Hall
Courtesy of Grange Hall
The next time you're all, "Ugh, I'm so tired of eating at Oakland's best restaurants all the time," first, go step on a LEGO, and second, go to one of these: the 15 best new things to open in Oakland so far in 2015.
Uptown
As of this week, you're gonna want to spend every waking moment in a former Dodge dealership. That's because you LOVE Dodge, but also because Drake's Brewing Company transformed a 10,000sqft former Dodge dealership into the beer garden and bar of your dreams with 350 seats, fire pits, Adirondack love seats, and the entire Drake's beer portfolio on tap, including experimental selections, usually only available at the brewery. Grab a beer at one of the two bars (one is for to-go growlers) then start things off in the sunny, brick-enclosed beer garden (which used to be the former repairs shop), move over to the massive fireplace inside when it gets chilly, and, depending on how well you day drink, attempt to camp out around the cozy fire pits under the twinkly string lights. Food-wise expect the kind of refined pub fare we've started to expect from any beer bar worth its salt, including excellent New Haven-style pizza from two wood-fired ovens.
Lake Merritt
The 40 beers on tap, fresh-squeezed greyhounds, rotating food trucks, and pop-up kitchen serving Argentinian sandwiches would be enough to get us in the door of this huge new space. The fact that it also has a bi-level outdoor patio and a rooftop garden with a living wall just isn't fair to the East Bay's other outdoor drinking establishments.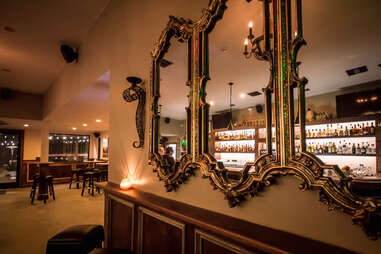 Uptown
While The Double Standard has the ornate wood detailing, pendant lighting, and craft cocktailing (from a Bourbon & Branch alum) of a trendy cocktail lounge, this bartender-owned bar is more "friendly neighborhood watering hole with fixed-gear bikes on the back patio" than "hipster hangout with fixed-gear bikes on the back patio." Speaking of patios/segues, this spot happens to have one of the ENTIRE Bay's most magical backyards, complete with three majestic Redwoods and romantic string lights. Pro tip: come after work for the awesome $10 cocktail menu comprised of Ali Tahsini originals.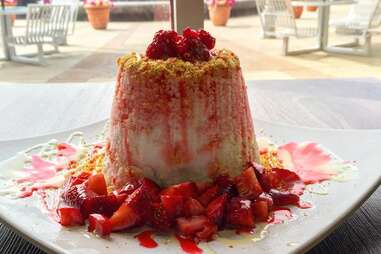 Temescal
The Sacramento-based Taiwanese dessert company is now serving up sweet shaved snow creations in Temescal that're infinity times better (and more Instagrammable) than the snow cones of carnivals. Instead of hard ice drenched in flavored fructose, these fluffy piles are made from a fruit concoction then frozen into molds and shaved into light, melt-in-your-mouth ribbons that become a sweet vehicle for toppings such as fruit compotes, chocolate sauce, or condensed milk.

Rockridge
Berkeley and San Francisco's favorite Wu-Tang-referencing ice cream sandwich shop just expanded to Rockridge. Expect the usual build-your-own ice cream sandwich experience complete with fresh, warm cookies. But wait, there's more at this location, including other insane creations like fruit bars, milkshakes, floats, and ice cream tacos.
Uptown
This historic building dating back to 1893 has worn many hats -- an Odd Fellows Hall, a saloon, a janitorial supply center, a social club for the deaf -- and most recently a venue for underground art installations, dance parties, and live music. Thanks to the work of Oakland artists Adam Hatch, Eric Siemens, and Andrew Bennet, as well as Sam White (of the Ramen Shop), Starline Social Club has emerged from the semi-secret shadows as a full-on legit artist-owned venue, cocktail bar, and full kitchen (get ready for pork buns, steak tartare, and banh mi). While the downstairs space feels more hipster than underground punk, the upstairs 350-person dance hall that plays host to artist-driven performances, shows, and installations keeps the original spirit of the space alive. Pro tip: you won't have to wait as long for a drink at the separate, smaller bar upstairs, but your choices will be limited to one beer, one punch (like a lethal tequila sunrise), one well-liquor shot, and a wine.

North Oakland
After honing his burger skills at places like Bar Tartine, Slow Club, and Serpentine (plus gathering a cult-like following in San Francisco through a pop-up in Bruno's that we raved about years ago), Chris Kronner's signature marrow-topped aged beef burger served rare finally found a permanent home on Piedmont Ave at this casual, yet stylish, upscale diner.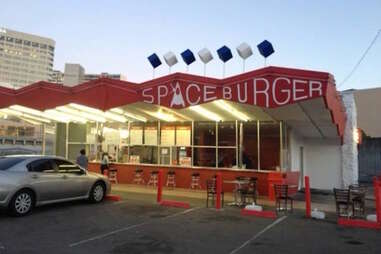 Uptown
Replacing the retro late-night hotspot Giant Burger, Space Burger is your new go-to for diner cravings and Jetsons-era nostalgia. Though it's done away with the 24/7 service, the team has spruced up the retro facade, updated the menu to include fresher, more sustainable ingredients, and added fried chicken, pulled pork, and portabella sandwiches to the classic diner offerings.

Temescal
The super-tiny and super-popular Nick's Pizza now has a Temescal location (wooooot!). Nick's "Oakland-style pizza" with a sourdough crust still gets top billing, but is joined by Emeryville-based Scarlet City Roasting's espresso and breakfast pastries in the morning, salads and sandwiches for lunch, and roasted chicken or lamb meatballs for dinner. Goodbye, ever cooking for yourself.
Temescal
This cocktail-centric Temescal tavern -- which is booze-leaning with four draft beers, tons of bottles, classic cocktails, and an "Apothecary" selection made with house-made tonics and elixirs -- is also serving up drinking-friendly comfort food like chicken wings and a pork burger. You'll need both if you want to try out the cool "Buy the Bottle" program in which you purchase whole bottles at a discounted price, store them at the bar with your name on 'em, and enjoy FREE Manhattans and Old Fashioneds until your booze runs out.

Uptown
Former Gitane chef Jason Tuley is at the helm of this cozy, rustic sister restaurant to Bar 355 next door. It's all about the wood-fired oven at this date-friendly spot where you can share California-Italian fare, like pizzas topped with house ricotta and charred broccolini, wood-oven octopus, a made-for-two dry-aged ribeye, and a five-course pasta tasting for $55.
Longfellow
Salsipuedes is the creation of a veritable foodie dream team: owner Jay Porter (of Half Orange) brings an enthusiasm for West Coast craft beer, co-owner Luis Abundis lends ice cream from his Oakland-based Nieves Cinco de Mayo ice cream shop to the desserts, and Executive Chef Marcus Krauss (previously of Meadowood) brings it with the California culinary chops. Expect a relaxed "seaside barbecue vibe" and menu items that celebrate the flavors of Baja, the Pacific Rim, and fresh California seafood, meat, and produce.

Laurel
Things don't get cuter or quainter than this charming breakfast and lunch spot, in which everything is made from scratch, from the sausages to the pastries to the jams (though you wouldn't be able to tell from the prices). Expect homemade biscuits, danish, and sticky buns ($3), excellent huevos rancheros, and other perfect brunch or lunch fare for under $14. Oh wait, we lied, it does get cuter -- at the helm of this community-oriented eatery is a local husband-and-wife team. Aw.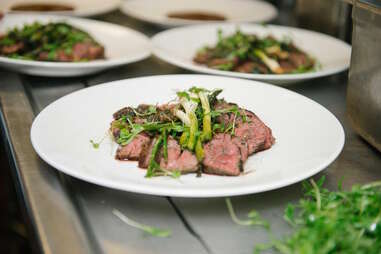 Uptown
Uptown's culinary complex The Hive gets a taste of regional Mexican fare (and one of the largest selections of tequila and mezcal in the country) thanks to Bay Area restaurateur Chris Pastena (of Chop Bar and Lungomare) and his partners Michael Iglesias and Jessica Sackler. The new concept (opening August 7th) will feature reimagined Oaxacan fare (like the pictured hoja santa-wrapped hanger steak with guajillo mole and grilled spring onions) and modern mezcal- and agave-heavy cocktails. Chef Christian Irabien is especially enthusiastic about his take on the traditional Jaliscan dish, birria, featuring locally sourced, slow-braised goat in a special rub that includes chocolate, chiles, onion, cloves, and garlic.

Rockridge
Vegans (or regular people in the mood for masa mushroom tamales and pastry roulade with farro-chard risotto) don't have to mourn the shuttering of 20-year-old SF-based Millennium for long -- thanks to a successful and swift Kickstarter campaign, the beloved restaurant recently reopened in Rockridge with a slightly pared-down menu. It now joins the growing list of great SF things that are actually now in Oakland.
Sign up here for our daily San Francisco email and be the first to get all the food/drink/fun SF has to offer.
Amy Copperman is a regular contributor to Thrillist who wonders what would happen if she actually tried to camp in The Double Standard's backyard. Convince her to find out on Twitter.