The 12 Most Important Restaurants in Oakland Right Now
While there are a lot of things you definitely don't know about Oakland (there's an annual Fairyland for Grownups????), one thing you kind of, sort of do know is that the Sunny Side of the Bay's restaurant scene is on ghost-chili-peppers-aggressively-rubbed-in-your-eyes fire right now.
From Michelin-starred Commis, to house-made-donut-starred Hopscotch, these are the 12 must-eat-at-right-now Oakland restaurants.
West Oakland
FuseBOX is 1) a Korean food-fluenced restaurant that can't be described without the scary word "fusion", 2) in a neighborhood that is otherwise filled with industrial warehouses and people finding ways to kill time until the next Burning Man, and 3) small, has almost no signage, and feels like you might show up one day to find it has suddenly turned into an auto body shop. So maybe get there quick (?) and start diving into the spicy Korean Fried Chicken (KFC), mushroom-y saimin noodles, and homemade kimchi that'll make a fan out of even the most hardened kimchi haters.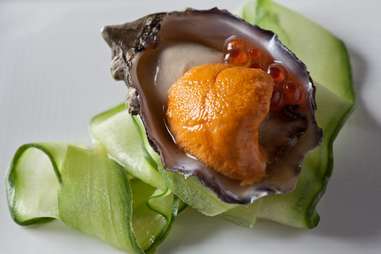 Uptown
Uptown, Uptown, Uptown. It seems like this once ignored neighborhood gets all of the attention these days, and why not? It's got a handy BART stop, a tight cluster of some of Oakland's best new bars and restaurants, and the beautifully restored Fox Theater. Hopscotch is a standout among the Uptown growth, a tiny little diner with one of Oakland's most delightfully unusual menus (think creative, Japanese-tinged seasonal American cuisine). Oh, and did we mention the homemade donuts and custard cream? Yeah, those.
Rockridge
Date night in North Oakland? It's hard to do better than Wood Tavern. The always perfect pork chop and house burger are staples on the menu, but the rotating pastas and gnocchi aren't far from joining them in the staples factory. Go at lunch for a surprisingly great hot pastrami on a baguette (no, really, it works) and if you're having trouble scoring a reservation, seats at the bar are reserved for walk-ins -- the bar gets a little tight, but if you enjoy a little bartender banter with your meal, they're the best seats in the house.
Jack London Square
Chef Daniel Patterson got his Michelin stars at the super-refined Coi in San Francisco, but he's putting those stars to work in Oakland (where he also lives). After a few years of finding its groove among Jack London Square's rapidly changing and improving restaurant scene, Haven has has earned its seat at the adults' table with food that's both familiar and inventive, all of which you've had before... and yet you haven't. Even the burger gets special treatment with aged beef, scallion aioli, and a homemade, seeded bun.

San Antonio
Because you shouldn't need to cost four-$$$$ to make a best restaurants in Oakland list, Ba Le totally doesn't, and... does! Armed with perfect bread, generous heaps of pickled veg and jalapeño, and higher quality meats than you'll find in other shops, Ba Le has all the classic options, plus about 20 others to keep banh mi fans sampling for years to come. Eel banh mi? Why not? Vietnamese meatball and egg? Most definitely.
Piedmont Avenue
Oakland's first (but almost definitely not last) Michelin-starred restaurant, Chef James Syhabout's experimental Commis is the kind of place your oyster might arrive cushioned in a cloud of briny sea foam atop tumbled beach rocks, or your slow-poached egg yolk in a smoky white bowl that resembles an oversized egg white. It's art, but it's damn tasty art.

Rockridge
Big credit goes to Bakesale Betty's fried chicken sandwich for putting Oakland solidly on the sandwich map of the US. But while everyone else is lined up down the street, head over to Rockridge for Oakland's best-kept, no-wait secret sandwich at Hapuku Fish Shop in Rockridge's Market Hall. Disguised as a mere fish counter, Hapuku will also fry up the catch of the day (you usually get a choice of two or three fish), with a cabbage and carrot slaw on a fresh roll and some of the crispiest fries you'll find anywhere. If you manage to get beyond the sandwich and fries (good luck with that), there's fish and chips, soups, ceviche, and oysters on the half shell on Saturdays.
Produce District
Chop Bar somehow manages to capture the best sides of Oakland effortlessly: it's surprising, it's homey, it's gutsy, the crowd is diverse, and the restaurant is on trend without shoving it in your face. Dinners at Chop Bar are always bustling -- particularly on warm nights when you can take advantage of the indoor-outdoor front porch -- and always new and different, as the menu changes nightly (save the oxtail poutine, thank God). Watch for special events like the occasional not-to-be-missed pig roasts.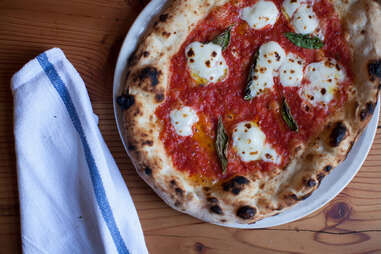 Temescal
Chef and Chez Panisse alum Charlie Hallowell has been expanding his popular Oakland culinary empire over the past decade with Boot & Shoe Service and the recent Penrose on Grand Ave, but if you have to choose one, his flagship Pizzaiolo is still the place to head for some of the most exciting food in Oakland. With perfect wood-fired pizzas, handmade pastas that often outshine everything else, great cocktails (homemade tonic!), and a breezy casual atmosphere, this place serves up big plates of happy at fair prices. On warm nights, eating on the expansive back patio is sublime, and the outdoor movie nights draw crowds for food and films throughout the summer.

Old Oakland
Cop-out alert: Old Oakland's Swan's Market is actually MULTIPLE destination-worthy restaurants in one. It's what a food court should be but never is -- it's more of a food incubator. Cosecha got things started, serving up bright and innovative Mexican fare that shines even among Oakland's many great Mexican restaurants, both old and new. Popular izakaya restaurant B-Dama recently moved from Piedmont Ave and brought with it homey Japanese food. And then there's The Cook and Her Farmer, Hen House, Taylor's Sausages, Miss Ollie's, Rosamunde Sausage Grill, and probably more on the way.
North Oakland
There's no "Little Ethiopia" in Oakland per se, but the stretch of Telegraph from Temescal up to the Berkeley border seems to feature a different Ethiopian/Eritrean restaurant every other block. Cafe Colucci is the charmer of the lot, with fresh, vibrant flavors and an array of unique dishes served up with honey wine and spiced coffee. Ever wanted to try Ethiopian raw beef with spiced butter? This is the place to do it. Bonus: your vegetarian friends will love this place. Less bonus: you have vegetarian friends. Oh, and there's an attached shop where you can buy all the ingredients to make the food at home -- and if you don't know your injera from your teff, chef and cookbook author Fetlework Tefferi is happy to share her secrets through cooking classes, which you can book online.
North Oakland
Let's be honest: when it comes to bagels, the Bay Area is behind the curve. One trip to New York or Montreal is enough to make you give up on West Coast bagels. But don't! Or at least, not until you've given Beauty's a fair doughy shake. Montreal-style bagels are finished in a wood-fired oven here, attracting a long line of beards and plaids basically every weekend. Totally worth the wait though: the hot bagels are fantastic, the smoked trout salad is addictive, the fried chicken bagel sandwich with beet slaw should be a controlled substance, and -- these are fightin' words -- the rugelach is better than your mom's.
Sign up here for our daily San Francisco email and be the first to get all the food/drink/fun SF has to offer.
Andy Murdock is an East Bay native and travel writer. He firmly believes that the churro will be the next cupcake, and is helping to make this come true by planting the word churro in his author bios. Tweet about churros to @andy_murdock to show your support.