We gave our editor $13, then sent him to East Oakland to pick up lunch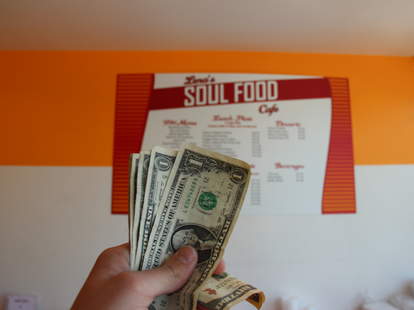 There comes a time in every man's life when he needs to get from San Francisco to East Oakland... with $13 in his pocket... and he has explicit directions from his boss to eat every single thing on Lena's Soul Food Cafe's new 99-cent menu. For Thrillist San Francisco editor Joe Starkey, that time is now.
Buy yourself a coffee to start your adventure, immediately regret spending, like, half your budget on it.
Grab a BART ticket or refill your Clipper card, whichever you please, we don't judge.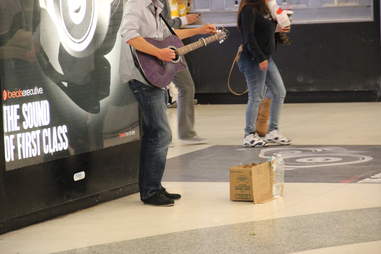 Give a tip to the actually surprisingly talented guitarist, as opposed to the rather dubious gentleman with a paper cup who somewhat threateningly keeps telling people that he "knows black belt karate".
Get tired of waiting for your lazy friends to give you an extra life in Candy Crush, and instead buy one yourself. Admit you may need help after realizing you've spent $40 on a "free" game this month.
Finally arrive at your destination, Lena's Soul Food Cafe, where they'll happily give you a selection of housemade comfort foods for $.99 apiece, like this: BBQ beef link, fried chicken, and black-eyed peas, which are definitely ready to get it started in here.
Their vegetables are all fresh and... actually delicious (because that's how Southern cooking does veggies).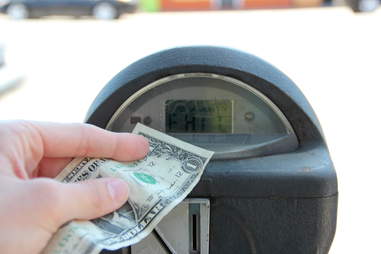 Attempt to be a good citizen by giving someone some extra time on the meter. Get sassily told by the meter that it doesn't take bills.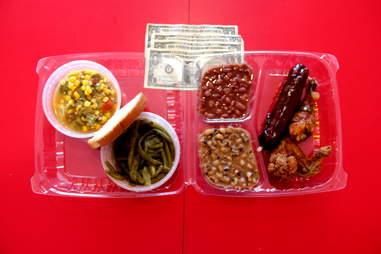 Here it is, the whole shebang of comfort food goodness you can grab for less than $6. Also pictured: ridiculous amount of leftover money.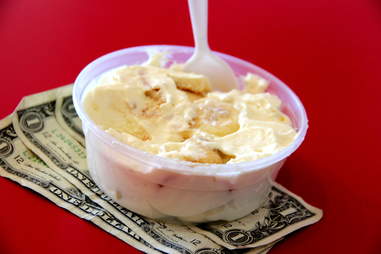 Opt not to give your boss the change and instead blow it on the still-completely-affordable regular menu's $3 homemade banana pudding. You earned it.