9 Old-School SF Restaurants That We Hope Never Close
Compared to pretty much everywhere else in the entire world, San Francisco is relatively new. The city only had a population of 500 in 1847, a number that jumped to 410K in 1906 thanks to the ol' Gold Rush. In other words: we don't have a ton of super-old stuff. But what we do have are these nine old-school restaurants, and we're happy they've managed to stick around.
Here's hoping they don't go anywhere any time soon.
<em>Nob Hill</em><br />
<strong>Established:</strong> 1949<br />
House of Prime Rib is an SF institution known for its, wait for it: prime rib, but also its perfectly chilled martinis. Each of the cozy, English-style dining rooms has fireplaces and leather banquettes (aka what you'd expect/want from that kind of establishment) and if you take a look around when you eat you'll find banquettes filled with everyone from couples on dates and bachelor parties, to Willie Brown and your San Francisco Giants. But back to what's really important: the prime rib. The beef is aged 21 days and then roasted using an old English formula that involves blanketing the rib in coarse rock salt and secret seasonings. Everything's then carved tableside. Long story short: there's a reason this place has been around 65 years.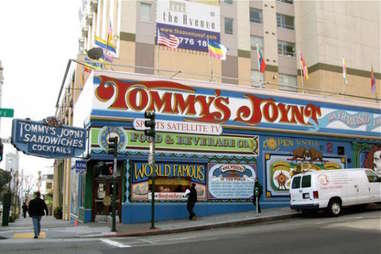 <em>Western Addition</em><br />
<strong>Established:</strong> 1947<br />
The same families have owned Tommy's Joynt since it opened in 1947, which is why it's pretty much stayed exactly the same. And we mean that in the best way possible. The building is one of most eye-catching in the city and the interior is crowded with sports memorabilia and photographs. None of that is really what matters though. No, Tommy's Joynt is all about the meat. Really good, really affordable plates of delicious meat. You line up, grab a tray, place your order, and then find a spot at a communal table to gobble it all down. $9.75 will get you a platter of either roast beef, BBQ brisket, corned beef, pastrami, ham, or turkey, two sides, and a roll with butter. Doesn't get much better than that.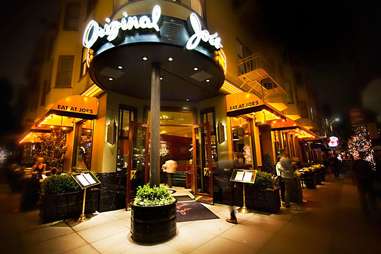 <em>North Beach</em><br />
<strong>Established:</strong> 1937<br />
The original Original Joe's was a counter with 14 stools in the Tenderloin. After being uprooted by a devastating fire in 2007, Original Joe's found a new home in North Beach in 2012 where the red and green leather booths, eight counter spots overlooking the kitchen, and old-school Italian vibe remind patrons that the best SF traditions are here to stay. And yes, it's an Italian joint, but on one visit at least, be sure to try Joe's Famous Hamburger Sandwich. At $12.50 it's one of the cheapest things on the menu and also super tasty.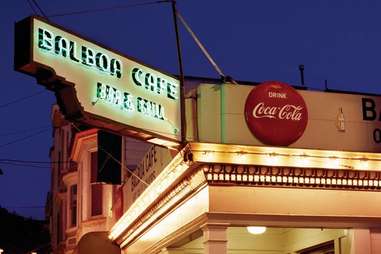 <em>Cow Hollow</em><br />
<strong>Established:</strong> 1913<br />
Whether you're eight or 80, there's something at Balboa Café for everyone. And that thing is the Balboa Burger, one of the best burgers in the city. While most restaurants that are over 100 years old have gotten a major facelift at some point, Balboa has managed to retain almost of all its original decor, including the moldings and black &amp; white photos. Grab a seat in the front for a casual meal (and a younger crowd) or, if you're in the mood for a white tablecloth, sit at a table in the main part of the restaurant where the median age rises just a tad. That's the thing that's great about Balboa, though. The patrons have been going there since they were kids and when they go home after dinner, their grandchildren <a href="https://www.thrillist.com/drink/san-francisco/more-sf-bad-decision-bars…; target="_blank">come out to play</a>. Also, did we mention <a href="https://www.thrillist.com/eat/san-francisco/best-under-the-radar-burger…; target="_blank">how good the hamburger is</a>?
<em>Nob Hill</em><br />
<strong>Established:</strong> 1906<br />
There is literally never not a line for what is likely SF's most popular raw and seafood bar. That's partly because the narrow space only has 18 barstools, partly because there are no reservations, and mostly because it's just that good. The original spot burned down after the 1906 earthquake, but the current iteration has been in the same location since 1912. When the group of Danish brothers who owned it reopened after the fire, they decided they needed some good luck and, since a swan is the national bird of Denmark and a Danish symbol for good luck... Swan Oyster Depot. It's pretty much the same as it was back in the day -- no frills, just fresh seafood that's worth the wait.
<em>Financial District</em><br />
<strong>Established:</strong> 1893<br />
Though the interior recently got a complete renovation (like, really complete), this Bavarian-inspired beer hall has been packing in the patrons since the late 1800s and continues to do so. There's now lots of communal seating, a full bar, 22 beers on tap, a modern German menu for lunch/dinner, and women inside (they weren't permitted until the 1970s).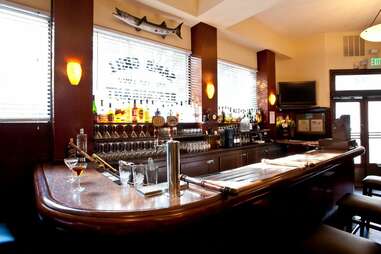 <em>Financial District</em><br />
<strong>Established:</strong> 1867<br />
Sam's Grill started as an open-air oyster market, which turned into one of the city's most popular seafood restaurants by the 1890s. Almost 150 years later, Sam's continues to be a popular spot for San Franciscans who want local, seasonal seafood, and kick-ass martinis. Ask for a booth, which comes complete with heavy curtains for maximum privacy. When you want a second martini, just ring the doorbell to order it from your bow tie-clad waiter, who will serve it to you with a smile. Also, be sure to check out the "Throwback Thursdays" happy hour, during which your second drink will cost about as much as it would have during the Gold Rush (50-cent draft beer, $1 house wine, and $2 Manhattans). Huzzah.
<em>Bayview</em><br />
<strong>Established:</strong> 1861<br />
While Tadich Grill is the oldest SF restaurant, The Old Clam House's bar area is part of the original structure, making it San Francisco's oldest restaurant in the same location (technicality!) since 1861. (Tadich Grill moved around a lot and these things matter, people!) Grab a seat in the heated and enclosed patio and order either the Clam Bake Cioppino (which The Old Clam House is famous for) or the The Original Golden Gate Clam Chowder, whose recipe dates back to when it was called The Oakdale Bar &amp; Clam House. So, like, a long-ass time ago. And yes, you can get the latter in a bread bowl. This is classic SF, after all.
<em>Financial District</em><br />
<strong>Established:</strong> 1849<br />
Tadich Grill isn't just SF's oldest restaurant, it's California's oldest restaurant. Everyone from Jack Nicholson to Joe Montana has dined there (Herb Caen was a regular in his day), but no matter who you are or how important you think you are, there are no reservations and everyone waits in line. Tadich Grill is known for its seafood -- get the oysters Rockefeller, the pan-fried sand dabs, or the seafood cioppino -- and never disappoints when you're in the mood for a delicious throwback meal.<br />
<br />
<em><a class="vortex-open" data-campaign="2846" href="https://signup.thrillist.com/&quot; target="_blank">Sign up here</a> for our daily San Francisco email and be the first to get all the food/drink/fun SF has to offer.</em><br />
<br />
<em>Daisy Barringer is Thrillist's SF Editor and she's been eating the Balboa Burger since she was six years old. Follow her on Twitter <a href="https://twitter.com/daisy&quot; target="_blank">@daisy</a>.</em>