How to Pull Off the Ultimate Oyster-Shucking Day Trip Near SF
Oyster shucking in the North Bay: it's a veritable rite-of-living-in-SF-and-not-being-allergic-to-shellfish passage. If you haven't followed the oyster trail yet, 1) the fuck?, and 2) here's everything you could possibly need to know, from where to take down oysters on the end of a boat dock, to where to house a six-pack of bivalves topped with bacon, to where you can find the oyster pizza (!) you now badly want to find.
Start your day in the tiny, old railroad town of Point Reyes Station
According to its website, it's the biggest commercial district in the area -- how cute. Hwy 1 will lead you right through the Downtown area; find a spot on A St & 4th and you'll be able to walk everywhere from there. This "bustling metropolis" has everything you need for your day trip (and really, not much else you don't) -- coffee, beer, wine, cheese, and the Old Western Saloon (next to an old-fashioned barber shop, obvi).
Duh, your first stop of the day is coffee
Hit up Toby's Coffee Bar, the little kiosk in the warehouse in the center of town, for Four Barrel coffee and hyper-local (like, across-the-street local) morning buns, croissants, and muffins from Osteria Stellina (more on it later). Front patio packed? Duck down the little hallway next to Toby's marked garden and on the other end of it, you'll find this majestic little covered patio. Drink your coffee there.
Now gather your picnicking essentials
This step is especially crucial if you're going to Tomales Bay Oyster Company, which provides little more than the oysters and tables. If you didn't pack supplies before, Palace Market -- a high-end market just a few steps down the road -- has all the groceries (and booze) you'll need need. It also offers breakfast burritos, sandwiches, and soft-serve ice cream. Point Reyes definitely has its priorities down.
Okay, time to eat all the cheese
Obviously you're here for oysters, but you should know Cowgirl Creamery's HQ is just around the corner, begging for a detour, especially on Fridays at 11am and 2pm, when the cheese mongers offer an hour-long presentation and guided tasting through ALL the cheese.
The best part? It's only $5 per person (just make sure you book it online before you go if you want to guarantee a spot -- it's only got room for 15 per tasting). Even if you're not up for a tasting (why are you not up for the tasting??), it's worth a stop to pick up baguettes and Brie (and sandwiches for your oyster-allergic friends) for your picnic.
Oh, and one last under-the-radar stop at PRS
The too-cute-for-words Table Top Neighborhood Farm stand (it's easy to miss because it's tiny, but it's right across the street from the market) -- it works on the honor system and has ridiculously good prices. $1.50 for a giant zucchini and that warm, fuzzy, community feeling.
Now that you've seen all of West Marin's largest commercial district, it's time for oysters
In terms of shucking your own, you have two options: Tomales Bay Oyster Company and Hog Island Oyster Company. Depending on how big your party is, you should know that TBOC is larger and a bit more down-home and casual -- first come, first served and with fewer amenities than Hog Island, where there's a waitstaff and a bar. If you've got four people or fewer, doing both is totally doable (and recommended). More than four though and, unless you have reservations, things will get a little dicier.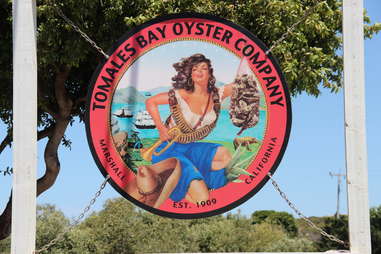 First up: Tomales Bay Oyster Company
TBOC provides the oysters, ice, grills, music, and views -- you BYOeverythingelse (like the picnic supplies you just picked up). Things you should definitely bring: booze, hot sauce (you can buy whole bottles there), lemon, and whatever else you enjoy pairing oysters with.
TBOC pro tip: while it doesn't technically take reservations, call ahead if you're coming with a big bus so it can try to accommodate your group. And bring cash.
Here's how the actual oyster thing works: go up to the counter and choose from small, medium, and large oysters. The smaller the oyster, the sweeter (and in our opinion, better) it is. But you may want to get the larger ones if you plan on grilling them with accouterments, such as bread crumbs or cheese, for a heartier meal. A bag of 50 oysters will run you $50-$70 depending on the size and a dozen run $15-$25. You can purchase charcoal ($10) and sauces ($5-$10) at the counter as well.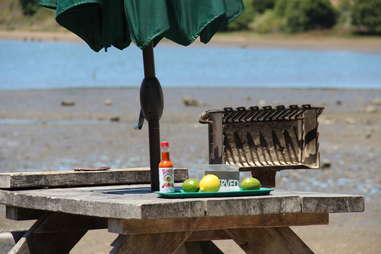 They'll also collect $5 from each person -- that gets you access to a picnic table and grill (if you have a big group and reserve one way in advance -- more on that here -- they'll also come with hot sauce, lemons, and limes).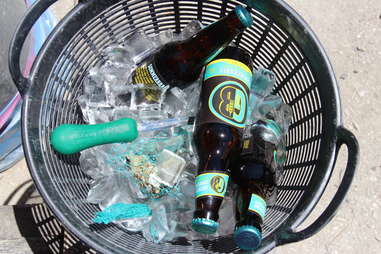 You'll also throw down a $10 deposit, which gets you a bucket for ice and a shucking pick, which is basically a dull knife you use to pry open the oysters (more on that later), and two scoops of ice to chill your oysters. For an extra $5, you can buy a glove for the hand that stabilizes the oyster. An extra $5 will protect your palms from the inevitable puncture wound when your shucker shucking slips and shucking stabs you. Seriously, just shucking get the glove.


Now that you have your oysters and tools and have spread out your Cowgirl Creamery cheese, time to get to shuckin'. Use the gloved hand to stabilize the oyster and angle the tip of the pick down into the narrow side of the oyster where there's a small opening. Force it in and apply leverage until the oyster pops open. Slide the pick sideways, separating the oyster from its top shell. The key to shucking glory is freeing the oyster from the shell without losing any of the briney, salty liquid inside, so try to keep the oyster upright. If you prefer to BBQ your oysters, throw the whole, unopened thing on the heat. It's ready when the oyster pops open on its own.
Second up: Hog Island Oyster Farm
Just 10-15 minutes down the road, Hog Island Oyster Farm offers a similar picnicking and shucking experience in a smaller venue that requires reservations Friday through Sunday. For the price of the oysters and a $5 picnicking fee, you're treated to complimentary shucking equipment, a shucking lesson, lemon, and ALL the hot sauce. Purchase charcoal for $7 or bring your own.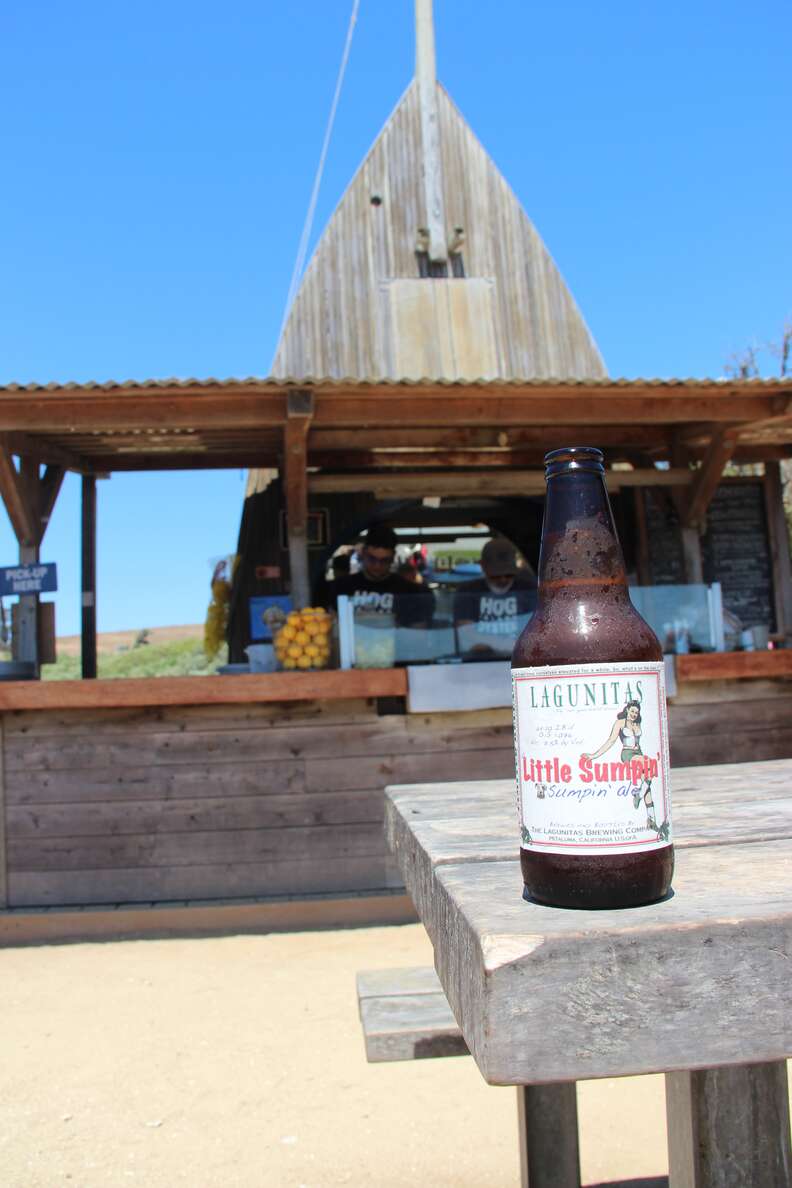 You can also forget the DIY aspect (and the $5 shucking fee) and just show up and hope there's an open seat -- the staff take care of it all for you when you order from bar, which is made from the bow of an old wooden ship. If you go this route, definitely get the ohmygodsogood BBQ oysters topped with the three best words in the English language: chipotle bourbon butter. Local beer and wine, charcuterie, and cheese also await you here.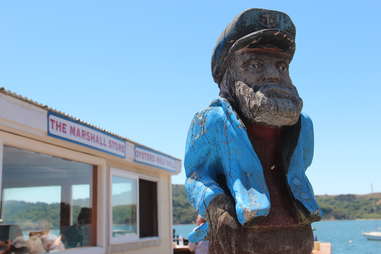 Got a group of four or more? Stop in to The Marshall Store. If you're more into the drinking than you are into working so hard for oysterage, head to The Marshall Store, approximately seven minutes north of Tomales Bay Oyster Company; it's one of the best seafood restaurants in the country and serves oysters and other seaside delicacies, minus the possibility of stab wounds. If you're gonna big-time the day and do both oyster stops, this is a good in-between.
Definitely order the Kilpatrick (cooked with Worcestershire sauce and bacon and served with garlic bread), grab the beer you brought (or some from the fridge inside), and camp out at the long tables on the side of the road that face the bay (you oddly can't drink alcohol anywhere else at TMS); they'll bring your oysters out to you when they're ready -- the orders come with six per, so taking this down with a couple people PLUS shucking somewhere else can be pretty daunting. If you've got four or more though, it's kind of the perfect order.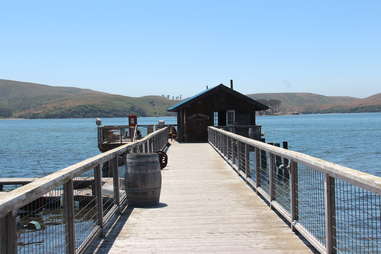 More of a date day trip? Make a post-shucking pit stop at Nick's Cove's boat shack.
Another option for waterfront, full-service dining comes at the end of the oyster trail at Nick's Cove (just a little ways north of Hog Island).
There you'll find a cozy, casual seafood and steak restaurant with the awesomest boat shack you've ever seen in your entire life (complete with a communal table and piano) at the end of the long pier behind the restaurant.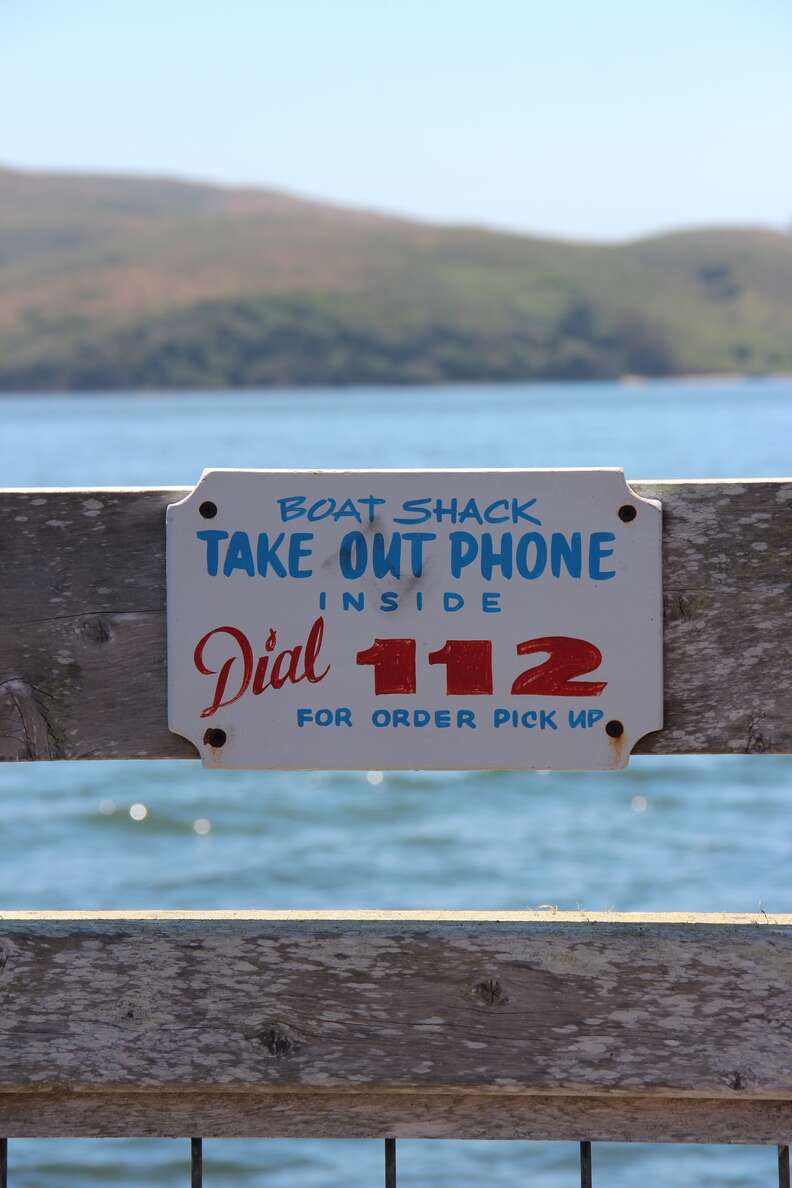 Skip the restaurant and head straight there and, if it's empty, you'll be able eat in the middle of the bay since you can use the phone they have in the shack to call in an order, which someone from the restaurant will bring down the dock TO YOU. It doesn't get more West Marin baller than that.


Still haven't had enough oysters? Like pizza? Stop here. Hit Osteria Stellina on your way back for its killer oyster pizza topped with Drakes Bay bivalves, braised leeks, parsley, and lemon thyme. Or better yet, take it to go and maybe pay that Old Western Saloon you were eyeing longingly this morning a visit while you wait.
Boom. Perfect oyster-filled day complete.
Sign up here for our daily San Francisco email and be the first to get all the food/drink/fun SF has to offer.
Amy Copperman is a regular contributor to Thrillist who is always up for a shucking good time. Seriously, invite her on your day trip on Twitter.