A bar grows up and starts serving you brisket
As a kid, everyone dreams of becoming something great when they're older (fireman, astronaut, internet magazine writer), and sadly sometimes it doesn't always pan out (accountant, funemployed, internet magazine writer). But in this case, Bitters, Bock, and Rye started out as a bar, only to grow up and achieve even greater things by turning into a full-on BBQ restaurant that's serving food until 1a.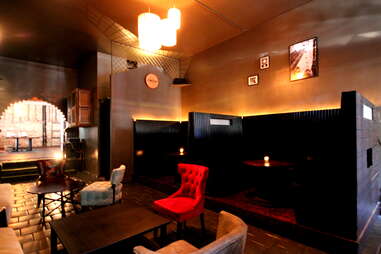 Housed in what used to be an Indian restaurant (how did they get that curry smell out??), this space is almost obscenely huge, with a main elevated restaurant area, a sexy lounge, and a giant 1400lb (roughly) communal table all from one, presumably larger-than-usual tree.
Don't we all, old-timey protesters?
A Front Porch alum's heading the kitchen, and along with South-channeling entrees like skillet-fried catfish and shrimp and grits, they're doing a "Your Way" Texas-style BBQ where you select one, two, or three items from the list of ribs, a quarter chicken, pulled pork, sausage, or brisket. You can further customize said brisket by opting for either a lean or fatty cut. That should be an obvious decision.
Plus, there's still the full bar attached, complete with all the old mainstay cocktails, 14 beers on tap, and around January, they'll be rolling out their own brews from these giant vats: a lighter beer and a rotating seasonal. Hopefully going with the normal four and not SF's only option of "Autumn".