If Super Duper did tacos...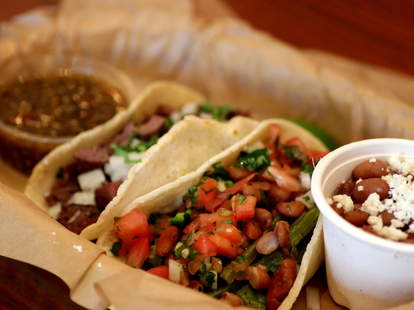 If you've ever wanted one of San Francisco's best burger spots to get around to making tacos, you must have a very specific superpower (please, use it only for good), because the people behind Super Duper have opened up a delectable taco shop/tequilaria on Polk called Uno Dos Tacos.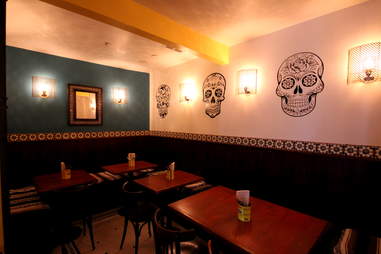 Set in the old Pesce spot (which the guys also own), the casual eatery's set up with these sugar skull wall paintings, a collection of ornate crosses, and a restaurant-length bar stocked with tons of tequila (for dinner only, you lush).
Don't you just hate being the odd man out?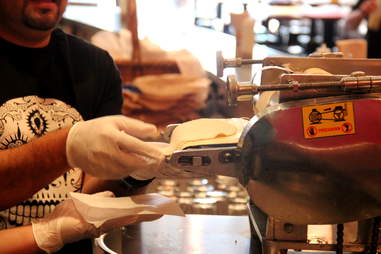 What sets this spot apart from your typical taco spot is that they make all of their tortillas with fresh maize rolled out individually and cooked on a legit Mexican grill.
As for the tacos themselves, they have a large, grid-like menu for ordering, where you have six different meat options (Tinga [chicken], Asada, Carnitas, Lengua, Pescada, Vegetariano... okay, that's actually just vegetarian, but it's made with cactus) that you can get as a taco, burrito, plate, or salad.
Plus, while you're noshing on these delicious Guadalajaran-chef-made tortilla treats, you can also grab homemade guac, or (again, at dinner) a cold beer, or a tequila/mezcal cocktail that'll taste really great on your lengua.