Using more Korean spin than Hyung-taik Lee (!), Kitchen Mojo is a Potrero Hill lunch spot set in the old Pizza Nostra spot and done in collaboration with the dude behind HRD Coffee Shop, who's Korean-ing a handful of your favorite mid-day eats, from cheesesteaks to po' boys. The Crispy Chicken Katsu This scratch panko-crusted fried chicken handheld features wasabi aioli and homemade tonkatsu sauce that -- like Emma Bunton -- is both sweet and spicy. The Korean Spicy Pork Cheesesteak Though your friend from Philly might be all, "Ugh!", give him a bite of this way-less-traditional spicy pork c-steak (w/ peppers, onions & spicy Korean aioli) and he'll start being all, "Mmm!" The Popcorn Shrimp Kimchee Po' Boy Served with a side of housemade chili sauce (and fries, duh) this sandwich combines spicy kimchee coleslaw, Korean aioli, and four delicious-looking shrimp they'll happily serve (and volley!) you fried.
Recommended Video
This Massive Pizza Is Topped With Korean BBQ and a Blooming Onion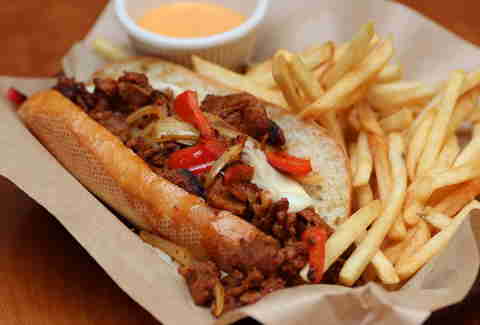 Previous Venue
Next Venue
Venue Description
1. Kitchen Mojo
300 De Haro St, San Francisco, CA 94107
This Potrero Hill Korean joint in the old Pizza Nostra digs (with an assist from the guy behind HRD Coffee Shop) will serve you everything from shrimp po' boys to the tradition-bending Korean Spicy Pork Cheesesteak.