San Francisco is one of the most romantic cities in the US. We've got our mystifying fog, rolling hills, unmistakable views, and a really cool bridge! Just take a look at all these romantic things to do around town! That said, we're an especially loving city when it comes to culinary delights. So to sate your appetite and set the mood, we rounded up 12 of SF's most romantic restaurants -- each one perfect for a first date, random Friday, Valentine's Day, or an anniversary dinner with that one person who still puts up with you after all this time.
Recommended Video
Bacon Ranch Cheese Fries Are the Reason Potatoes Exist
Hayes Valley
Like a jaunt to Paris without the jet lag
When Absinthe opened in 1998, it immediately became the destination for serious cocktail drinkers. Today, it is still an excellent place to get a fantastic drink, as well as a romantic spot for French and Mediterranean-inspired fare. Though the dining room is known for being the more intimate space because of its plush chairs and hand-painted murals of the garden of Versailles, sitting at a bistro table in a corner of the front bar is actually much cozier and more reminiscent of a Parisian brasserie. Start with oysters or caviar from the raw bar -- and one of seven absinthe cocktails -- and see where the evening takes you from there.
Nob Hill
Cocktails, steak, and a man playing your favorite songs on a grand piano
The Big 4 Restaurant in the Scarlet Huntington Hotel pays tribute to a grander time in the 1870s when "The Big Four," a group of four businessmen, philanthropists, and railroad tycoons, dominated the West... and all lived in lavish mansions next door to each other atop Nob Hill. The masculine décor involves lots of dark wood, green leather banquettes and club chairs, white tablecloths, Gold Rush and Western Railroad memorabilia, and a grand piano played by a man in a bow tie who is happy to take requests. The key to a romantic evening is to start in the lounge with a cocktail made by a veteran bartender before moving to the dining room for a meal of comforting classics like French onion soup, oysters Rockefeller, cioppino, and filet mignon and potatoes.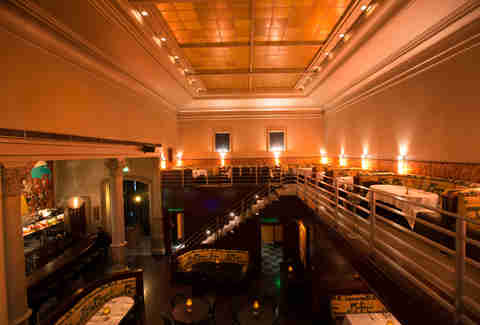 Financial District
A swanky supper club with live jazz every night of the week
Walking into BIX feels like stepping back in time. The dimly lit two-story dining room features soaring ceilings, art deco design, and a mahogany bar manned by bartenders in jackets. The bar and restaurant scene is always bustling thanks to expertly concocted cocktails, live jazz seven nights a week, and people looking to see and be seen. Those seeking a more intimate experience should ask to be seated on the mezzanine where they'll be able to take in the vibrant scene below, but can also re-enact the classic Lady and the Tramp spaghetti scene (albeit with lobster spaghetti) in relative privacy.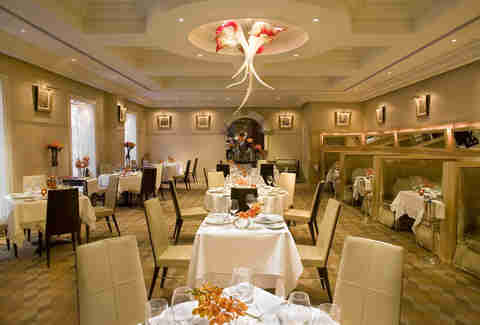 Union Square
Diners dress up to experience this beautifully presented and elegant meal
The Cal-Indian cuisine at this Michelin starred restaurant in the Taj Campton Place hotel is a fine dining experience unlike any other in San Francisco. It's the place to go if a delicious meal full of unusual flavors, decadent presentation, and flawless service play into your idea of foreplay. There is a seven-course tasting menu every evening that features chef Srijith Gopinathan's unique take on California cuisine inspired by his Southern Indian heritage. Think fresh Northern California ingredients seasoned with aromatics and traditional spice blends, then prepared with smoke and fire and plated with exceptional creativity. The wine pairings are a must for optimal romance, and so is settling into one of the comfortable leather booths where it's quite easy to forget there's anyone else in the restaurant except the person sitting across from you.
Fisherman's Wharf
A special occasion French-inspired restaurant with a fantastic wine list
With the advent of fine dining spots like Saison and Lazy Bear, Gary Danko has fallen out of favor with those looking to impress their Instagram followers with a pricey dinner. But for a luxurious meal with impeccable service, a great wine list, and patrons who bother to actually dress up (because they wanted to, but also because Gary Danko requests "elegant attire"), Gary Danko is the perfect destination. Diners choose from three, four, or five courses, and the cheese presented tableside plus the chocolate soufflé are musts.
Hayes Valley
California cuisine in a romantic, art deco space
This restaurant from chef/owner Traci Des Jardins that opened in 1997 embraces decadence in a way that you don't see much anymore -- there's lots of mahogany, red carpet, dim lighting, exposed brick, and a Champagne theme that should feel cheesy, but doesn't. Start the evening with a drink at the marble and mahogany circular bar before heading upstairs to the mezzanine where you'll order wine from an impressive list, French-inspired dishes, and if you're smart, the cheese plate.
Tenderloin
A sexy spot that's perfect for a third date
This two-story cocktail bar and restaurant in the historic 1908 Saratoga Hotel building brings upscale glamor and style to the Tenderloin, as well as "lost and forgotten" spirits and playful cuisine. Start with a drink on the main level and take a minute to appreciate the stunning back-lit bar which plays perfectly off of the black walls, ceilings, floors, and leather chairs, as well as the tiered chandelier that dangles over the staircase. It's that staircase that will lead you down to the cozier lower level, which is where you should enjoy dinner at a table draped in a white tablecloth and lit by a small lamp. The Green Goblin (botanical vodka, Green Chartreuse, Maurin Quina, lime, basil) is the perfect civilized cocktail that will help you feel a little less civilized, which is ideal since the things to order are the burger for the main and the Ho Hos for dessert.
Nob Hill
A popular hotel bar and restaurant with stunning city views and over 100 martinis
This penthouse lounge and restaurant on the 19th floor of the elegant Mark Hopkins Hotel is certainly a favorite with tourists thanks to the 360-degree views of the city and signature martinis, but if you're looking for romance, don't eschew it just because of that. It's also a favorite with locals looking to enjoy sunset cocktails, fancy tapas, charcuterie and caviar, live music, and maybe even a spin on the dance floor.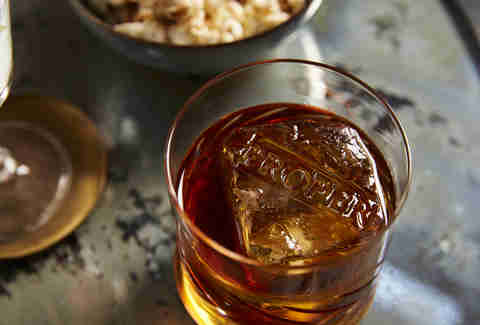 Mid-Market
A chic hotel restaurant with refreshing cocktails that shouldn't be missed
This seductive restaurant and lounge right off of the charming and eclectic lobby of The Proper Hotel is sexy and playful in all ways. From the design and the food to the "7x7" anthology of 49 cocktails (from the guys who own Trick Dog), the entire experience feels glamorous and surprising. The dishes are meant to be shared, but not hogging the warm Hawaiian bread rolls served with cultured butter and strawberry chicken liver mousse will be a real test as to much you truly like your dining companion. For optimal romance, be sure to start or end the evening at Charmaine's, the sexiest rooftop bar San Francisco has ever known.
Embarcadero
Enjoy fresh seafood with stunning water views
Any fancy restaurant with up-close views of the waterfront and the Bay Bridge lights is going to feel a little sexy, but add in sustainably sourced fish, floor-to-ceiling aquariums, and a heated patio, and the sex appeal shoots through this two-story roof. And did we mention the oyster bar? Waterbar has one of the most expansive selections on the entire West Coast.
Cole Valley
This hectic brunch institution turns into an intimate bistro when the sun goes down
When you think of Zazie, you probably think of crowds waiting on the sidewalk, gaggles of girls rehashing last night's antics over mimosas, and parents maneuvering strollers. And that's all fair -- until dinnertime, that is. Once the brunch crowds stumble off, Zazie turns back into a quiet, intimate bistro with indulgent French fare served by an attentive wait staff. The place to sit is the back patio where you'll find ivy-covered trellises, twinkling lights, and plenty of lamps to heat things up if you can't do it on your own.
Hayes Valley
What's more romantic than a famous roasted chicken for two?
This glass-encased flat-iron-shaped restaurant is still crowded with locals and tourist almost 40 years after it opened. That's in part because of the laid back -- but not too laid back -- SF vibe and the quality cocktails served at the zinc bar, but mostly because of the phenomenal California cuisine -- the most popular of which is cooked in the wood-burning oven. For those looking for a romantic evening, a seat in the corner on the second level overlooking the street is ideal. What to order? Why, the Zuni Caesar salad and famous roasted chicken for two with warm bread salad, of course.
Sign up here for our daily San Francisco email and be the first to get all the food/drink/fun SF has to offer.