You Can Get Samoa Donuts Delivered This Thursday in SF
The good thing about Thrillist getting into the recipes game last year? Landmark culinary contributions like Tater Tot Waffle Grilled Cheeses, Bacon Weave Mac 'n' Cheese Quesadillas, and Samoa Donuts that you can make at home.
The good thing about being in San Francisco this Thursday? We found someone to totally make (and deliver!) two of the best ones FOR YOU.
True story: we hit up our BFFs at Munchery -- the SF-born delivery site that drops off legitimately affordable meals prepared by world-class chefs -- and got them to do a pair of nuts-good recipes dreamed up by our resident food-porn star Perry Santanachote: 1) our Samoa Donuts (which, yes, are the Girl Scout cookie/donut mash-up you were praying they would be), and 2) Buffalo Chicken Meatballs (which, yes, are bone-free and served with a blue cheese dipping sauce).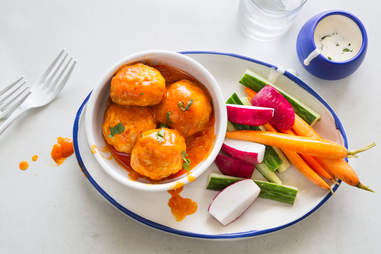 Munchery
Both will be available at THIS LINK starting Thursday, June 25th in SF (and most of the Bay Area), for ONE DAY ONLY, while supplies last, and then you'll have to go back to your sad making-things-for-yourself existence.
(Or... just keep ordering other stuff from Munchery, maybe?)
Sign up here for our daily San Francisco email and be the first to get all the food/drink/fun SF has to offer.
Grant Marek is Thrillist's Senior Cities Director and during the taste-test he did a couple weeks ago with Munchery, he had to pause between bites of the Samoa Donut to gather himself. Find out how many he took home on Twitter at @grant_marek.