San Francisco's 11 best openings of the Winter
Listen, we understand the Winter months can be pretty bleak: it's overcast... some of the time, it dipped below 65 at least once or twice, and it definitely rained on and off for, like, three days. But don't worry, we're here to help you cope with one of the most not-that-bad seasons on record with the 11 best openings from the Winter. Check it: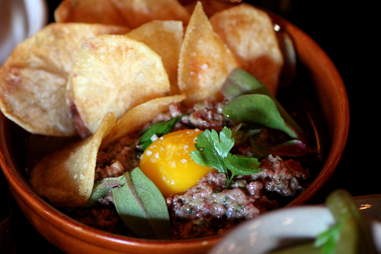 Joe Starkey
The Square (click here for address and deets)
North Beach
The newest endeavor from the Sons and Daughters team, The Square is like previous tenant Bottle Cap, except for the fact that it's... nothing like Bottle Cap. The neon out front is gone, the lime green inside is gone, and you can now order pretty much anything and know it'll be amazing.
What To Get: Beef Tartare (served with salt and vinegar chips that aresogood)

Joe Starkey
Merigan's (click here for address and deets)
SOMA
From a former exec chef at A16, Merigan's is what most sub shops wish they could be. They're churning out simple East Coast, Italian, deli-style sandwiches that're a step above almost every other SF sandwich when it comes to flavor and ingredients.
What To Get: Porchetta (Italian roast pork with slaw, hots, dressing, lemon conserva, cracklins)
Lolo
Lolo (click here for address and deets)
The Mission
Already a Mission staple, their move to much larger, cooler digs on Valencia has really made this unique Mexican eatery a must-visit. As has their new full liquor license.
What To Get: Crab Tostadas (chorizo, leeks, Dungeness crab, sandia aioli, avocado puree)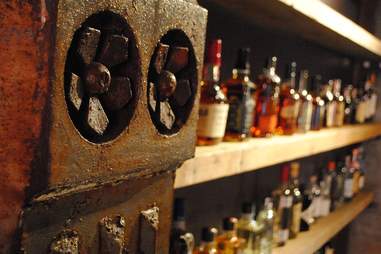 Victory Hall and Parlor
Victory Hall and Parlor (click here for address and deets)
SOMA
Unless you're a chicken-and-waffle-hating monster, it's hard not to love this awesomely massive new SOMA bar (complete with Wi-Fi!), which's brought to life by the same people behind next-door Little Skillet.
What To Get: Chicken and waffles (duh)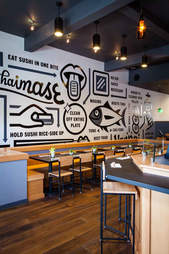 ALANNA HALE
Ichi Sushi + Ni Bar (click here for address and deets)
The Mission
You already knew Ichi Sushi was absolutely amazing, so it only stands to reason that a much bigger space with the addition of an actual kitchen (with a back area devoted to izakaya -- plus a bar to boot!) would make this one of the best Japanese spots in the whole city.
What To Get: Well, sushi, obviously. Or the Yuzu Chicken Wings (fried wings with yuzu and micro shiso).
The Coachman
The Coachman (click here for address and deets)
SOMA
What would you say if the guy who brought you Hard Water and Slanted Door decided to open up a traditional, British-style restaurant? "Brilliant!"? We thought so.
What To Get: Blood Sausage (it's actually really good, we promise)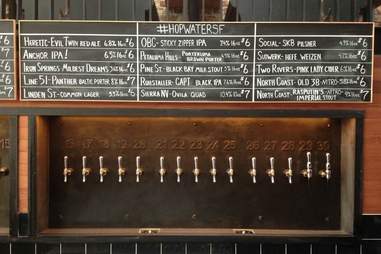 HOPWATER DISTRIBUTION
Hopwater (click here for address and deets)
Nob Hill
From the guys behind Dogpatch Saloon and 83 Proof, this Nob Hill pub looks sorta like it belongs in The Mission -- they've got 31 beers on tap and a kitchen helmed by a guy dubbed the "Beer Chef", so, yeah.
What To Get: Dungeoness crab tots
KRISTIAN MELOM
Third Rail (click here for address and deets)
Dogpatch
This cocktail bar (from the same people behind Range) is a be-giant clocked addition to Dogpatch, open seven days a week and home to two types of bars: a bar-bar and a jerky bar.
What To Get: Try the Cloven Hoof (seasonal cocktail with rum, Armagnac, Madeira, seven spices, clove bitters)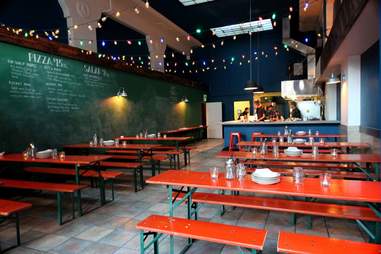 Joe Starkey
PizzaHacker (click here for address and deets)
Bernal Heights
If you had to describe the permanent digs for the guy who used to make pizzas from a modded Webber Grill in three words, they'd probably be "amazing", "delicious", and *incoherent sounds of pizza enjoyment*.
What To Get: Rocket Man (arugula, garlic, fresh mozzarella, farm egg, lemon juice, chili paste)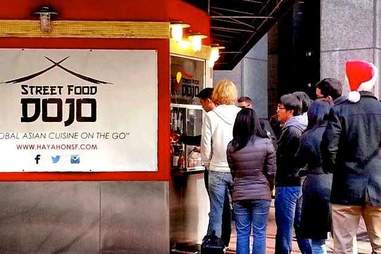 Dojo
Street Food Dojo (click here for address and deets)
FiDi
Though Zog's Dogs will be missed, this Asian-fusion street food replacement adds some much-needed variety to the FiDi lunch scene, with items like "kung fu fries" with five spice pork and dashi gravy, or grilled beef short ribs.
What To Get: Dojo Dawg (a hot dog topped with wasabi aioli, furikake, and apple slaw)
Horner's Corner
Horner's Corner (click here for address and deets)
Noe Valley
Named for the guy who developed Noe Valley, and developed by the guy behind Iron Cactus and The Creamery, this welcomed addition to the 'hood is offering traditional British pub fare and an approachable (full) bar menu with 12 cocktails and 14 brews.
What To Get: Soy- and honey-glazed ribs (baby back pork ribs marinated in a house glaze, grilled, and served with tangy slaw)
Joe Starkey is Thrillist SF's Editor, and is probably at one of these places right now. Follow him on Twitter.