If this month's crop of new openings is any indication of how 2016 will go... just give up on any weight loss aspirations now. It was a meaty month -- both in quality and in, well, the kind you eat, as SF gained a much-anticipated BBQ joint and a massive Brazilian steakhouse. In between all of this, interesting and indulgent menus, new bars, and one resolution-friendly option make up this month's notable highlights.

Hayes Valley
Even those hopelessly devoted (or addicted) to simple carbs, dairy, and sugar will find the food flavorful and satisfying at this gluten-free, dairy-free, and sugar-free "fine-casual" spot thanks to exceptional ingredient sourcing and execution by Thomas Keller alums. If you don't believe me, try the lemon custard -- if this was always what clean eating was about, our Instagram feeds and waists would look a lot different. Prices at this counter-service spot are a step above casual (it's what happens when you eat more sustainable and healthful food) but the space has enough style, with its concrete floors, copper touches, and spacious corner real-estate to still feel like a treat. And the food tastes like it too.
Mid-Market
Connected to the jazz bar we wrote about recently, comes this ambitious sister restaurant from the owner of Lower Haight gem Maven. Design-centric elements such as the claw-like booths and light-lined walls mingle with luxe touches like faux-fur backed seating to create a sexy mid-century vibe that may have you reconsidering how that pretty co-ed bathroom should go to use. It's certainly a date spot, but how serious of one depends on where you sit. The main dining room offers a four-course reservation-only pre-fixe menu that runs $49/person and affords you the opportunity to say "we'll have one of everything" -- if you bring a date and agree to split the two options (one is entirely vegetarian). Chef Joey Elenterio's (Wayfare Tavern) detailed new-California dishes get a little more playful in the communal bar area and cozy tea-cup booths where elevated dishes like sturgeon, and its caviar are offered alongside bar-faves like ricotta dumplings with smoked Brussels sprouts, Indian fry bread, and roasted spicy cauliflowers. Meanwhile yummy culinary cocktails and Mr. Tipple's Nosh Mix make this a worthy spot to drop in for a casual drink to take in the ambiance... and to use the bathroom.
Mission
Bucking the fancy cocktail bar trend that is now just what we call "life," a trio of female bartenders from the likes of Zeitgeist, The Homestead, and Southern Pacific Brewery, are bringing back the basics with this new neighborhood hang. Broke-ass Stuart is already a fan of its beautiful simplicity that features pool, a jukebox, and bar bites from the same caterer that served Dear Mom. In other words, it's a bar and you will like it.
Fillmore
With a few exceptions, San Francisco is not generally known for its BBQ. However, the husband-wife team behind 1300 Fillmore hopes to shift that perspective with the first BBQ joint to hit the Fillmore in decades. 1300 Fillmore's executive chef and owner, David Lawrence, turned to the nation's BBQ greats and brought on a Texas native to ensure the dry rubs and traditional sides (including a delicious bourbon mac & cheese) are as authentically Texas as Willie Nelson in a pick-up truck. He's also blended in techniques from Carolina and Kansas City to create what he calls SF-style 'cue. The concept is fast-casual -- think the BBQ version of Super Duper -- but 1300 on Fillmore fans will recognize Lawrence's famed ribs and cornbread served with pepper relish. Get there early (or go during an El Niño downpour). They've been known to sell out before the dinner rush.
Fidi
In other meat news, international Southern Brazilian steakhouse, Fogo de Chão, opened its second Northern California location in late December in the former Chevy's space. If you're not familiar with the Brazilian steakhouse concept, here's how it works: there's a massive buffet featuring veggies, charcuterie, traditional Brazilian stew, and other sides that, while good and surprisingly not over-cooked, you don't want to get too overzealous with. You're here for the meat, and lord is there meat. Brazilian-trained gaucho chefs butcher meats (everything from chicken breast to sirloin to filet mignon) in-house, roast them over an open fire, and then carve each cut tableside. Servers come around with huge skewers until you beg them to stop... or you know, flip over the cards on the table to the red/mercy side. You hold the power here so let's hope you have more self-control than we did. The whole space is big and grand with giant glitzy chandeliers, elaborate ropes on the wall, and fire encased in glass. It's fairly expensive for dinner, and cocktails start at $15, but the bar area offers loads of ambiance for happy hour, and there's a paired down version of the experience during lunch for Brazilian-style power lunches.
SoMa
Restaurateurs Umberto Gibin and Staffan Terje (who own FiDi institutions Perbacco and Barbacco) will make you want to eat pickled fish. Turning their talents from Italian to an exciting new concept that blends French classics and Scandinavian dishes inspired by Chef Terje's heritage, the pair has fashioned a stylish brasserie-style restaurant that showcases both classic favorites (like beef bourguignon), and more unusual delicacies (like herring prepared five ways). The atmosphere is also a bit of a departure from the dark, masculine interiors of the Fidi restaurants as wire light fixtures, white marble bar, and a graphic tiled floor lend a modern, convivial vibe.
Embarcadero
This month, Fort Point Beer Co. opened its first retail space in the new, heated, outdoor Ferry Building kiosks. It joins Marla Bakery and Blue Bottle Coffee in the new structure. The kiosk features six taps with a rotating selection of beer delivered daily from the Crissy Field brewery. Drink onsite or buy a six-pack or growler to go.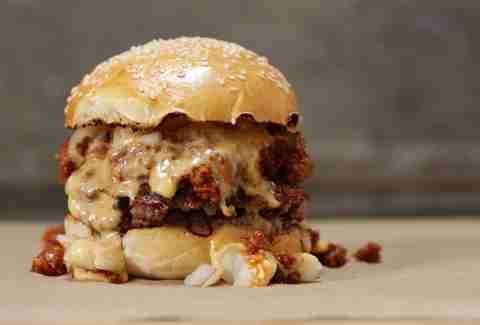 SoMa
Just over a year ago, Causwells burger was the cheeseburger you didn't even know you needed in your life. We fixed that and since then this cheesy double-patty of deliciousness has reached burger fame, spinning off with its own brick and mortar. Come March, Popsons will open in Mid-Market, but you needn't wait even a second longer for a mid-day burger fix. A pop-up version of the restaurant moved into the former Marlowe space. It's starting with just lunch service and adding dinner on February 1.
FiDi
When the SF dive institution Dave's lost its lease on New Year's Eve, you may have found yourself wondering, Is this it? Will this cause the uprising? But on January 1st, all was quiet in post-apocalyptic San Francisco, and you were left with no choice but to sign your exorbitant rent check as a single tear dropped and smeared your weary signature. The first day of forever without Dave's was here. Then, two and a half weeks later, Dave's reopened as The Lark. And it's pretty much the same thing.

The Future Bars (the guys behind Bourbon and Branch, Local Edition, and other favorite fancy cocktail bars) took over the space and gave it a good wash, but they're doing their best to retain its dive bar status. While the staff and signage have changed, the jukebox, cheap beer, and even cheaper cocktails -- a low $5-$7 -- are still there. The story of Dave's (and the other fallen dive bar soldiers last year) is certainly a sign of the times, but I think we can all agree that... it's hard to mess up chili. Which \ the bartender still has simmering in the crock pot right now.
Sign up here for our daily San Francisco email and be the first to get all the food/drink/fun SF has to offer.
Amy Copperman is a regular Thrillist contributor and she still has the meat sweats, which have likely led to feverish post-apocalyptic fantasies. Follow her at @acoppergirl.