15 reasons the new 49ers stadium's food/drink is the best ever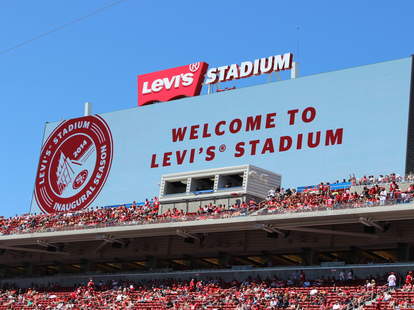 We're just a few days away from the first-ever regular season 49ers game at the new $1.3 billion Levi's Stadium. We already know the new stadium is going to be awesome for its main purpose (watching football), but turns out it's also gonna be awesome at having the best stadium food/drink that has maybe ever existed. Seriously, check this out:
Daisy Barringer
1. There are more than 1,000 beer tap handles inside the stadium
Even though Anheuser-Busch is an official partner of Levi's Stadium, there's also a huge selection of California craft beers, including 21st Amendment Brew Free or Die IPA, Stone Arrogant Bastard, Cellarmaker Dobis Pale Ale, Speakeasy Prohibition Ale, and Sierra Nevada (of course).
Daisy Barringer
2. There are more than 180 menu items to choose from
Hate big decisions? Don't worry, they still have the six most popular foods: hot dogs (or "frankfurters", as no one calls them), hamburgers, chicken fingers, sausages, pizza, and garlic fries. These six items will make up 75% of sales on game day. Those other 25%? Well...
Daisy Barringer
3. Now you can bring your vegan friends to a game
We didn't know vegans even liked football, but nonetheless, Levi's Stadium is *the* most vegan-friendly stadium in the entire sports industry, with 32 vegan menu options. There are vegan salads, vegan hamburgers, vegan hot dogs... you can even get a BBQ jackfruit sandwich that we legitimately thought was meat when we tried it. That's a compliment, by the way.
Daisy Barringer
4. The burger is really, really good
Enough about vegans. The custom-ground, grass-fed American Kobe beef is sourced in California blah blah blah... who cares? All that matters is this $12 burger is delicious and is what we're ordering at every game. Along with 4,999 other people, according to Centerplate's estimations.
Daisy Barringer
5. 85% of the food suppliers are located within the state of California
And 78% are within 150 miles of the stadium. That Peking duck bao? It's from Petaluma. That's right: they have steamed buns on the menu. Three different kinds, in fact. The trio will run you $10.25, but they're tasty and filling.
 
6. There are more specialty gas-fired pizza ovens in Levi's Stadium...
... than any other building in North America.They had to crane them in and build the bleachers around them, which means they're not going anywhere. Ever. Good thing, since they expect to sell 13,500 $8 slices during the first game alone.
Daisy Barringer
7. Each "specialty" food stand has a beer pairing
Order a Goose Island IPA to go with your curry (who doesn't enjoy a tikka masala during a long offensive drive?), an Anchor Steam to wash down your fresh, local seafood, or a Negro Modelo to complement your (Niman Ranch) carnitas torta.
 
8. The BBQ is slow-smoked in-house...
... and then smothered in a house-made 'cue sauce you're totally going to lick off of your fingers even though you definitely high-fived a half-dozen people after that last touchdown.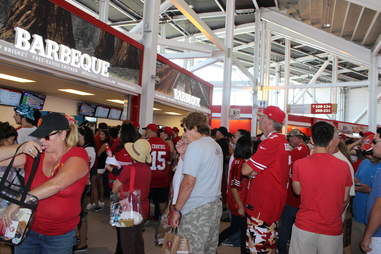 Daisy Barringer
9. The wait for beer (oh, and food or whatever) will be a third of the time it was at Candlestick
"Don't quote us on that," they said. Still, with 33 fixed concession stands, 64 portable concession stands, and over 630 points of sale, we feel confident they won't let us down (plus, there's an app that lets you place and pay for your order ahead of time or have food and drinks delivered, wait for it: right to your seat).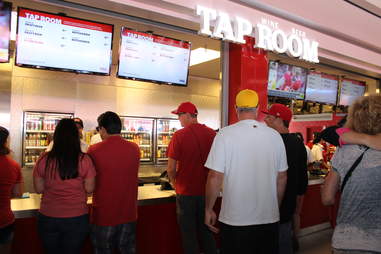 Daisy Barringer
10. You're going to be spending a lot of time at the Tap Room
Located on the 50-yard-line, this is where you go to get 30 varieties of bottled craft beers.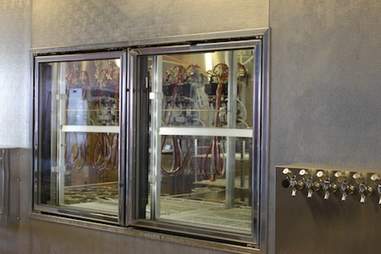 Daisy Barringer
11. There are 27 miles of beer lines in the stadium
Which is just a little more than half the distance you'll travel if you're going to the game from San Francisco. Still, good to know the beer will be flowing once you finally arrive.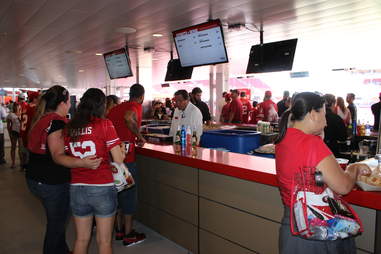 Daisy Barringer
12. There are full-service bars on the main concourse
You read that correctly: hard liquor is now available for consumption during 49ers games, even, apparently, when the Raiders and Seahawks come to town.
 
13. There are 15 wine varietals available on the main concourse
We're guessing your vegan friend will also want wine. He'll be happy to know they're all from California and there's even a keg wine on tap to help him feel like less of a loser about his life decisions.
 
Daisy Barringer
14. They didn't forget the wings and brats
Were you freaking out a little bit? Don't worry, there are several varieties to choose from, but you're going to want to try the RedHot chicken wings, which are tossed in Frank's RedHot sauce for maximum "I think I'm going to need another beer" enjoyment.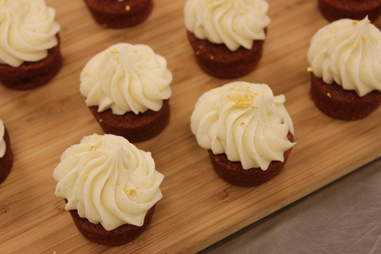 Daisy Barringer
15. The Red and Gold Cupcakes have real gold flakes sprinkled on top
But you'll have to find your way into the exclusive premium clubs and suites in order to sample one. Don't worry. That disappointment you're feeling? It's nothing a local beer and a 49ers' victory won't fix.
Sign up here for our daily San Francisco email and be the first to get all the food/drink/fun SF has to offer.
Daisy Barringer is a 49ers season ticket holder who won't let anyone she takes to the game order garlic fries. And no, she doesn't care how delicious you think they are. Follow her on Twitter @daisy.