The 8 most delicious tater tot creations in SF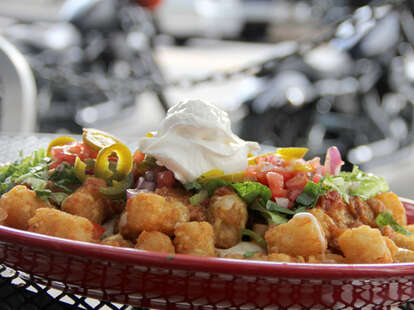 That guy sitting next to Jon Heder in science class said it best: "Napoleon, gimme some of your tots, provided they're one of the eight best in SF according to Thrillist." And because you don't wanna disappoint science class guy like Heder did, here're said eight best...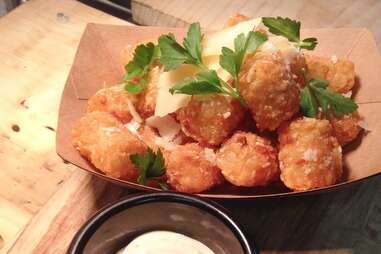 Southside Spirit House (click here for address and deets)
FiDi
Here, they've introduced truffle-garlic tater tots, and what's more (for now) is they're running a special where if you buy any two specialty drinks, you get a bucket for free. Side note: how are tot buckets not a thing everywhere?
Jamber (click here for address and deets)
SOMA
Maybe our favorite place to grab wine/beer in a jug, it's also behind these Parmesan and rosemary "Mashed Potater Tots" that come with the choice of bacon jam or cranberry jam... though, really, you should just get both.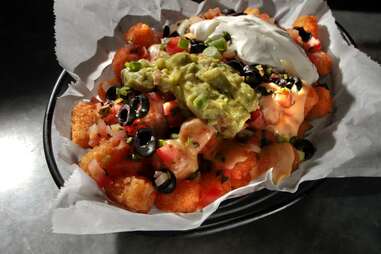 Bullitt/Lightning Tavern/Wild Hare/Mayhem (Bullitt address and deets; Lightning Tavern address and deets; Wild Hare address and deets; Mayhem address and deets)
The Marina; Lower Pac Heights; The Mission
The guys heading this bar empire sure love their tots, as evidenced by the huge selection of ways you can get 'em: Original, Garlic, Truffle, Sweet Potato, Bacon Bleu (w/ bacon and bleu cheese!), and even "Tot-chos", a tater-nacho combination with melted cheese, jalapeños, black olives, pico de gallo, sour cream, and guac.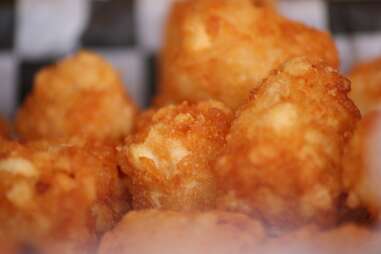 Redford (click here for address and deets)
Tenderloin
This Tenderloin spot (with the awesome upstairs that's never open) serves its fried taters with spicy ketchup (!) and roasted garlic-kalamata olive aioli (!!).
Burritt Room + Tavern (click here for address and deets)
Union Square
Because, awesome, these are rolled in sharp cheddar, provolone, and Parmesan, caramelized, topped with jalapeños, and served with house-made ketchup.
Chambers Eat + Drink (click here for address and deets)
Tenderloin
How could you turn down tots served with pork remoulade and bacon dust? Also: BACON DUST?!?!!?