The theme of this month's crop of new openings is "bigger is better," as soaring restaurants moved in and elaborate concepts came to life. Make your way through this list and you could find yourself sipping cocktails in an immersive steampunk shrine to gin, dining on tacos created by one of Mexico's best chefs, or traveling back to mid-century glamour.
Tenderloin
Four hundred gins and 120 gin-based cocktails is impressive, but the best part of this new Tenderloin oasis is the fact that you can sip said drinks in basically a real-life page of an I Spy book. Doing for gin what Smuggler's Cove did for rum, owner/eccentric visionary Martin Cate transformed the former bridge-and-tunnel nightclub into "an abandoned Victorian London subway-turned-gin distillery." No detail is spared in this steampunk fantasyland that features two bars, plenty of sexy, cozy corners, secret, hidden details planted by Cate himself, and a full dinner menu, inspired by the regions integral to the gin trade. (Think upscale English/Scottish pub fare accented with Indian spices.) Don't know how to tackle the bible-like menu? Start with the Dutch Nemesis and order the booze-soaking farmer's cheese with handmade naan, then head to the "distillery" portion of the bar, a private-ish alcove decked out in distilling paraphernalia, botanicals, and rivets where you can play "I Spy" until your vision blurs.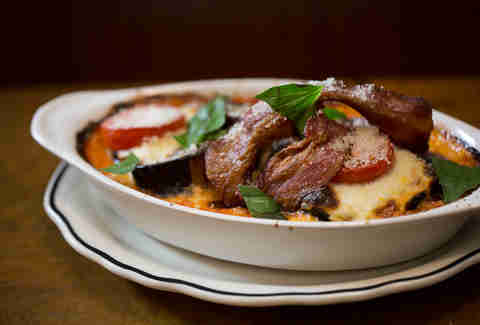 Marina
The guys behind BIX and Fog City have taken over the former The Republic space, upgrading it from rowdy sports bar to a soaring-yet-casual barstaurant that caters to every kind of dining experience from casual date drinks to full-on steak dinners you should get your parents to pay for. If you're going for the former, head to the massive copper-top bar that boasts five kinds of Negronis or the cozy, plaid-adorned booth to dine on the likes of green chile mac & cheese and toasted handmade ravioli. The back is home to the quieter, white cloth-laden tables that're perfect for special occasions or when your parents visit.
Embarcadero
Like its neighbors further north on the Embarcadero, this charming Italian trattoria is luxe and spacious -- much different from San Francisco's usual preference for small bistros. Sleek, modern fire pits line the entrance, and inside, brick facings, antique wood accents, old gas lamps, and marble bar tops set a classic mid-century vibe. The open kitchen reveals the rustic wood-fired oven, which fills the space with the pleasant aroma of classic Neapolitan pizzas and other wood-grilled dishes, such as whole branzinos, porcini-dusted Wagyu coulotte steak, and California lamb. If you live in South Beach, this is your new neighborhood jam for comforting Cal-Italia fare. And if you're like the rest of us and only venture to the Embarcadero when you have visitors or work events, Caputo's grandeur and delicious food holds up to the classics further north, even if the waterfront view isn't quite as grand.
Marina
Michael Mina's second pop-up debuted late last month, this time bringing family-style rustic Italian-American cuisine -- inspired by Chef Adam Sobel's Italian upbringing -- to the Marina space. The menu changes often but features classic, rustic dishes Sobel grew up eating, such as baked clams oreganata, tortellini alla panna, and veal and eggplant Parmesan, lending the space a cozy Sunday dinner vibe. The ticketed dinner is open Wednesday-Sunday and runs $49/person not including tax and tip.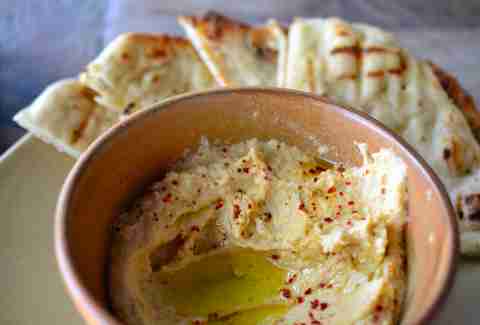 FiDi
FiDi pros get a new upscale fast-casual lunch option with this spacious spot, featuring Mediterranean apps, wraps, and salads. Once the sun goes down, the space transforms into a sexy Mediterranean wine bar that dishes out shared plates and tapas as the gorgeous, handmade Moroccan lamps cast a glow that will probably make your date want to take you home ASAP.
Nob Hill
After three and a half years of roaming city streets with a massive wood-fire oven, Del Popolo's popular pizza truck has found a permanent home in Nob Hill. While the oven is the focal point of the 50-seat space (which also includes a bar and communal seating), an expanded seasonal menu including rock cod with winter squash, persimmon and chicories with pistachios, mint and yogurt, and Monterey Bay squid with fennel and olives join the party as well. Make a reservation on their website (if the massive lines outside the food truck are any indication, this cozy pizzeria is poppin'). And don't worry, the truck is still available for private parties and catered events.
Hayes Valley
Gabriela Cámara's high-end Mexican eatery Cala has launched a casual back-alley taqueria, serving weekday tacos for lunch. The simple menu features tortillas made the handmade, traditional way with three filling options, including vegan- and vegetarian-friendly choices. Agua frescas, iced horchata coffee, and beer and wine also join the party.
Sign up here for our daily San Francisco email and be the first to get all the food/drink/fun SF has to offer.
Amy Copperman is a regular contributor to Thrillist and she spies a regal portrait of a dog dressed as a general at Whitechapel. Follow her: @coppergirl.