From a dude who worked in the kitchen at Chez Panisse for three years, Heyday is a 22-seat SOMA sandwichery now open for breakfast, lunch, and takeout (house-roasted chicken dinners FTW!), ensuring you can enjoy the sunshine and a view of the bridge eat at your desk *sad trombone noise*

The wall is decorated with a giant red windmill drawn over old pages from the Agricultural Almanac, which you can totally read for tips on growing crops in the '70s!! The chef's making absolutely everything in-house, including these slow-roasted turkey sammys with currants, leeks, and mustard on an Acme Deli Roll (okay, so that's from Acme)

Assuming it's Friday and you can't eat meat because you're still not sure when Lent ends (or what religion you are), opt for the vegetarian-friendly roasted red onion focaccia

And, aside from rounding out your lunch with a spicy Molinari coppa, you can also grab half or whole roasted chickens to go for dinner and enjoy at 6 p.m. 7 p.m. 8 p.m.... maybe it's time for a career change?
Recommended Video
These Bao Sandwiches Are The Perfect Street Food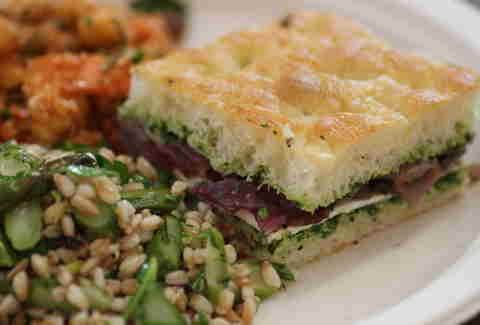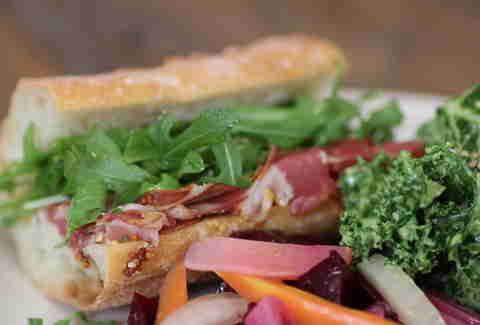 Previous Venue
Next Venue
Venue Description
1. Heyday
180 Spear St, San Francisco, CA 94105
When a former Chez Panisse chef sought to create more substantial and sustainable lunch options, he created Heyday, a breakfast and lunch spot offering up organic, healthy, and downright delicious foods for FiDi diners on the move. Daily specials and seasonal ingredients keep the menu in motion, but vegans and omnivores alike love the Moroccan chickpea salad with ancient grains, carrots, and raisins, while sweet-toothed early-risers go for breakfast pastries like the caramelized cornmeal cake.