A Boozy, Upscale Taco Bell is Coming to San Francisco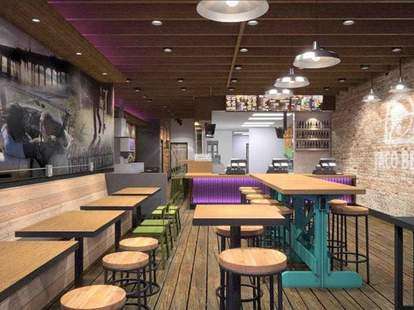 Rendering of the Chicago location. Courtesy of Taco Bell
San Francisco's about to get a brand new Taco Bell -- and it's going to serve booze. Taco Bell. Booze. Soon!
Taco Bell confirmed the new location, slated to open at the corner of 3rd and Townsend in SoMa, won't be your typical T-Bell, but will be among the first of the Crunchwrap-purveyor's urban-friendly concept restaurants, which offer beer, wine, and alcohol-spiked frozen drinks. In other words, you'll soon be able to enjoy Taco Bell while drinking instead of just after drinking and stumbling to the closest one. Hell yes!
"[A]s part of our expansion into new urban markets, we're building a new Taco Bell concept and design in San Francisco," a Taco Bell spokesperson said via email. "The new restaurant will feature the same craveable, affordable, Mexican-inspired tastes at Taco Bell, along with a new line of appetizers, beer and wine."
Just last week, Taco Bell announced that its forthcoming Chicago restaurant would be the very first of its new, boozy and urban-friendly concept restaurants in the United States when it opens sometime this summer. At the time, Taco Bell said the fancy new location will have a unique urban design inspired by the neighborhood and even do away with its typical food wrappings in favor of serving up all those Chalupas and burritos in open-face baskets. Basically, the whole place will be more fast-casual than just fast.
Taco Bell wouldn't say when it expects to open the new San Francisco outpost, and didn't have any renderings of the interior to provide, but it's probably safe to assume it will be similar to the Chicago location. And while no additional boozy Taco Bell locations have been announced, it's starting to feel like more are on the way...
Tony Merevick is Cities News Editor at Thrillist and wonders if this is the start of the boozy Taco Bell revolution. Count him in. Send news tips to news@thrillist.com and follow him on Twitter @tonymerevick.