From a guy who must be a pretty big fan of word scrambles, MaSo is a SOMA restaurant with an outdoor patio (!) and a comfort food-centric menu (!!) attached to the Westin (?). But don't worry, you're still going to want to eat here.
Recommended Video
This Pizza Has Everything You Need for the Super Bowl
You definitely are going to want to start off with the happy hour mac n' chorizo, because lobster mac n' cheese is sooooo on their regular dinner menu (and also delicious).
These are the T-bone lamb chops that come served with Cabernet olive jus and olive oil mashed potatoes you'll want to pop(eye) into your mouth.
Their filet of beef is drizzled with a Syrah wine sauce and comes with grilled Shishito peppers, a generous slice of Humboldt Fog cheese, and whipped potatoes whose wives say they can't go get smashed with their friends.
And here it is, the pièce de résistance, a 9oz Niman Ranch burger with Redwood Hill Farm goat cheddar, and house bread and butter pickles you'll go Wilde for.
Previous Venue
Next Venue
Venue Description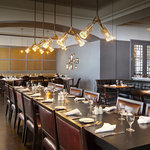 1. MaSo
50 3rd St, San Francisco, CA 94103
SoMa's MaSo (see what they did there?) is a tasty addition to The Westin's already-lively hotel. This New American eatery's massive burger specifically acts as a nod to all California is known for with its sourdough bun, heaps of avocado, and local cheese straight from Sonoma. For a perfect afternoon outdoors, grab a cocktail at the terrace bar and nosh on baby crab cake lollipops during happy hour.