Oh, just the most anticipated SF opening of maybe the year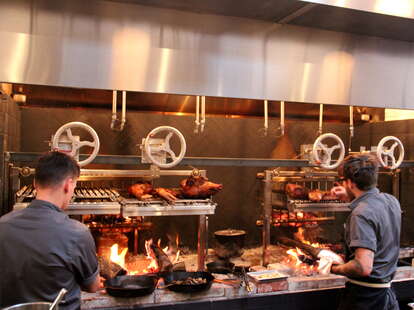 Not just what sadly got replaced by graft-versus-host disease in the Bluth's annual charity fundraiser, TBD is the tongue-in-cheek name of the second restaurant from the team behind the award-winning AQ, conveniently located just a couple doors down on Mission (no, not at the Subway, the other way).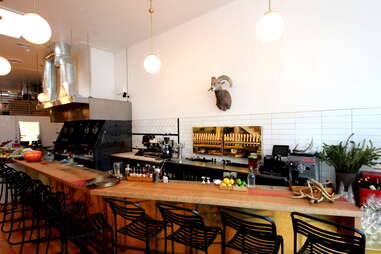 This 50-seater looks sorta like a Lake Tahoe cabin, if the Lake Tahoe cabins you stay in have a wooden bar and camping lanterns along the main floor and mezzanine. Every leather-covered seat has a view of the open kitchen and its giant, custom-built Grillworks grill and hearth.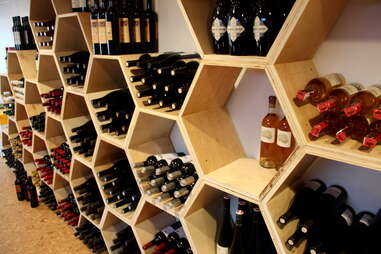 Upstairs is where their global wines are stored, in what resembles the honeycomb of a bee who might have a problem.
They even have a chandelier made of camping lanterns hanging over their communal seating area, and a deer skull that may or may not be haunting your nightmares (not pictured because, aforementioned nightmares).
Keeping with the theme, even their business cards are stored in a First-Aid kit that probably expired when your grandpa was a kid. Pro tip: DO NOT use the Penicillin in there.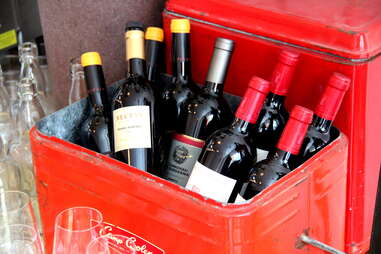 Giving a whole new, much-more-awesome-and-less-pina-colada-y meaning to the term "wine cooler".
With the same chef from AQ taking over the reigns at TBD, the menu is all a take on rustic Californian cuisine, with six different categories (Smoked, Hearth + Embers, Grill, Plancha, Sweet, and Raw) under which you can find some of this jerky, and 24-month-aged, cured iberico ham (cured of what??).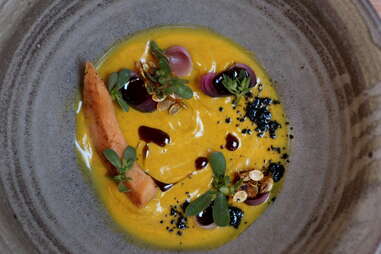 After you eat this artistically arranged pumpkin soup (oh, BTW you're gonna want to eat this artistically arranged pumpkin soup), you can also grab hearth-ified meats like the aged beef sirloin with Brussel kraut & pastrami.
And though they don't have a full liquor licence, they're getting pretty creative with the beer and wine options they do have, by making cocktails from the accurately titled Loopholes portion of the menu.
Along with the awesomely appellated Churchill's Bane, you can get one of the 20 beers they have on tap... or three or four... let's be honest here.
And to pair perfectly with this SF egg cream (sweet Sherry, chocolate, milk, soda water) are some of the sweets, like a chef-favorite, weekly rotating soft-serve ice cream, or the god-I-hope-this-tastes-better-than-the-namesake Dutch Oven Cake with parsnips and sweet woodruff.