Bacon sandwiches at an all-day, every-day brunch fest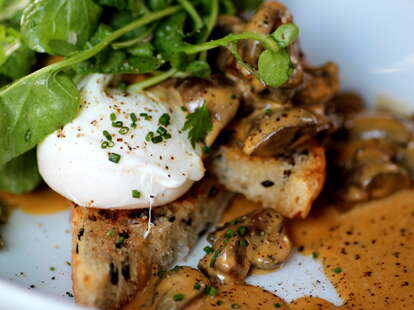 Much like Christmas, brunch is that magical time you wish could be every day, and now, unlike that stingy Santa Claus (sorry Santa, we don't mean it!! Nice list please!!), The Cavalier is giving you exactly what you want with an all-day, every-day breakfast and lunch that also happens to be bacon-sandwich-level delicious (more on that later).
You can start things off with the traditional English "Soldiers", which are neither the kind that have guns nor the fallen kind you find the day after a party, but instead, sticks made out of cheesy toasted bread served with an egg filled with a type of Hollandaise.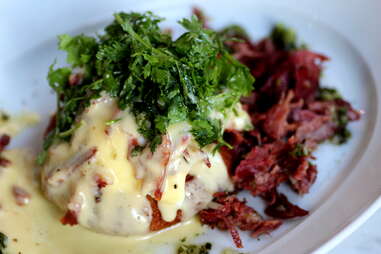 Then move on to the big guns (note: still no actual guns) with a lamb hash featuring celeriac, olives, and a poached hen egg.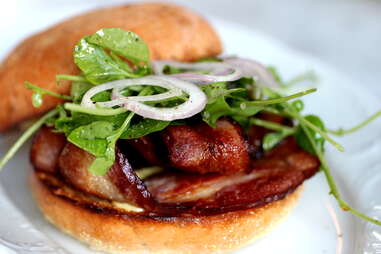 Remember that bacon sandwich we mentioned? Yeah, it was worth waiting for, because this perfectly crisped bacon with shallots, pepper cress, and a mustard dressing is possibly the most perfect thing between two buns since [JOKE REDACTED].
And don't worry, they're not leaving you out to dry during breakfast, because they've got an English Bloody Mary that mercilessly persecutes all non-Catholics includes a special-marinated mustard for a kick rather than any other added spices.
And gracing the lunch menu is the somewhat-confusingly-named-if-you're-not-talking-about-a-sandwich English Cuban, featuring pickles, English cheddar, Marie Rose sauce, and ale-brined pork.
They also have a couple of not-quite mimosas that are pretty/tasty enough to distract your gf while you order The English, a traditional breakfast of two hen eggs, thick-cut bacon, pork or beef bangers, sautéed mushrooms, roasted tomato, and toasted Pullman.
Though it's not technically brunch-y, you will seriously be missing out if you don't grab the tartare of angus ribeye (a much higher quality steak than usual for this dish) with dill, horseradish, and capers, or the old-fashioned happy-dance steps you'll be doing upon tasting this.