This is the best damn restaurant opening of the year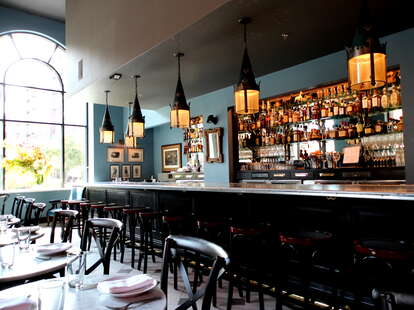 Not just what you call Andrew Bynum, and Kyrie Irving, and Anthony Bennett, and Dion Waiters, and Anderson Varejao, and Tristan Thompson, and Jarrett Jack, and Earl Clark, and Tyler Zeller, and CJ Miles, and Alonzo Gee, and Wayne Ellington, and Sergey Karasev, and Carrick Felix, The Cavalier (!) is also the name of the newest restaurant from the dream team behind Park Tavern, Marlowe, and S&R Lounge.
All three separate non-private dining areas a) feel super British, and b) feature amazing stuffed animal heads on the wall. See?
"The Stables" is a super-swank, dark leather-boothed room with hand-painted hunting scenes on the walls that you can enjoy in private via a barn door which, contrary to popular belief, can be closed.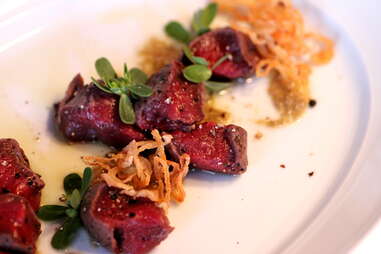 Perfectly going with a general hunting-lodge theme: this venison tartare.
In a departure from the burger served at Marlowe and Park Tavern, this is the alliterative Blue Bar Burger. Sure to be a competitor for SF's best burger, it's loaded with tomato chutney and English cheddar, and comes with thrice-cooked chips (french fries).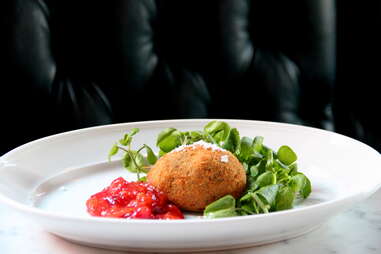 The bar will be open for lunch and dinner, you silly goose, giving you two opportunities to order the Duck Duck Scotch Egg.
Why yes, this is a tower of lamb scrumpets with pickled mint and chile. Scrump...tious?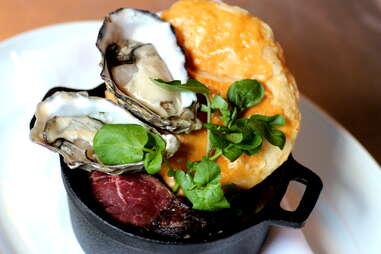 Quite possibly the manliest pie in existence, this Steak and Oyster Pie is definitely something you'd risk stealing out of a window for.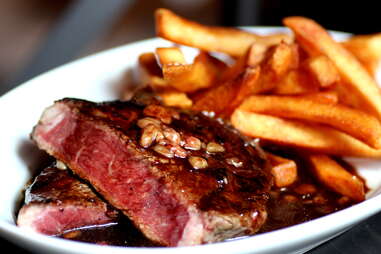 You can always go original with ribeye of grass-fed beef served with bone marrow gravy (drool) and beef-dripping chips (food coma).
What English pub would be complete without Fish n' Chips?
Probably named for the cartoon noise you'll make upon sipping it, this is the Scotch, absinthe, and sweet vermouth combining Whiz Bang.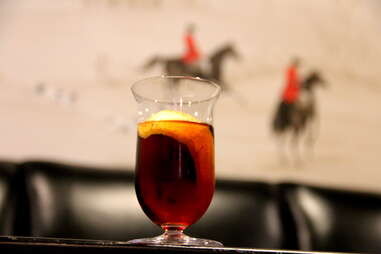 Buffalo Trace Bourbon, Nardini Amaro, white vermouth, and Benedictine make up The Barrister.
And you'll definitely be able to sling back a few of the East Indies... Slings.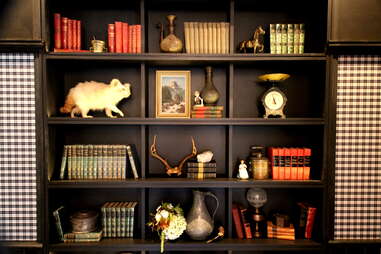 Oh, and just between you and us: this bookcase filled with a bunch of things found in a hunting lodge definitelyprobably doesn't lead to a super-secret bar that you can seriously only get to if the owner has specifically allowed you in. Maybe.