If you like Super Duper's regular burgers (mmm... humanely raised, 100% vegetarian-fed, ground fresh daily beef...), then you're going to pink-heart-emoji Super Duper's secret burgers, which 1) you won't find in its official materials, 2) you can totally order at every single one of its locations, and 3) we're totally telling you all about below: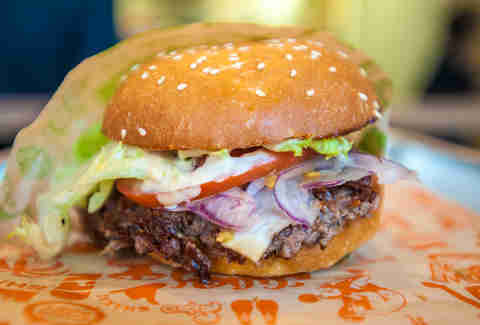 Blue Cheese Burger
Cambozola blue cheese, grilled portobello mushrooms, grilled onions, lettuce, and Super Sauce. It's the burger you've always loved, but just a little more grown up. Sure, you could just order a Super Burger (two 4oz patties) and then add all of this stuff, but if you did that, it'd cost ya $9.25. If you order it by name, you'll get it for just $8.50. Same goes for ALL of the secret burgers, actually. (Also: the secret Mini Burgers -- one 4oz patty -- are just $7.25.)
Four Cheese Burger
Good things come in fours: The Beatles, lucky clover leaves, the Indiana Jones movies. Better things come in SECRET fours, like the cheeses on the secret Four Cheese Burger. What is it exactly? A burger (duh) with aged white cheddar, Jack cheese, cheddar cheese, Cambazola blue cheese, lettuce, tomato, and last, but never least: Super Sauce.
Caesar Burger
Super Duper's gonna take the Super Burger and add Caesar dressing, aged white cheddar, lettuce, tomato, and onions. So, basically like if your burger were a salad. And just as healthy, probably. That's how things work when they're secret, right?
BONUS SECRET: Giant jar of homemade pickles
These pickles aren't just for decoration (even though they do look pretty good sitting on that shelf). You can actually take home the entire jar for $30. And when you're finished? Bring that jar back and they'll give you a $10 refund. It's like the olden days, only with less scurvy.
Sign up here for our daily San Francisco email and be the first to get all the food/drink/fun SF has to offer.
Daisy Barringer is Thrillist's SF Editor and she's still waiting to find out where's the peck of pickled peppers Peter Piper picked. If you know, please tell her on Twitter @daisy.