Checking Out San Francisco's Secretive Supper Club Scene
Lazy Bear

| StarChefs/Courtesy of Lazy Bear
Lazy Bear

| StarChefs/Courtesy of Lazy Bear
The term "supper club" evokes secretive, exclusive, and (sometimes literally) underground dining experiences that require you to know a password to get in. However, in a city like San Francisco, where good food and tech are abundant, some supper clubs are easier to find, thanks to tech ingenuity. In our roundup, you'll mostly find supper clubs that are relatively easy to get into -- just buy a ticket online. After all, eating good food shouldn't be that hard... although there is some thrill in the chase.
Mission
Just look for that unmistakable, purple Victorian house in the Mission -- it's hard to miss the Naked Kitchen. This spot hosts up-and-coming chefs, giving guests a preview into their skills before they open up brick-and-mortars of their own. Prices vary per event, as do the chefs in question (Top Chef's Elizabeth Binder has been here), and can range in size from just 10 people seated around a bar to one with 40 others in the dining area. Most recently, they hosted a dinner by Per Se alum and Michael Mina sous chef Anthony Yang, which included items like polenta cakes with lamb bacon, so you know you want in on this. The best way to attend is to sign up on their mailing list, which'll get you on the invite list.
Mission (& Potrero)
Feastly offers pop-up supper club spaces around the city for rogue chefs to show off their craft, and among the most popular is Chef Ma's. Ma is a bus driver by day and a chef by night. Having grown up in Myanmar, Ma moved to San Francisco nearly three decades ago, and actually cooked in the famed Burma Superstar kitchen before she decided to make it on her own.
Ma's meals regularly change, highlighting different Burmese dishes and ingredients. Currently, bone broth noodle soup and paratha (flaky flat bread) are on the menu.
Ma's dinners usually sell out (possibly because Ma, like her name, treats you like a mom and has been known to give you second and third serving, then send you home with leftovers). Visit the Feastly site to book a ticket.
Mission
The Mission-based Lazy Bear is probably one of the most well-known San Francisco supper clubs. Originating about five years ago in self-taught Chef David Barzelay's apartment in Duboce Triangle, Lazy Bear now has its own permanent space, where food is served on a long, large slab of American elm wood. Barzelay cultivates a conversational, laid-back, mingling atmosphere; the evening starts off with punch and snacks, followed by a communal dinner. Guests can expect 14 or more courses, including dishes like firefly squid yakitori and rabbit with snails, green garlic, and stinging nettles. Tickets range in price from $150-185, with an additional wine pairing for $85. Tickets are sold a month in advance, so plan ahead if you want to join in on the dinner fun.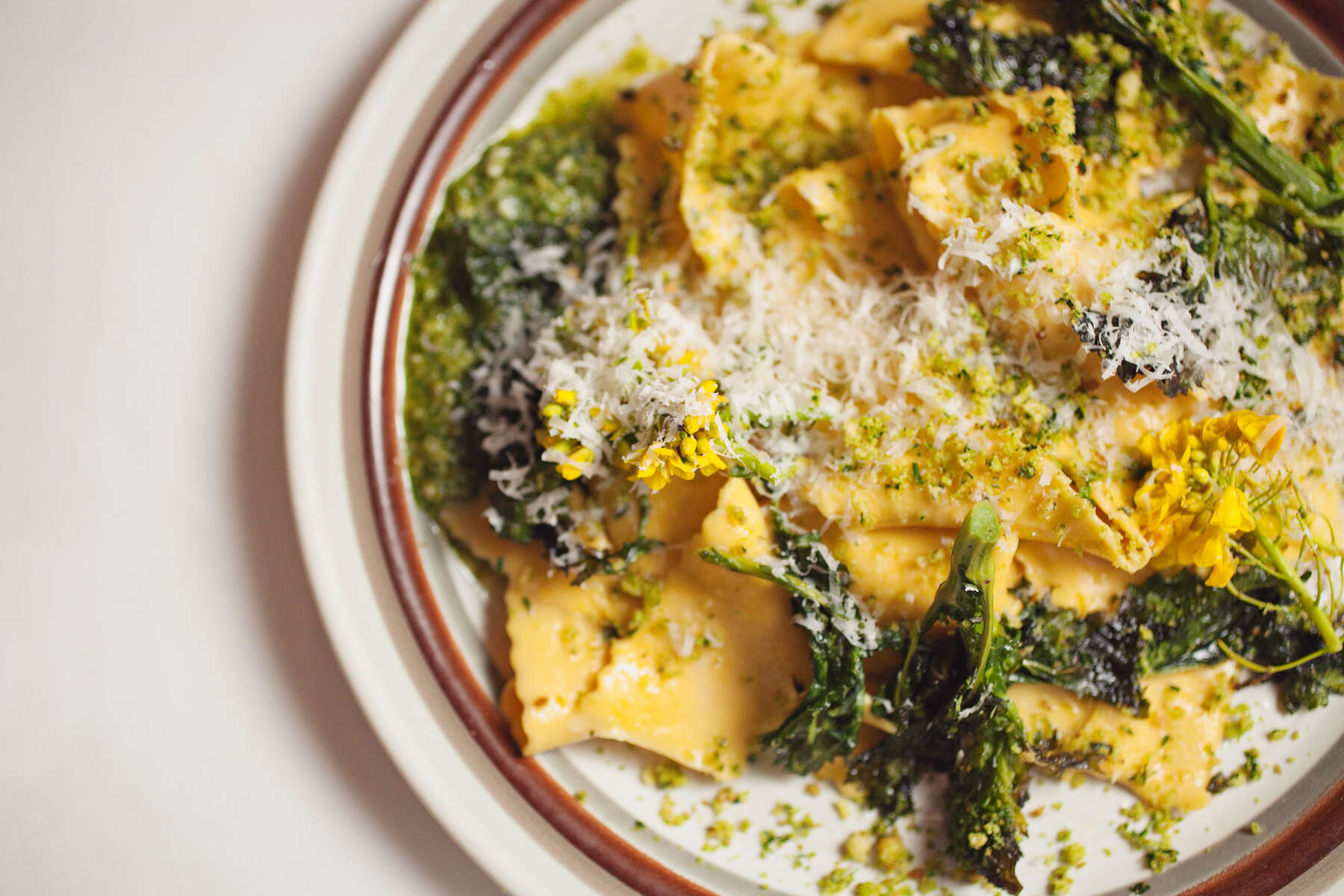 Multiple locations
A relatively new venture, Wild Kitchen is a project out of ForageSF, which champions supporting local foragers and the San Francisco food community as a whole. A traveling supper club, each eight-course dinner includes locally-foraged ingredients, like freshly picked porcini and seaweed. Their last dinner, held a few weeks ago at the Ferry Building, included Okonomiyaki with smoked wild caught California salmon with white horseradish, lobster reduction, and a sunny-side-up duck egg. A communal dining experience, the Wild Kitchen dinners can host up to 100 guests. Sign up to their email list to be apprised of upcoming dates, so you can be among them.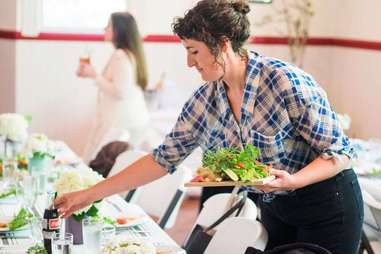 Multiple locations
The Stag Dining Group has since grown from its supper club roots to high-profile events, partnering with the likes of Aloe Blacc, Reggie Watts, and Jacques Pépin. The location is often secret until the day before (hence, uh, the name), and can take place practically anywhere, from antique streetcars to World War Two battleships. Focused on sustainability and seasonality, the menu is always transforming, but you can sign up to their mailing list for an invite to their once- to twice-monthly events.
Mission (& Potrero)
It was just too hard to choose only one supper club meal from the Feastly platform, and Eats by E is so delicious, and established -- Chef Eric has garnered nearly 1,000 perfect reviews from diners. Born in the Bay Area, Chef Eric spent a lot of time in Hawaii with his grandparents, and his regularly changing menu consequently involves influences from both Hawaii and his family's native Philippines... although he's been known to throw some curveballs in there with a few Peruvian dishes to boot. With every one of Eric's meals, you're always going to be treated to a lumpia course, so you have that treat to definitely look forward to, but otherwise, the menu can be derived by any number of influences; right now, Eric's menu is inspired by his mother, as well as produce preservation -- or using produce that is "too ugly" for general consumption. Outside of his job as a real estate agent, Eric is also a cofounder of Oakland's The Lumpia Company -- and you'll get to taste test custom flavors at his dinners.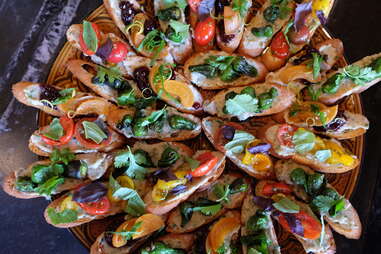 Multiple locations
A collaboration between Shane Stanbridge and Marie Chia, S&M Vegan serves flavorful vegan food, and while their supper club rotates themes, the dishes are typically centered around the cofounding chefs' heritages, with Asian and European flavors taking center stage. You can expect dishes like Png Kueh dumplings, grilled romaine in pea brodo, and (nut) cheese and salad plates. The team hosts recurring weekly and monthly pop ups at venues in Oakland and San Francisco, but visit the event calendar on their site to check their upcoming schedule.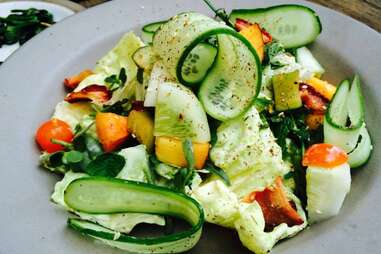 Multiple locations
Nommery straddles the supper club line, because it takes place at restaurants that you could get into normally... if you're willing to wait hours or make reservations months in advance. Originally a dining club intended to help folks meet each other and share meals, Nommery remains a community experience (one married couple even met through the service) but it's also a platform that allows folks to host dinners at a variety of restaurants, and enables guests to reserve a seat at difficult-to-book venues, including the line-around-the-block Mensho Ramen, and the always sought-after State Bird. With Nommery, you pay a flat fee to eat family style with a group of anywhere from four to 50. The nice supper club twist: the restaurants will usually develop a custom meal, with some excellent off-menu items. Recently, members enjoyed a secret happy hour event at Modernist, where they snacked on dishes like truffle macarons with foie gras ganache and strawberry mousse.
Multiple locations
Phoenix Supper Club's diners are actually whisked off to their secret destination via limo -- a Champagne-filled limo at that -- to enjoy their nine-course wine pairing tasting menu for the night. Jazz performances usually accompany the dining experience. If you're looking for a more immersive visual and audible experience outside of the food, requests for the "Mephisto" are also doable, which offers entertainment like "fluid sounds and visual enchantment" (yeah, we're not sure on that one, either), as the main entree, along with a seven-course wine pairing.
Sign up here for our daily San Francisco email and be the first to get all the food/drink/fun SF has to offer.
Patrick Wong recently started writing for Thrillist. That's not a secret, because he doesn't like secrets; they can stop him from eating really good food sometimes. @peewong