How to Support Local SF Restaurants During the COVID-19 Pandemic
In order to keep people safe and healthy during the COVID-19 pandemic, restaurants all across the country have been forced to shut their doors. Many have done so entirely, but some have opted to continue offering delivery and/or takeout in an attempt to keep staff employed and stay afloat during these tough times. Still, selling meals for people to eat at home is not nearly enough for restaurants to make the money they need to survive, and beyond that: a lot of them have had to lay off staff who live paycheck to paycheck and are suddenly at a loss for where to turn to next. Unfortunately, the restaurant industry is going to emerge from this time of sheltering-in-place very different from how it was even just a few short weeks ago, and it needs anyone who can afford to do so to do whatever they can.
Not sure how to help? Here are a few things anyone can do to help during these times:
Want to do something even more? These local spots are all going the extra mile to help people in need, whether it be their employees, health care workers, or those who need a comforting meal, but can't currently afford one. Read on to see how you can help.
Chef and Pitmaster Matt Horn is eager to open up his permanent location of Horn Barbecue in West Oakland, but until that happens, he's serving free dishes, like pulled pork and barbecued chicken, to bring welcome relief for those in need of a satisfying meal. Assuming Horn Barbecue gets the funding it needs, the curbside pickup food is happening every couple of days, so be sure to donate! If you're in need of some mouthwatering comfort food, check the Facebook page for more information about when the next Community Barbecue will be taking place.
This Ashbury Heights' spot has gotten us through many a tough day, and we can only imagine how satisfying one of the delicious sandwiches or burritos will be for one of the hard-working doctors, nurses, or support staff at UCSF Hospital or Kaiser. Like so many restaurants, Bacon Bacon is struggling right now because of a lack of business, so this is a great way to help keep the restaurant afloat and give back to the people on the frontlines. (Don't worry about the pickup or drop off times when placing your order; everything will be handled by the Bacon Bacon staff.) And because you could probably also use a pick-me-up, Bacon Bacon is offering delivery and pick-up from 8am to 2pm on Thursday through Sunday.
Buy a family meal from Che Fico Alimentari for people in need
The very-hard-to-get-into during normal times Che Fico Alimentari is offering up to 200 dinners every night for people in need during this pandemic, as well as $50 family meals for pickup for those who can afford it. We gave it some thought and decided the best way to go about this is to buy one for you and one for them. Or, if you can afford it, one for you and two for them! Each meal feeds two to three people and consists of dishes like house-baked bread, a salad, and mushroom ragu or pork loin. Che Fico is also selling wine, which feels extra important to mention right about now.
Support La Cocina Restaurants
When it comes to the restaurant industry, La Cocina is one of the Bay Area's most important non-profits because it helps empower low-income entrepreneurs, especially women from immigrant communities, grow their restaurant and food businesses. So many of those businesses have taken a huge hit because of Coronavirus, but there are a few easy ways to help support the community. The easiest is to order food, a gift card, or contribute to a GoFundMe from any or all of the businesses that offer them. The next way is to donate to La Cocina's Emergency Relief Fund, which provides emergency financial assistance to active and eligible participants of La Cocina for personal, family, living, and business expenses. La Cocina threw in the first $100 grand and to-date has raised over $200,000. Lastly, La Cocina has a food box that will give you a week of food from some of its talented women chefs, and 100% of sales goes back to the businesses. (A large box serves four people for a week and costs $150 and a small box serves two people for a week and costs $80.) Just be sure to check every Saturday for the menu because boxes are selling out fast.
We can't imagine anything worse than never eating the fried chicken from The Front Porch again, which is why we're salivating over the fact that there are two ways to ensure that doesn't happen. First: You can order most of the menu to be picked up or delivered from the website (which means that an outside service will not be taking a huge chunk of the profits). If for some reason you're not craving a bucket of chicken and a side of biscuits right now (we can discuss that later), you can buy a gift certificate. You'll get 10% off your bill when you're able to redeem it in-house, and if you buy one for $100 or more, you'll get a free bottle of hot sauce. Want to help the staff who were affected by the closure of sister spot the Rock Bar? Donate to the GoFundMe; it will be much appreciated.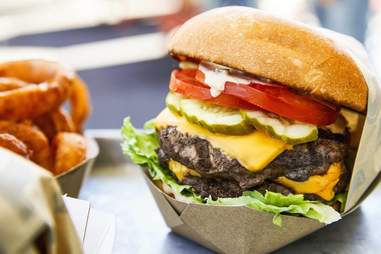 Courtesy of Gott's Roadside
Okay, bad news first: The Gott's Roadside location in the Ferry Building is not open right now, but now for the good news: Gott's is giving 100% of its sales -- whether it's food, gift cards, merch, or beer -- directly to its employees. So while if you live in SF, you might not be able to sink your teeth into one of those double cheeseburgers right now, you can buy a gift card that will support the staff and dream of a day (in the hopefully not-so-distant future) when you'll be able to order that burger and a side of chili cheese fries and a chocolate shake and and and and. For those near the other locations (Napa, St. Helena, Marin, Walnut Creek, Palo Alto), you're in luck because most spots are doing delivery AND pick-up, so you don't have to wait another minute to feel good about chowing down on a burger and fries. Not that you ever should, but...
It's not the best time to open a reboot of a beloved San Francisco restaurant, but the team behind the revamped Tosca didn't want to put it off any longer than necessary. Help them stay afloat by purchasing a family-style dinner of comforting favorites that will taste even more delicious knowing that 100% of the proceeds will go to staff so that the restaurant can actually reopen for table and bar service when the time comes.
Okay, so you won't be able to eat unlimited slices of meat carved tableside until things go back to normal, you can still get an indulgent menu to be picked up curbside or for delivery and 10% of your order will go to No Kid Hungry to help end childhood hunger, a program that is more important now than ever.
If there's one thing all of us need right now it's some healthy greens, but you know who probably needs it way more than you? One of the heroic healthcare workers going above and beyond during this time and/or a person in need. You can support MIXT by ordering a salad for yourself for delivery or takeaway, but you can support those other people by adding "Help Feed Someone a Healthy Meal" ($15) or "Help Feed 3 Healthcare Workers on the Front Line" ($45). You don't even have to order for yourself to make this happen (although again: you probably need to eat some fresh veggies right about now, so maybe add something for yourself as well). 
Both of these iconic waterside restaurants along the Embarcadero are closed right now, but you can help support the employees who are out of work by purchasing a gift card. From now until the end of April, 50% of all gift card proceeds will go towards an Employee Relief Fund that will be distributed to over 200 furloughed employees who have been negatively impacted by the COVID-19 pandemic.
Michael Mina may have been forced to temporarily shutter all of his popular SF restaurants, but you can still enjoy a comforting globally inspired meal from some of the top MINA Group chefs. And every time you buy a family meal, you're directly helping employees who have been furloughed and can pick up their own family meal. Work in the bar or restaurant industry? Call your order in by phone and get 20% off. Want to give back even more? Contribute to the GoFundMe relief fund for MINA Restaurant Group team members.
Sign up here for our daily San Francisco email and be the first to get all the food/drink/fun SF has to offer.
Daisy Barringer is an SF-based freelance writer who doesn't know how to cook, so is currently surviving on takeout and cheese and crackers. Follow her on Twitter @daisy where she's sharing pretty much every thought that crosses her mind.