No matter which SF restaurant you choose, brunch will automatically be a success because it's the one meal of the week where you're allowed -- encouraged really -- to booze it up before noon. Still, with so many great chefs and restaurants in the 7x7, there's really no reason you can't get enjoy your bloody AND an amazing meal. So grab a gaggle of friends, some Advil, and your sunnies, and head out to one of these 11 spots, all of which introduced brand new brunches in 2015, and all of which are killing it.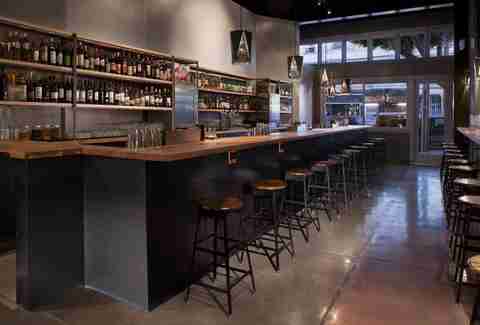 The Mission
We've been huge fans of ABV since the doors opened in 2014, so we were pretty stoked when the restaurant decided to add a weekend brunch. Sticking with the whole "no silverware" situation (which is not a gimmick, but rather so that bartenders can focus on making kick ass cocktails), the brunch offerings include a tasty breakfast sandwich that's just the right size to conquer your hangover (when paired with a mezcal bloody, of course), a colorful avocado toast (there has to be avocado toast), and yes, the pimento cheese burger, which frankly we could eat for pretty much every meal of the week.
Cow Hollow
Yes, it's on Union St. No, that doesn't stop the Belgian-inspired brasserie from being one of our faves for a lackadaisical brunch on the sidewalk (if you can snag a seat there, that is). Split the flatbread with smoked ham, cherry tomatoes, Parmesan cheese, and sunny side-up eggs, and then get one of the egg dishes for yourself (the chicken confit hash is mmm mmm good). Whatever you do, don't skip out on the sweet stuff or the cocktails. The brioche beignets and the waffle are both out of this world, and we like adding gin or vodka to one of the refreshing booze-free sodas.
The Marina
It's no secret we die for Causwells' burger, but we haven't yet told you how much we dig the brunch at this casual neighborhood bistro. And though we'd be big fat liars if we didn't admit that a huge reason for that is because there's a brunch burger (yes, it has a fried egg, and yes, it has bacon), but also, can we talk about the house-made buttermilk biscuits and gravy? Actually, less talk, more shoving it into our mouths.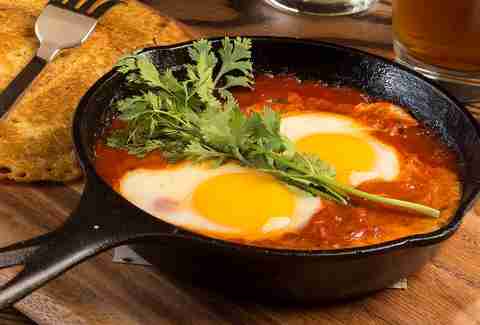 The Mission
Brunch is all about gathering with friends (well, and curing your hangover), which is why we love brunch at the ever so friendly and chill Myriad Gastro Pub. The only thing is: you won't want to gather with too many friends or you'll be fighting over the ricotta zeppoles that you're definitely ordering to start. You'll also want to opt-in to the deviled eggs with salsa verde, the Mayan pork and potato hash with fried egg, and the five-spice challah French toast with bacon-bourbon maple syrup and pecan mascarpone. The one thing you won't have to share (hopefully)? Your brunch cocktail. There are over 12 to choose from, but we can't get enough of the Persephone's on Fire (pomegranate, agave wine, Americano, lime, jalapeño, ancho chile) and not just because we feel a little bad about Persephone and that whole getting tricked into spending time in Hades situation.
The Marina
The Dorian's more than just a pretty face; the Marina bar and restaurant also serves super tasty food. And that includes brunch. In a town where brunch is almost always about the breakfast and rarely about the lunch, we appreciate that The Dorian offers options like fish and chips, their burger with "fancy sauce," and even some healthy salads (because yes, sometimes we want salad, seriously though, please don't tell anyone). Of course, they also kill it with the souffléd French toast, and it's a fact that the "cure all" flatbread with a sunny side-up egg, ribeye, cheddar cheese, and hot sauce really does cure all. Although the brunch cocktails also help in that regard.
Mission (& Other Locations)
If you haven't been to Dosa's brunch in a while, you need to go back 'cause the restaurant launched a brand new menu in November featuring authentic South Indian dishes, and it's super tasty and a nice departure from the same ol' same ol' brunch scene. (No offense French toast and eggs Benedict; we still love you). Order a bunch of stuff to share, but don't skip the Sunny Side Uttapam (tomato, onion & chili uttapam topped with two eggs) or the Nutella & banana dosa. Like you would ever skip the Nutella & banana dosa.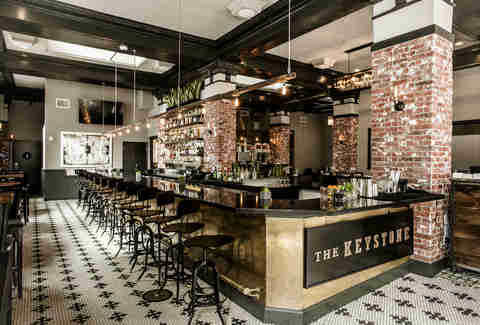 SoMa
The Keystone started offering a new brunch menu that's all about Southern-inspired comfort food, which is basically the best brunch food there is. Think: Southern fried chicken Benedict, biscuits and sausage gravy, and fried ribs and pickles (yeah, you read that right). And the best part? Two magic words: bottomless mimosas. Which as any dedicated bruncher knows, is the key to a successful outing.
Russian Hill
The saddest part about brunch is that most restaurants stop serving it around 2 or 3pm. Yeah: not Reverb. They know what's up, so brunch is served until 9pm on Sundays. Brunch for dinner? Done. You can't go wrong with the fancified fried egg sandwich (it has goat cheese, maitake mushrooms, and pesto -- you'll have to add bacon for $3) or the crispy chicken legs and waffle. But whatever you do, don't walk out of there without getting the donuts. Life is too short to make those kinds of devastating mistakes.
The Mission
First you place your order at the counter. Then you find a seat in the sun-filled courtyard. Then you wait as chef Thomas McNaughton makes you some of the best brunch food in the city. Start with the avocado toast, not just because yummmm avocado toast, but because the lime and chili give it a kick that earn it the best-avocado-toast-we've-ever-had award. Also, you'll want the fried chicken egg sandwich with prosciutto and chili hollandaise, and you're a fool if you skip the sticky bun. While you're enjoying your food, you can also concoct your own breakfast beverages. $48 gets you a big carafe of bubbly wine, a half a carafe of fresh squeezed orange juice, garden-herb syrup, and bitters. SCIENCE!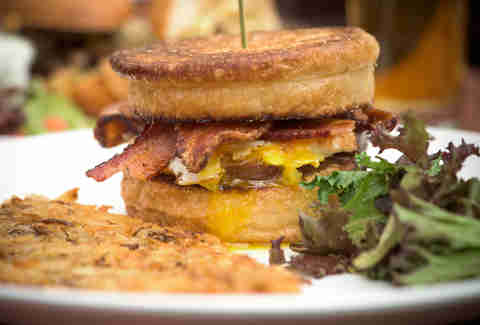 The Marina
If you're hungover, Scotland Yard will cure what ails you. The menu seems as if it were created by a genius stoner chef, and we mean that in the best way possible. Get the Brass Monkey -- a 40oz of Olde English and a carafe of OJ -- because it's a 40oz of Old E and OJ. For breakfast. Then share the chicken and waffle bites (the chicken's encrusted with Cap'n Crunch). Good luck choosing between the egg muffin sandwich, the carrot cake French toast (with brown butter frosting), and the Gold Rush biscuits & gravy, 'cause you're gonna want 'em all. Oh, and did we mention the Yard burger (which is probably our favorite burger of 2015) is on the brunch menu? Yeah, you're screwed. In the best way possible.
The Mission
Sous Beurre's brunch started out counter service-style, but it's now full service, which is good news since brunch should really be as little work as possible. There are a couple of must-try dishes, including the waffle fried duck leg and the the crème brûlée battered grilled brioche French toast, but what we really die for is the Brunch Crunch: sous vide hash browns stuffed with a soft boiled egg and served with a side of bacon. Life is good, friends. Life is good.
Sign up here for our daily San Francisco email and be the first to get all the food/drink/fun SF has to offer.
Daisy Barringer is an SF-based freelance writer who really, really, REALLY enjoys doing the research for articles such as this one. Follow her on Instagram @daisysf for pics of her brunches.