San Francisco's 11 Best Pork Buns You Won't Find at Dim Sum Spots
if you want a great pork bun, you'll just head to one of the best dim sum restaurants in the bay area. but if you want a great pork bun without also having to deal with the whole carts thing, you'll head to one of these: 11 sf spots with incredible grab-and-go pork buns.
(editor's note: while not required, doing a pork bun crawl after reading this is definitely encouraged.)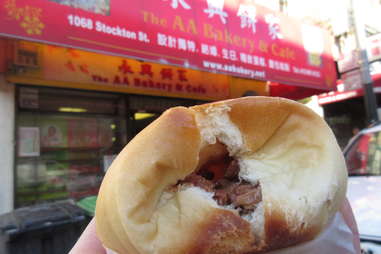 Chinatown
AA's textbook pork buns deserve more attention for their actual bun (which tastes more like a hamburger bun and less like a Hawaiian sweet bread) than their somewhat stingy (though admittedly excellent and gristle-free) interior. At just $1 per pop though, it's hard to complain too much/at all.
Outer Sunset
San Francisco's quintessential Chinese bakery and café is also home to the most expensive grab-and-go pork bun at... $1.30. It's worth all 30 extra pennies though as this pork could be served at Cotogna.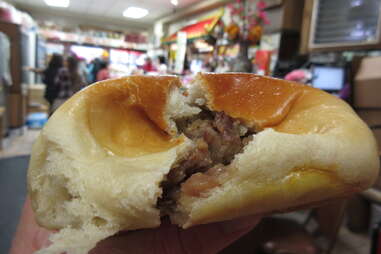 Chinatown
Eastern Bakery claims to be THE Chinatown place that pioneered pork buns in the early days. And while that might be true, it's not the strongest item here. Still, it's plenty strong enough: if you want purely savory meat with a perfect sweet bun, you'll want this.
Chinatown
Fact: there is really no way to know if the Golden Gate Bakery is open -- even the website is pretty unreliable. That's because the much-celebrated custard tarts are so good, the owners can go on vacation as they please. And when it's open, the lines are Alcatraz ferry-long. But it's not only custard tarts at GGB -- the baked pork bun here could easily steal the show long before dessert arrives.
Chinatown
This classic on-the-go dim sum spot knows its dumplings, potstickers, and definitely its steamed buns, which're nicely folded with various points meeting at the top and the filling just poking out -- the temptation to eat this thing between the time when they hand it to you and the time you pay is enormous.
Inner Richmond
You know what's a good sign when it comes to baked delicacies? When the cashier is in the back helping the baking aspect of the operation. And it holds true here. Let's put it this way, if this bakery were a BBQ city it'd be Lockhart, Texas. A smoky sauce features balanced sweetness and smothers what're possibly the most tender nubs of meat encountered anywhere. Oh, and if you're getting a second bun, make it the pineapple & red bean one.
Chinatown
Everything is Bogart-Bacall classic with New Hollywood's pork bun, from the squishy bread to plenty of meat, and a decent mesquite-woody character to the sauce.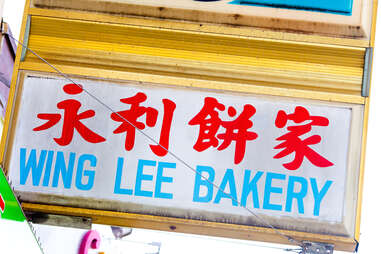 Inner Richmond
Everyone at the counter will be in a hurry to order steaming-hot shrimp- or shark fin-packed har gow, ignore them and direct your attention to the one solitary elderly gentleman sitting in the back, slowly sipping his coffee, munching on his single steamed pork bun. You're gonna want to follow his lead by getting a bun, which'll feature a sour vinegar twang to it and a dryness that's à la day-old white bread, causing the paper to literally stick to it. Strip the bun down to its naked pork self and you'll find a filling that's far from generous, but, that being said, what a glorious filling it is. If bacon jam sounds like your thing (and it really should), this Bud's for you. Err... this bun?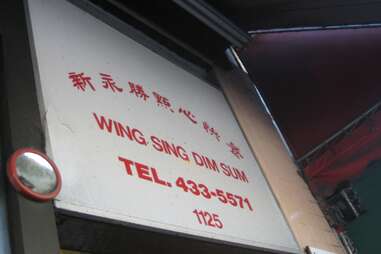 Chinatown
Is it a coincidence that the two premier steam bun shops in the city (Good Mong Kok and Wing Sing) are just a tiny block away from each other? And while Good Mong Kok edges out Wing Sing by a touch (just because there's a slightly more meat-slanted ratio of bun to filling, and the bun a shade softer), this is really getting picky. Get both, decide for yourself.
North Beach/Chinatown
This is the real wild card on the list in terms of whether to get steamed or baked -- they're both really, really good. Outside of Coi and Naked Lunch, not sure where else you'd want to eat on this "interesting" stretch if you're not five shots into the evening festivities (in that case: Sam's).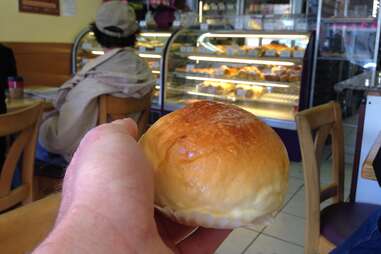 Inner Richmond
Everyone has different preferences about baked pork buns -- texture of the bread, sweetness of the pork's sauce, ratio of pork to bun, on and on. That's what Yelp is for. Go complain there. We're here to celebrate pork buns and crown the winner that checks everything off the list: perfect bun texture with a little gentle give when pressed? Saucy but not gloppy? A little messy but good structure overall? Smoky and sweet, lip-smacking in every way? A red-as-a-cherry interior? And, most importantly, A LOT of pork. Not fat. Pork. This really is the biggest bun of the bunch and the terminus of any pork bun journey.
Sign up here for our daily San Francisco email and be the first to get all the food/drink/fun SF has to offer.
Trevor Felch is a restaurants writer for SF Weekly and contributing editor for Vino 24/7. He wants somebody to come up with a beamed pork bun or steaked pork bun… you know, like cruffins and muffins, make it baked and steamed? Follow him: @TrevorFelch.