Sandwiches come in so many shapes in sizes that it's nearly impossible to write a list of the very best places to get your fix. After all, what is a sandwich even? We can all agree that bread is involved, usually two slices (or a split role) with other edible things between them, but from there things take a turn. Let's not forget, or rehash, the "Is a hot dog a sandwich?" debate. For the purposes of this article, we stuck with classic sandwiches, which means you won't find breakfast sandwiches, sloppy Joes, or even fried chicken sandos on this list. What you will find are 10 excellent options for when you're craving America's classic lunchtime favorite named for an 18th century aristocrat who also had a serious appreciation for meat tucked between bread.
Inner Richmond
The best place to go when you're craving a turkey sandwich
This neighborhood market has a good selection of beer and wine, produce, and other household staples, but that's not why you're going there. You're going there for the "world famous" turkey sandwich to be followed shortly by one of the best naps of your life. The sandwich starts with thick slices of turkey that's roasted in-house and is topped with lettuce, onion, tomato, and pickles. You can add whatever cheese you'd like (we like pepper jack for its saltiness) as well as avocado (sometimes we go there; sometimes we enjoy the sandwich in its more pure form). There's also a choice of bread, but that's actually a trick question because why would you ever get sourdough when Dutch crunch is an option? Exactly. You wouldn't.
Cole Valley
A specialty cheese shop with exceptional sandwiches
Beware: Say Cheese is one of those adorable little shops where you walk in just to grab a sandwich, and you walk out having spent way too much money on some obscure cheese, a slice of pate, a tub of olives, and bars of fancy chocolate. If you can manage to remain focused, however, you can get in and out only spending around $11 for a quality sandwich that feels a little fancy -- or as fancy as a sandwich can feel anyway. That's just what happens when you can order a sandwich with French ham, French butter, gruyere, and cornichon. And though we're pretty into every sandwich on the menu, this is one spot where we often forego meat in lieu of the mozzarella caprese with fresh basil, tomato, and EVOO. There's a choice of bread, but, as we've said before and we'll say again, there's really no choice when Dutch Crunch is a choice.
West Portal
The toasted subs at this sandwich shop have been satisfying locals for decades
West Portal is one of those adorable neighborhoods that there's basically no reason to go to if you don't live nearby. And so most San Franciscan's don't. But note that we said "basically" no reason, because even though you probably couldn't point to West Portal on a map (no judgment), you're going to need to go there to get one of Sub Center's classic subs that are topped with your meat of choice, mustard, mayo, onions, shredded lettuce, tomato, and secret sauce, and then toasted. Sure, you could get one delivered, but just trust us when we say these sandwiches are best eaten fresh out of the oven. Plus, it's silly to pay all of those delivery fees when part of the joy of Sub Center is just how affordable it is (about $10 for a "super," which is a lot of sandwich).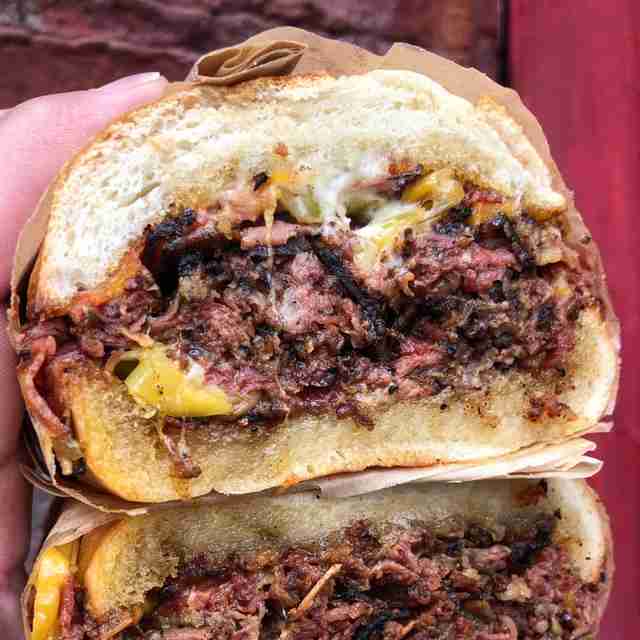 SoMa
Over-the-top sandwiches that are worth every penny. All 1,800 of them.
In a town where a $20 burger has become the norm and people don't scoff at paying six bucks for an ice cream cone, it's still somewhat shocking to see Deli Board's prices -- $17 to $19 for each sandwich. But there's a reason why there's always a line during lunch and it's because those sandwiches are gluttonous, satisfying, and full of flavor. The best move is any of the sandwiches piled high with pastrami and slathered with "Board sauce." There are a few combos that include that, so you can cater your preferences from there. Of course, you should also check The Board for rotating daily specials. Just keep in mind that once you fall in love with one, you never know if or when it will come back.
Mission
A sports bar with Pittsburgh-style sandwiches -- aka fries and coleslaw in the middle
Apparently when you get asked the same question so many times, you make a sign so that you don't have to explain that "Yes! The fries and coleslaw are ON the sandwich" for the one billionth time. Other questions that apparently get asked a lot at Giordano Bros.: What are coppa and hot capicola, are the owners really from Pittsburgh (yes, they are), and if there's a full bar (again: yes). The good news is the only question you'll need to answer is what kind of grilled meat to get in your "all-in-one sandwich" because the hard stuff, like what it includes has already been decided for you -- sliced Italian bread, melted provolone cheese, freshly cut fries, and oil and vinegar coleslaw. Sure, you could try to mess with perfection, but as the Q&A board says: "Our sandwich has been made the same way for 70 years, so we recommend you don't try to change it."
Tenderloin
Huge sandwiches that are complicated, messy, and utterly decadent
Ike's started in the Castro in 2007 (the owner was born and raised here), and has since grown to over 55 locations in California, Nevada, Arizona, and Texas. Unfortunately, because of crazy rents and regulations for chain stores, there's only one SF location: on Polk and O'Farrell. But, hey, at least there's still one place in the city to get your sloppy sandwich fix. Ike's is known for its creative combos, sandwiches named after (and co-created with) celebrities, and their delicious dirty sauce. There's a $30 sandwich called the Kryptonite (roast beef, pastrami, turkey, ham, salami, bacon, pesto, avocado, mozzarella sticks, stuffed jalapeno poppers, onion rings, extra pepper jack), but it's crazy over-the-top (even for us). We prefer the classic Menage a Trois (halal chicken, BBQ, honey mustard, real honey, pepper jack, cheddar, swiss) instead.
Cow Hollow
Delighting the Pac Heights and Marina crowd with deli sandwiches since the 1980s
Whenever someone tells us they live near Union Street, the first thing we ask is, "How often do you go to Marina Subs?" That's because we can't imagine being within walking distance of this old school sub shop and not partaking in "The Fleet" of sandwiches at least weekly. The configurations are simple: three sizes (small, medium, or large), a choice of meat and cheese (you can't go wrong with turkey and provolone) with mustard, mayonnaise, shredded lettuce, tomato, onion, and a secret sauce served on a toasted roll with a perfect amount of crunch. Most people add avocado if only to watch the owner's -- and sandwich maker's -- deft knife skills.
North Beach
This classic Italian delicatessen is the oldest deli west of the Rockies
Joe DiMaggio loved Molinari so much that he had it put it in his will that when he died, the deli was to cater the reception after his funeral. The deli is a great place to pick up Italian staples, like olive oil and wine, as well as to get a one of several dozen varieties of cured meat sandwiches. Our favorite is the classic "Italian Combo" add sundried tomatoes, basil garlic spread, and fresh homemade mozzarella. And while, yes, we have a rule that when Dutch Crunch is available one should always get Dutch Crunch, we'd by lying if we said once in a while we didn't go focaccia for this order. When in SF's version of Rome and all...
Mission
A no-frills corner store with surprisingly delicious sandwiches
At first glance, Rhea's is just another unassuming SF liquor store with a deli in the back. Actually, that's what it is at second glance as well. It's not until you actually eat one of Rhea's famous sandwiches that you understand why this corner store is awfully crowded with people wiping away drool from the sides of their mouths as they wait to place their order. The most popular sandwich by far -- and the one you must get on your first visit -- is the Korean Steak with marinated rib-eye steak, cheddar cheese, house-pickled red onions and jalapenos, lettuce, chili sauce, and garlic aioli on an Acme sweet roll, but unsurprisingly, you can't really go wrong with anything on the menu. Seating is very limited, so take yours to enjoy in Dolores Park.
Tenderloin
What's probably the best banh mi sandwich in all of SF
In the late 1970s and early '80s, thousands of people from Southeast Asia settled in the Tenderloin. They were escaping the devastation of war and the Tenderloin was much more affordable than a lot of other neighborhoods. Today, Little Saigon, a two-block corridor in the Tenderloin, is home to several casual spots to get soul satisfying pho and strong Vietnamese coffee, as well as the best banh mi sandwiches in the city at Saigon Sandwiches. And we don't just say that because they're all five bucks or less, though, of course that helps. The pate combo with roasted pork, chicken liver pate, pickled onion, daikon, carrots, cilantro, and jalapeno is our preferred order, but when we're not up for the five dollar splurge, the roast pork on its own is also perfection.
Sign up here for our daily San Francisco email and be the first to get all the food/drink/fun SF has to offer.