The $$$
Deli Board
Address and Info
SOMA
Some brisket. A little corned beef. How about salami? Muenster. Cheddar! Cherry peppers, of course! Cole slaw? All. The. Yeses.
Any sandwich
Pal's Take Away
Address and Info
The Mission
Sandwich nirvana is the never-ending pursuit of owner Jeff Mason -- there will always be something new to try and something potentially better around the corner tomorrow, just tempting enough to pry you away from the already life-changing shrimp roll (with nori and Thai basil) or a particularly special vegetarian sandwich with sprouting broccoli, roasted red peppers, eggs, and avocado. Pick a sandwich, any sandwich. Can't go wrong.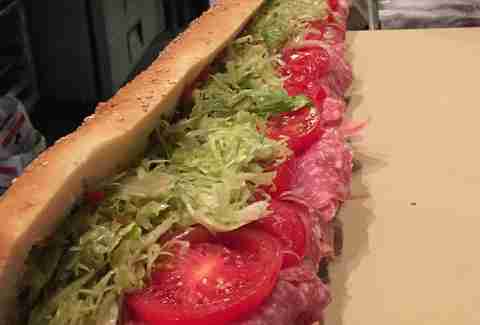 Arista sub
Merigan Sub Shop
Address and Info
SOMA
Philly experts know that cheesesteaks aren't at all the Greatest Sandwich of Brotherly Love. It's the roast pork with rapini and provolone. By a long shot. New Jersey native Liza Shaw, formerly of pasta stalwart A16, knows her Philly subs, so obviously this would be the centerpiece (closely followed by the Summer Veg and the meatball). Grab one of these en route to a Giants game since you're just a couple steps away.
Banh mi dac biet
Sing Sing
Address and Info
The Tenderloin
Oh man, here we go -- the premiere banh mi in not just the TL, but all of the city. Wait, premier-er than Saigon Sandwich? Yep, premier-er than Saigon Sandwich. Because of the shady guys in the back playing… poker. Because of the lovely cigarette smoke everywhere. Because it always closes before the already-early 2pm closing time. Because the ratio of baguette to garnishes, to various cold cuts and pork belly is just right. Because this, my friends, is the perfect banh mi.
Buttermilk fried chicken
Rove Kitchen
Address and Info
Lower Nob Hill
Yes, I'm THAT GUY who doesn't think Bakesale Betty's fried chicken sandwich in the East Bay is all that jazz. This guy from Rove -- which is good enough to thrive without doing the whole phone number/Twitter/Facebook/functioning website thing -- is the fried chicken between bread to be aware of thanks to a house-made bun, slaw, and a twice-brined poultry centerpiece.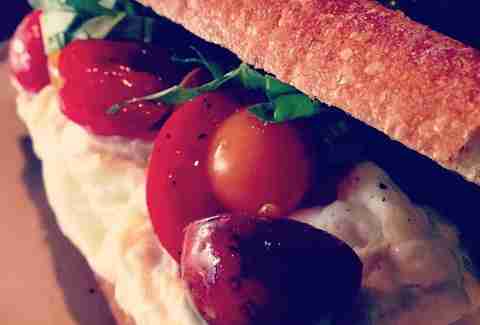 Dish With Save Venue
Name of Item
California Gold
Venue Title -- ADD LINK to (address and info)
Mission Cheese
Recommended Video
You've Been Waiting Your Whole Life to Face San Diego's The Kraken Burger
California Gold
Mission Cheese
Address and Info
The Mission
The gold (!) standard of grilled cheese sandwiches in what is probably the most grilled cheese-crazy area outside of Wisconsin (see: Outerlands, American Grilled Cheese Kitchen, Cowgirl in the Ferry Building), the California Gold blends San Joaquin Gold cheddar with chevre, prosciutto, and fig preserves, and sandwiches them between Josey Baker levain.
The Calabrian
Lucca Deli
Address and Info
The Marina
Please tell us this Marina classic was already on your sandwich bucket list. It was, right? Right?!?
Chicken wrap
Souvla
Address and Info
Hayes Valley
We considered not including wraps as sandwiches because they're sort of somewhere in between a sandwich and a burrito. Then we thought about Souvla. And the tasty "Granch" dressing with Zuni-moist roast chicken. And how the wrap features that pillowy pita, pea shoots, fennel, oranges... And then we decided to include wraps as sandwiches.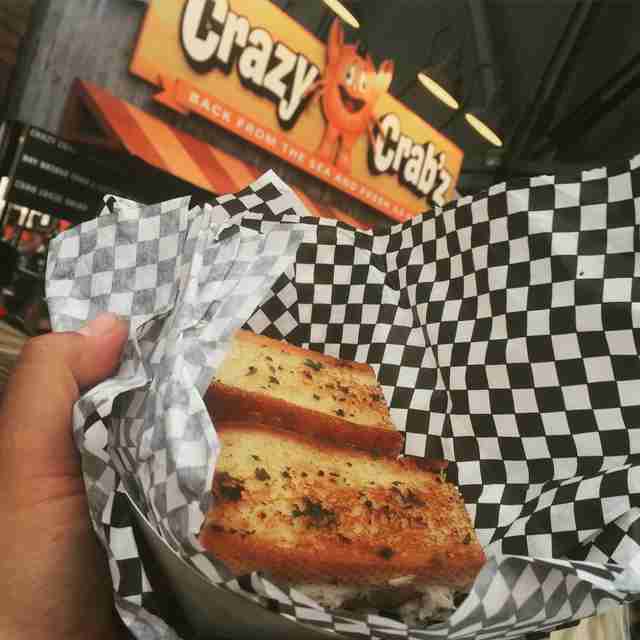 Dish With Save Venue
Name of Item
Crazy Crab'z sandwich
Venue Title -- ADD LINK to (address and info)
Crazy Crab'z at AT&T Park
Crazy Crab'z sandwich
Crazy Crab'z at AT&T Park
Address and Info
SOMA
Of all the sandwiches on this list, here is the most important one (and the second-most expensive one behind the lobster roll). Crab that actually tastes like crab. Between slices of griddled garlic bread with as much butter as the popcorn, and garlic as the Gilroy garlic fries. This is San Francisco at its best. An Anchor Steam in hand with your Crazy Crab'z, watching MadBum K Puig, and a slight breeze blowing off McCovey Cove on a cloudless summer day.
Cubano sandwich
Paladar Café Cubano
Address and Info
FiDi
This is San Francisco's best Cuban sandwich by a significant margin. Everything is in harmony with ham, roast pork, mayo, and mustard tangling with gooey Swiss cheese and pickles. Even though we can now go to Havana, we don't need to for sandwich purposes. Of course it's best enjoyed with a side of fried sweet plantains and sangria. Like most things in life.
Dungeness crab cake
Bistro Boudin
Address and Info
Fisherman's Wharf
Fisherman's Wharf. Toasted sourdough. Dungeness crab. Make. It. So.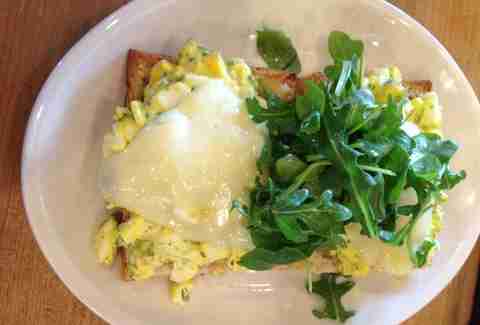 Dish With Save Venue
Name of Item
Egg salad
Venue Title -- ADD LINK to (address and info)
Il Cane Rosso
Egg salad
Il Cane Rosso
Address and Info
Embarcadero
Egg salad sandwich. Yawwwwwwn... until you go for Lauren Kiino's version, which has changed the game in the egg salad world. Lots of hard-boiled egg, bagna cauda butter (basically salty anchovy butter), garlic aioli, and various herbs. This is the rare egg salad sandwich that you don't want to share with the sea gulls.
Falafel wrap
Sunrise Deli
Address and Info
Inner Sunset (& Other Locations)
San Francisco's best falafel comes as a snazzy appetizer-light entrée at Alta CA. Really, though, falafel feels most at home in a lavash wrap with hummus, tahini, cucumber, tomato, and maybe some eggplant and potato if you're feeling "super." Nobody does falafel or falafel wraps like Sunrise. Nooooobody. Yeah, it's technically a wrap but what, are you going to eat falafel on sourdough? This counts.
Fried bologna sandwich
Brenda's Meat & Three
Address and Info
Western Addition
At TL classic Brenda's new Divis ode to the Southern concept of meat & three (where most vegetable dishes are 50% meat), the spotlight always shines brightest on the crispy bologna with pimento cheese and "secret sauce." Not good for your health in any way, but it does bring out the inner kid in you. Just remember: it's available schoolday/weekday lunch only!
Dish With Save Venue
Name of Item
The Goose Is Loose
Venue Title -- ADD LINK to (address and info)
Café St. Jorge
The Goose Is Loose
Café St. Jorge
Address and Info
La Lengua
Apparently they put bananas in their sandwiches in Portugal. Bananas in their sandwiches! And that's with ham, cheese, and tomato -- not like Nutella and jam. (Side note: how is Portugal not still a global empire with this invention????)
Gourmet porchetta sandwich
Roli Roti Gourmet Rotisserie
Address and Info
Embarcadero
The Ferry Building, at its core, is all about virtuous NorCal organic produce, fresh baked pastries, artisan pastas -- you know, the whole Alice Waters anthology. Yet, the longest line anywhere, on any day, on the premises, is for the crispy-skinned beauties of porcine royalty: the porchetta sandwiches at the Roli Roti truck. Yes, we love our in-season figs and tomatoes, but nothing's better than pork-stuffed pork. This sandwich alone causes a mass FiDi exodus on Thursdays at 11:47am.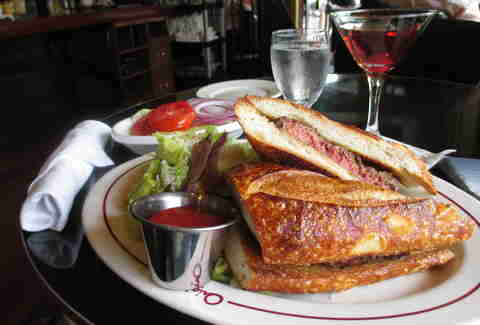 Dish With Save Venue
Name of Item
Hamburger Sandwich
Venue Title -- ADD LINK to (address and info)
Original Joe's
Hamburger Sandwich
Original Joe's
Address and Info
North Beach
We explicitly decided not to include ice cream sandwiches or burgers (because we've already done the whole best burgers thing)… so hold up Mr. Felch, what's this doing here? Well, the massive 12oz (!!) hamburger sandwich is NOT A HAMBURGER. OK? And it is NOT A MEATLOAF SANDWICH either. This is a legit sandwich and the protein happens to be ground chuck mixed with onions INSIDE. It's served inside a baguette and cut in half. Just… like… a… sandwich. With hamburger/ground chuck as the meat. It's a classic and one you need to order a Manhattan with at this North Beach institution. And again, not a burger.
Hot pastrami sub
The Yellow Submarine
Address and Info
Inner Sunset
This Inner Sunset institution specializes in toasted Boston-style subs (we've never seen this in Boston, but believe it) and superb ones at that, best when coated with lots of homemade hot sauce and filled with the primo meat for toasting: pastrami. You've got to get these subs more into your life.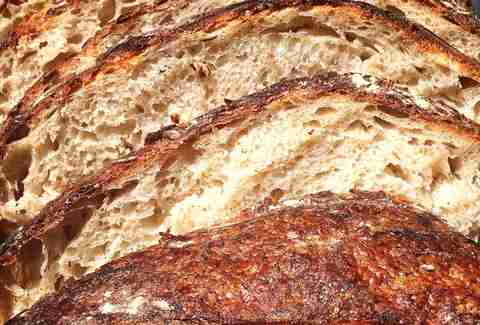 Dish With Save Venue
Name of Item
Jambon Royale & Gruyère
Venue Title -- ADD LINK to (address and info)
Tartine Bakery
Jambon Royale & Gruyère
Tartine Bakery
Address and Info
The Mission
Let's be honest, a sandwich is only as good as the two slices of bread holding everything together. Apparently, Tartine makes pretty good bread. Like, world domination, mega VC-funding good bread. You could put Vegemite on Chad's Country Loaf and it would be fantastic. But we prefer Niman Ranch-cured ham, Gruyere, and mustard (or any of the offerings it's got; ya can't go wrong my friend).
Korean steak
Rhea's Deli
Address and Info
The Mission
Sandwiching the soy-marinated chopped ribeye with cheddar, onions, chili sauce, and garlic aioli in an Acme sweet roll is what Korean BBQ sandwich dreams are made of. The katsu is equally notable at Rhea's but this composition is our overall Korean BBQ standard.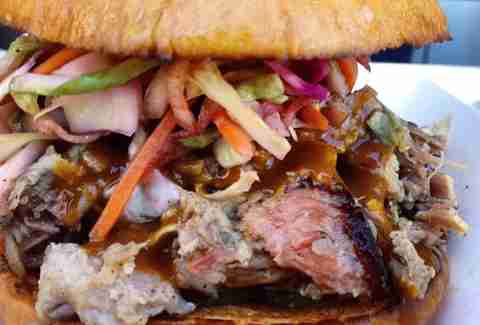 Lamb gyro
The Whole Beast
Address and Info
Mission Bay
Skip the poutine. That's right. We know it's ferociously freezing come pre-game time for night games outside AT&T Park at The Yard's shipping containers, but don't (we repeat: DON'T) warm up on poutine. That is what blankets and the Anchor beer garden are for. Instead opt for the smoked lamb neck à la shawarma style, with harissa, tzatziki, and cucumber/red pepper/onion salad.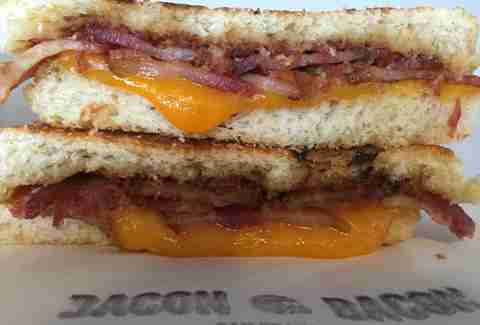 The L.G.B.T.
Bacon Bacon
Address and Info
Cole Valley
If you're talking bacon in SF, you of course have to start with Bacon Bacon, our beloved truck and brick-and-mortar café that lives and dies with crispy cured pork. Their version of a BLT goes overboard on the "B" and also has a name that proudly represents this great city. San Francisco is about bacon. And diversity.
Dish With Save Venue
Name of Item
Lobster roll
Venue Title -- ADD LINK to (address and info)
Woodhouse Fish Co.
Lobster roll
Woodhouse Fish Co.
Address and Info
Various locations
This split-top Maine lobster roll doesn't hold back on cramming in the meat and does smartly hold back on just the right amount of lemon aioli so it's not too mayo-y.
Meatloaf
Guerra Quality Meats
Address and Info
Inner Parkside
What might be SF's finest old-school butcher shop's homemade meatloaf is leaps and bounds above any other version this side of Süppenküche.
Mega Cubana torta
La Torta Gorda
Address and Info
The Mission
There's not much I can say other than it makes the super burritos around the Mission seem like diminutive açai bowls. Eggs, cheese, turkey, breaded chicken, ham, chorizo, sausage, refried beans, avocado… basically everything except some form of seafood. The poblano pepper and Oaxacan cheese torta is also fantastic, as is the lavish, gorgeous carnitas torta.
Menage A Trois
Ike's Place
Address and Info
The Castro (& Other Locations)
You're gonna need extra napkins for this sloppy, decadent BBQ chicken sandwich. Nope, still more than that.
Molinari Special
Molinari Delicatessen
Address and Info
North Beach
This one is a no-brainer. It's San Francisco's Italian salami and cured meats landmark. In North Beach. Obviously you're getting the Special. This is automatic for this list. Just please, pretty please, get it on Dutch crunch.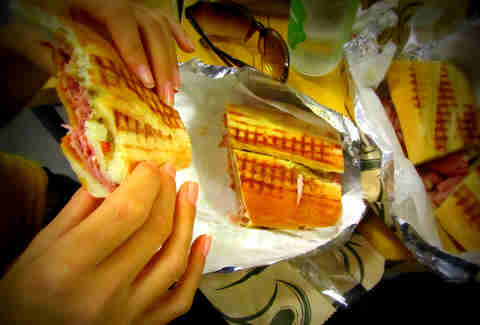 Muffuletta
Boccalone
Address and Info
Embarcadero
This is the kind of sandwich your friend will ask for a bite of, and you'll look at the olive juice-drenched provolone, mortadella, prosciutto cotto and 'nduja made by SF's pig whisperer (<3 you, Chris Cosentino) and politely say "Hahahaha, no way, dude."
Pastrami on rye
Wise Sons Deli
Address and Info
Mission District (& Other Locations)
When these guys opened shop on 24th St a few years ago, we didn't know just how big our deli gap was from deli-rich cities like LA and NY. Turns out it was Carnegie Deli corned beef stack big. Wise Sons has bravely filled a bunch of it though. It smokes its own pastrami. It bakes its own rye bread. Don't get us wrong, the Reuben is a stud, but with such superb raw materials in this pastrami and rye, simplicity beckons. As does a dab of mustard, of course, every other bite. Pro tip: get the half sandwich with matzo ball soup because variety is good, and moist, massive matzo balls are even better.
Pulled pork BBQ sandwich
4505 Burgers & BBQ
Address and Info
Western Addition
Saying that 4505 is our best BBQ spot in the city doesn't mean a whole lot anymore. Everybody knows it is. So why do you always get the damn, best damn cheeseburger, damn it? Yeah, it's damn good, but getting it means you're sleeping on the 'cue, including the pulled pork BBQ sandwich. Stop doing that.
Dish With Save Venue
Name of Item
Roast Beef All-In-One
Venue Title -- ADD LINK to (address and info)
Giordano Bros.
Roast Beef All-In-One
Giordano Bros.
Address and Info
The Mission
Primanti Brothers in Pittsburgh gave the world the all-in-one sandwich with fries and cole slaw stuffed inside the bread with the meat. Giordano Bros. (only in the Mission now, North Beach closed) blessed our city with this novel invention. And you have to admit, it is really fun seeing the rowdy Steelers fans eating these on a fall Sunday morning when they're destroying the Browns.
Roast turkey sandwich
Arguello Super Market
Address and Info
Inner Richmond
The turkey roasted daily at this random Inner Richmond mini market -- the preferred stop of starving USF kids -- uses the Kobe beef of turkey, practically melting from its tenderness.
Roxie Special
Roxie Market & Deli
Address and Info
Mission Terrace
Make sure you get the Roxie Special (ham, mortadella, salami, artichokes) with EVERYTHING, as in, lots of jalapeños. And nobody will judge if you're getting a fifth of bourbon and some Fritos with a sandwich. By the way, if it weren't for Roxie's, would anyone even know where Mission Terrace is? If any neighborhood of SF was put on the map because of sandwiches, this is it.
Short rib with caramelized onions
The Golden West
Address and Info
FiDi
If we were a FiDi cubicle bee, we'd just rotate between Dennis Leary's trio of sandwich-salad spots -- Golden West, Sentinel, and Terminus. He's a top-flight chef who backtracked to focus on breakfast and lunch instead of more elaborate dinners (at Canteen, Rubicon…), and the ever-changing roster of sandwiches at all three of his spots features excellent, homemade bread, tasty accoutrements, and beyond-excellent proteins.
Dish With Save Venue
Name of Item
Special Breakfast Sandwich
Venue Title -- ADD LINK to (address and info)
Devil's Teeth Baking Company
Special Breakfast Sandwich
Devil's Teeth Baking Company
Address and Info
Outer Sunset
We're a brunch town, but not a breakfast sandwich town, à la bacon, egg, and cheese-centric New York. That was the case until everyone discovered Devil's Teeth out in the foggy wilderness of Outer Sunset. Cozy up for two scrambled eggs, cheddar, pepper jack, avocado, lemon-garlic aioli (soooo addictive), and applewood-smoked bacon on the real key component of the event: a fluffy homemade buttermilk biscuit.
Wild Planet Tuna Melt with Tillamook cheddar
Bocadillos
Address and Info
FiDi
Spain knows everything is better in small sample sizes, from sherry to tapas to lunch sandwiches (known as bocadillos over there). Why have one sandwich when you can have a trio of smaller ones for the same stomach space? Olé olé to that concept and how it's orchestrated daily at lunch by the appropriately named (and totally underrated) Bocadillos. There is REAL tuna and totally REAL cheddar from Oregon's finest cheese-maker in this adorable little tuna melt. Best of all, you can sample other little bocas… or just go all tuna out.
Sign up here for our daily San Francisco email and be the first to get all the food/drink/fun SF has to offer.
Trevor Felch is a restaurants writer for SF Weekly and contributing editor for Vino24/7. Look, sandwiches are great, but his favorite sandwich remains peanut butter, jelly, and banana. No Nutella. Just like in second grade. Follow him @TrevorFelch.
Stuff You'll Like