If you're in the mood for beer, ice cream, beer, burgers, and... more beer!... you're in luck because that's mostly what's on tap at these eight bars and restaurants that heated up July. Did we mention there's beer to be had? Seriously, brew lovers, July was your month.
Mission
What you're getting: Firestone Walker Brewing Company's Stickee Monkee (while it lasts) and owner Barry's current favorite Maple Pork Sandwich
What do you get when two Irish cousins open a bar? Well, if you were in San Francisco this July, you got The Crafty Fox Ale House. Owned by cousins Barry Smyth and Michael McCloskey (formerly of Brick & Mortar), The Crafty Fox fires 36 California-leaning beers through taps laid out across a copper-topped bar, a bunch of which you likely can't find anywhere else in the city.
And while yeah, the beers are why you're coming here, stick around long enough for the elevated Irish pub fare, too. The kitchen window will send out deliciousness like grilled octopus, fried rabbit, and avocado tempura (that's fried avocado, guys), all of which you can enjoy at long communal tables in the back, at the bar, or along floor-to-ceiling windows that encircle three-quarters of the space.
Bernal Heights
What you're getting: Pickled quail eggs with fried onions and hot paprika; a Whistle Stop shandy w/ Old Bus Tavern Lemon Basil Saison and bourbon, lemon, rosemary honey, orange flower water (if it's sunny); or the Shady Grove with OBT Chili Porter, mezcal, cacao tincture, vanilla, and egg white (if it's foggy)
As if the refined and shareable tavern fare from Chef Max Snyder (formerly of four different Michelin starred restaurants: Saison and Coi in SF, and Eleven Madison Park and The NoMad in NYC) wasn't enough to get you in the door, Old Bus Tavern's drink program will get you all the way there thanks to the extensive menu created by bartender-to-know Christina Cabrera.
From easy-drinking shandies made with the tavern's house brews, to creative (and efficient) beer-and-shots, to cocktails that favor whiskey, tequila, and mezcal, pretty much every type of imbibing experience is represented at this neighborhood brewpub that we think might end up being the best opening OF THE YEAR. Which is a great thing since you'll likely want to move in to this cozy-yet-spacious tavern that features an exposed brewery, ensuring beer aficionados will have a front-row seat to the ale-making process.
Mid-Market
What you're getting: The Long Strange Trip cocktail (with candy cap mushrooms infused with 1776 rye, lemon, black pepper, and Zucca Amaro); Axis Deer Tartare; Pig Ear Fritto Misto
This sexy, ambitious brewery-cum-restaurant-cum-cocktail-destination has already made a big splash in the corner of the Twitter building as the place for post-work dinner and drinks and boozy power lunching (definitely get the Slow Roasted Trip Tip Sandwich if you're going for the latter).
The main attraction at this spacious, Vegas-like space is the bar: 52 rotating draft beers, more than 100 wines by the glass, and hundreds of rare, fine spirits that bar master Zachary Taylor whips up into mind-bending "omygodwhatdidIjusttaste" concoctions. Chef Chris Fissel (formerly of Chez Spencer) is in charge of the menu, which's full of rich, gamey dishes that won't mess up your Paleo diet
Pac Heights
What you're getting: The seasonal Strawberry White Balsamic ice cream
Everyone's favorite high-tech, made-to-order ice cream shop unveiled its second San Francisco location in Pacific Heights late last month, just in time for ice cream season. The benches made of Radio Flyer wagons and lights constructed out of milk bottles lend an adorable, retro feel to the space as patented Brrr machines churn out flash-frozen treats with the help of liquid nitrogen.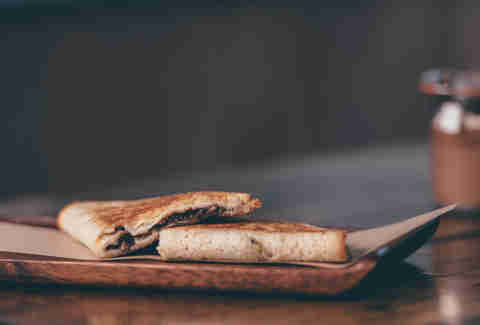 Pac Heights
What you're getting: Porchetta with salsa verde
You know a place is good when the masses literally force the owners to open a complementary restaurant right across the street. Doing just that are b. Patisserie owners Belinda Leung and Michael Saus, who are doubling down on the patisserie's success with a small corner spot offering grab-and-go sandwiches, salads, and a few pastries exclusive to b. on the Go.
Lower Haight
What you're getting: Breakfast torta and beer, duh
If you're like us, you totally don't mind having beer with breakfast -- in fact, you prefer it that way. So you'll love the work in progress that is Black Sands Brewery, currently offering breakfast, espresso, lunch, three guest beers, and three house-made brews while the team works on a full kitchen and cocktail menu, rolling out August 1st. In the meantime, sample its three first beers (SMASH Nelson, Son of Man black IPA, and Empire Saison), dine on the popular breakfast torta or pork curry, or sip De La Paz espresso. Bonus: on Fridays, Saturdays, and Sundays, the bottle shop opens for your beer-on-the-go needs.
Alamo Square
What you're getting: Beet Down slushie made with gin, strawberry beet puree, lemon, and rosemary absinthe whipped cream
When we heard Justin Lew and Ian Scalzo (of Bourbon & Branch) were opening a new bar called Horsefeather in the former Ziryab space on Divisadero, we didn't know how long we could hold our horses. Luckily the crew answered our impatience by opening up a temporary, makeshift, pre-bar bar (sorta like what Tradition did with Mr. Lew's Win-Win Bar and Grand Sazerac Emporium) while they put the finishing touches on their more permanent project. The result is a no-frills pop-up-esque watering hole offering humorously named, delicious boozie slushies.

Mission
What you're getting: Seven Spiced Salmon and jalapeño-infused plum wine served with soda
Pan-Asian flavors meet California sensibilities at this cozy, moderately priced eatery with an open kitchen. The result is comforting fusion cuisine that's at once familiar ("Oh, I know what albacore is...") and exciting ("But I've never had it with ponzu jalapeño sauce on it!"). Enjoy small plates like Edamame Hummus or Portobello Mushroom Tempura, or share family-style dishes like Hanger Steak BBQ Mushu Wraps, Mongorian Lamb, or Seven Spiced Salmon.
Sign up here for our daily San Francisco email and be the first to get all the food/drink/fun SF has to offer.
Amy Copperman is a regular contributor at Thrillist. Find out where she's drinking beer on Twitter.