San Francisco's Best Burritos, According to Bay Area Chefs We Love
Nany New York/Shutterstock
Food in San Francisco is a sacred art form. Words like "sustainable," "farm-to-table," "organic," and "local" get thrown around... a lot. We elevate food to its highest form and treat chefs like gods (for good reason, too -- they're damn talented here).
But even the most highly trained chefs know there's only so much foie gras, agnolotti, and locally sourced pheasant one person can eat. Whether it's after a long shift, or as a much-needed hangover cure before stepping behind the line, sometimes, even the masters among us need a burrito. We surveyed executive chefs from some of the top restaurants around the city for their all-time favorite San Francisco burritos, and these made the cut...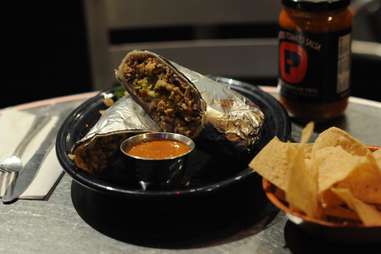 NoPa & The Mission
"More for sentimental reasons, but Papalote is our favorite. We lived right across the street when we first moved to San Francisco, and we were so incredibly broke at the time. When I say broke, I mean really broke -- like negative amounts in our bank account broke. The great thing about Papalote's burritos is that they're so big, we could either split one between the two of us or each get one and have half for dinner that night and save the other half for lunch the next day. I always got chicken, Evan got veggie." -- Sarah Rich, Rich Table
Lower Nob Hill
"Personally, my favorite burrito right now is from Taqueria Los Hermanos, in the liquor store called Mid City Market and conveniently right next door to Huxley. I order the California burrito al pastor -- it's got fucking french fries in it, come on. Plus, it's in a liquor store, so to me, it's a one-stop shop! Since it's located right next to the restaurant, I eat one at least four times a week (and sometimes twice a day depending on how my night at HA-RA went). This one is a definite go to for my burrito cravings." -- Manfred Wrembel, Huxley
The Mission
"Kung pao pastrami burrito from Mission Chinese delivered to my apartment through Caviar when I'm hella hung over." -- Ryan Pollnow, Aatxe
The Mission
"I love the 'crispy burrito' at La Taqueria on Mission. It isn't on the menu -- you have to ask for it -- but it's the best. I always get the carne asada, with beans and just a little rice, which is my favorite. They assemble it and then put it on the comal, turning it occasionally until it's crispy, golden, and fantastic!" -- Joanne Weir, Copita Tequileria y Comida

"I generally get the lengua burrito from La Taqueria. They marinate and season their meat really well, and don't use rice. Also, it is a reasonable size so the ratio of beans, sauce, meat, and tortilla are proportionate." -- Mourad Lahlou, Mourad & Aziza

"La Taqueria doesn't have rice in the burrito, which makes it really amazing. Plus, they braise their carnitas pork in Coca-Cola, which stops the bus. It is the best, simple burrito in the city and, probably, the nation to be honest." -- Aaron Toensing, Spaghetti Brothers

"La Taqueria is one of my favorites -- a solid burrito spot, and the flavor is spot-on. The carnitas is delicious." -- Chef Paul Piscopo, PABU
The Mission
"When I'm hankering for a burrito, it's the off-menu shrimp and carne asada super burrito with no rice from El Gran Taco Loco. I never get rice because the burrito itself is already too filling." -- Tim Archuleta, ICHI Sushi + NI Bar
Lower Haight, Noe & The Mission
"I love the fact that they use smart choices when it comes to local product and sustainability but it's still a kick ass burrito. If I'm there early I like to get the salmon tacos -- they are light, and straightforward. If I'm super hungry or curing a hangover, I like to stick to the super burrito with 4505's chorizo -- it brings me right back to life, and I don't feel guilty for doing it. Everything is well seasoned, and super fresh. It's an honest taqueria doing a great job." -- Tony Ferrari, Hillside Supper Club
NoPa
"The Chile Relleno Burrito at Green Chile Kitchen reminds me of a Trujillo from Taos. It's good because hatch green chile is the single best chile on earth." -- Jason Ryczek, Farallon
The Mission
"As a family, one of our favorite local burrito spots to visit is Taqueria La Cumbre. I always get the grilled chicken burrito -- with no frills, sauce, or cream." -- Gayle Pirie, Foreign Cinema
Oakland
"They have two trucks at their parking lot stand on the corner of 21st and International Blvd. I love getting their burrito with a cut of meat that isn't seen everywhere, called the suadero. It's the bottom of the sirloin, and it's delicious. In America, we don't butcher for this part and usually just leave it attached to the sirloin or the tip. It's a little bit chewy, but in a great way. Plus, they have seating with the two trucks, and the lines aren't that long." -- Kyle Itani, Hopscotch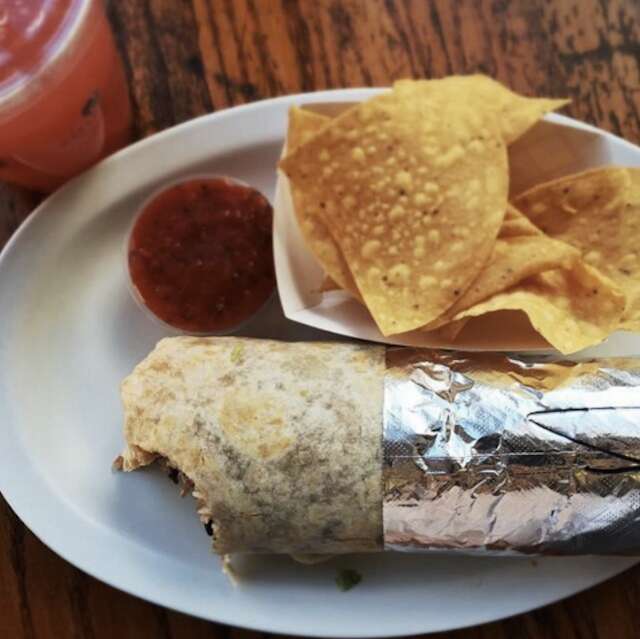 The Mission
"I love the spicy shrimp burrito at El Toro because of the quality -- they use fresh ingredients, and the food is really good." -- Adam Sobel, MINA Test Kitchen
The Mission
"Having grown up in San Diego, I've always had issue with the style of burritos up here, but usually I go to Cancún, on Mission/19th. I order a carne asada, with only cheese, avocado, and salsa, then ask them to make it 'el dorado,' which means they roll it on the plancha, and make it golden on the outside. Closest thing to home and I get to skip on all the fussy rice, etc." -- Jesse Koide, Pink Zebra

"I enjoy Cancún because it has a good ration of rice, beans, and avocado. Something that puts it over the top for me is their salsa -- nice and spicy -- and I like waiting for my number with some good chips. Also Cancún is right in Commonwealth's neighborhood, and sometimes after service, I need a late night bite. Cancún is just a top notch Mission burrito." -- Michael Evans, Commonwealth

"I'm more of a taco guy but when I feel the need for a burrito (i.e., when I have a hangover) I like Cancún on Mission St." -- Craig Stoll, Delfina
The Mission
"The Al Pastor at El Farolito seems like an easy bullshit answer, but that's because it's probably the best burrito in SF." -- Jason Ryczek, Farallon

"When I am feeling un-health... well let's just say not as healthy, I love me some El Farolito at 24th and Mission. They have been knocking it out of the park ever since I can remember. It's the size of a baby, and you feel slightly ashamed when you finish it, but not so much as to leave any on the table!" -- Mat Schuster, Canela Bistro & Wine Bar

"My favorite spot for burritos is El Farolito. I'm all about the cabeza (head), lengua (tongue) and sesos (brain). Great ingredients that you can usually only find in fine dining restaurants (or great Mexican/Asian restaurants). El Farolito is incredibly casual, fun, and consistent." -- Jennifer Puccio, Marlowe/Park Tavern/The Cavalier

"To be honest, El Farolito is normally a post bar-3am dining spot for me, though I must admit I haven't been in a while (I'm a bit more responsible now). I always order the "super quesadilla suisa el pastor." It's pretty much a burrito -- it's huge. I think "suisa" means super so I usually get a laugh out of the guy at the counter because I am basically ordering a super super." -- Erik Lowe, Spaghetti Brothers
Sign up here for our daily San Francisco email and be the first to get all the food/drink/fun SF has to offer.
Eloise Porter is a Thrillist contributor who, after these interviews, has a massive hankering for a super burrito. Follow her on Twitter @eloisepporter.