As much fun as processed food can be, it should come to the surprise of no-one that food tastes best when it's made with, you know, food, ideally straight from the place where the food comes from. That's why we partnered with Bolthouse Farms to spotlight some of the best farm-to-table in SF.
Bluestem Brasserie
Nose to tail butchery means that they're using every part of the grass-fed, organically grown, locally raised meat for dishes like their rum-soaked rib eye or the porcini and coffee crusted New York strip. And since it lives a healthier life than you do, you can be sure it's delicious. Hit up Bluestem Brasserie from now through Wed, Nov 20, and walk away with a free bottle of Bolthouse Farms juice -- follow this map to get the goods

*While supplies last
Bar Tartine
Bar Tartine might source its ingredients from within California, but the dishes they make with it -- drawing from an impossible Venn diagram of Japanese, Scandanavian, and Eastern European influences -- shows that keeping things regional is no more a limitation than an "are you 21?" field for an adult site.
Beast and The Hare
Where's the beef? And the rest of the tasty protein sources? It's at Beast and The Hare, along with duck chicken, marrow, veal, pork belly, and many, many many other instantiations of their meat-to-table philosophy
Radius
They're named after the principal that all their food is sourced from within a 100 mile radius. The only deviation from that rule? The tap water.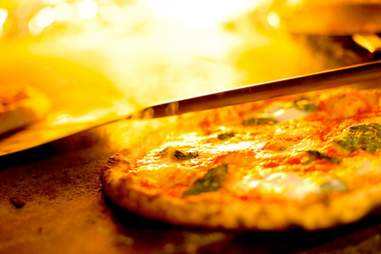 Flour + Water
Flour + Water's all about making real Italian food, which apparently does not involve cans of dinosaur-shaped pasta. What it does mean: using the best sustainably sourced ingredients, from the lettuce to the cheese to the wood used to heat their oven. Yes, even the wood's farm fresh.
Namu Gaji
The best farm to table restaurants have a tight relationship with the places they get their food from. Namu Gaji is run by three brothers who source their food from the farm they actually own. Relationships? Unless they all get amnesia and forget their own names, they're doing pretty good on that count.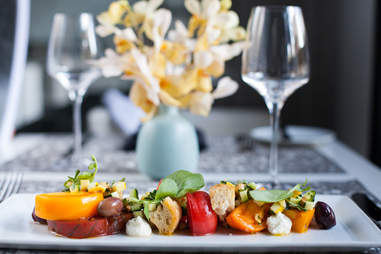 Trace
Their honey is made on the roof. Their vegetables are farmed on the fourth floor terrace using a process called aquaponics, which involves fish feeding the plants in a way we will not describe here. If Candy Crush were Farm Crush, these guys would be like 50 levels ahead of you.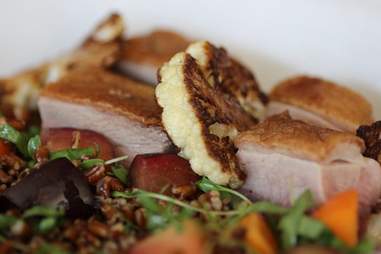 Rich Table
Chefs Sarah and Evan Rich are so deeply involved in the sourcing of their food, they can probably tell you the nickname of the pig that provided your pork belly. Hopefully the nickname was Pig Newton.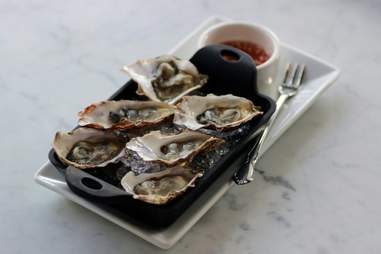 Local's Corner
Their menu is beholden to the day's sustainable catch/harvest, so those sardines you love one day might be gone the next. But with a plethora of small plates (and some of the best oysters in SF), you're not going to leave brokenhearted and empty bellied.