The best frozen treats in SF, from blended cake shakes to absinthe sorbet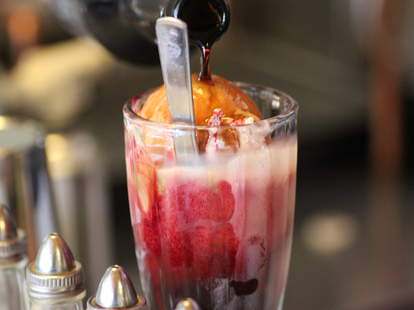 Summer is just around the corner, and, thanks to global climate change, San Francisco might actually be seeing some hot temps in the coming weeks. To that end, we've discovered the five best frozen (and mostly boozy) delicious things to help keep you cool in a city that's pretty ill-equipped for anything above 75 degrees.
Absinthe Sorbet
Maven
598 Haight St; Lower Haight; 415.829.7982
Used for several different cocktails on the menu, the best way to enjoy this is probably in their brunch-only Death in the Afternoon, which pours Champagne over a generous spoonful of the stuff, because there's nothing like cutting booze with... more booze.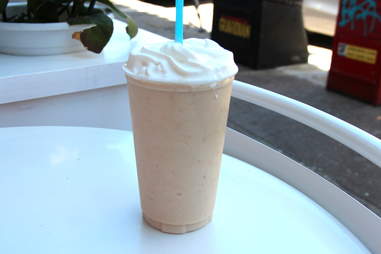 Stud Muffin Cake Shake
Sift
2411 California St; Pac Heights; 415.580.3030
Also the exact name of the dance you will be doing when you eat this, the Stud Muffin Cake Shake throws a brown sugar beer cupcake with salted caramel frosting and cayenne-dusted bacon into a blender with milk and ice for the best not-ice-cream-using shake maybe ever.
The Rebound Fling
The Ice Cream Bar
815 Cole St; Cole Valley; 415.742.4932
Not just what a few too many of these might make you do, the Rebound Fling's also a delicious shake that combines Speakeasy Payback Porter, seasonal berry ice cream, sour cherry syrup, and Lactart, which we're pretty sure tastes better than it sounds.
Key Lime Pie Shake
The Corner Store
5 Masonic Ave; The Richmond; 415.359.1800
This boozy dessert with Licor 43, housemade vanilla vodka, lemon-lime syrup, shaved lime, graham cracker, and vanilla ice cream is totally acceptable for you to hold for your real girlfriend from Canada who is just in the bathroom right now.