The best, most hidden grab-n-go windows in SF
When you want quick, good food options in this city, your best bet is often to... move to another city. That, or maybe find one of SF's tucked-away to-go windows. To that end, we've assembled a handy guide to some of the best, most you-probably-didn't-know-they-existed-est spots in the city: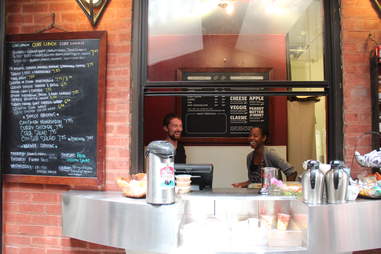 Piperade To-Go: If you're anywhere near Levi's Plaza, then you're also near this must-visit window in Icehouse Alley. Order the Mr. Williams sandwich (named after the Williams-Sonoma dude, and made with katsu-like, extra-firm fried chicken breast & sheep's milk Manchego) and it'll be handed to you by the awesome/attractive/maybe-inspired-that-Ben-Folds-song Zack and Sarah. Who are hilarious! Just look at them guffaw!
Red Door Coffee: Based out of the side of the gallery spot 111 Minna, this is the window to go to if you need your coffee quick, without any of that postmodern nonsense. Impressionism, though... You have all the time for that.
The Golden West: Definitely where you should go, Young Man, this FiDi-ish spot offers daily rotating specials and stand-by sammies, like the short rib with caramelized onions or pulled pork with mustard cabbage, which may or may not (but probably may) be handed to you by the very pretty lady you see here.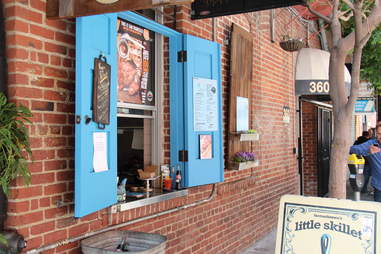 The Little Skillet: From the great people behind farmerbrown, this SOMA alley window concentrates on the two Southern comfort foods everyone can get behind: Chicken 'n Waffles and Po' Boys. Oh, and also, a waffle dog, which is exactly the amazing hot dog/waffle bun combo you were hoping it was.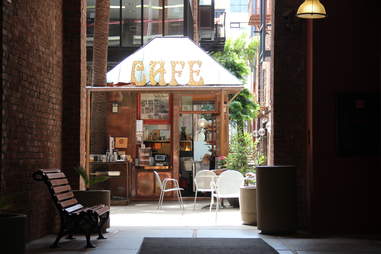 Jackson Place Cafe: Hidden off the main path (so much so that you'll probably miss it the first three10 25 times you walk by), this teeny tiny spot has the added benefit of a picturesque courtyard for enjoying breakfast or their rosemary ham and Gruyere paninis. Plus, coffee!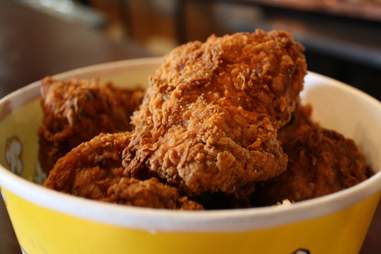 The Rock Bar: In the inverse of all of the other windows here, The Rock Bar in The Mission has midnight chicken on Fridays and Saturdays that, rather than making you go outside, is actually delivered to patrons inside the bar through the side Dutch door, pictured at the top to the right of the donkey (donkey not necessarily included... but probably).