If you've always wanted to time travel, this month's crop of San Francisco openings acts as your very own DeLorean. Feel like a '70s-era rockstar in a secret bar or get your mid-century glam on at a jazz supper club deep in the Tenderloin. In between, a sandy island bar is ready for San Francisco's Indian Summer, and the new Tartine Manufactory invites you to worship at the altar of bread and craftsmanship. Don't buy groceries, you're gonna be eating out all month.
All of the restaurants on this list are part of our ongoing quest to find this year's best new restaurants in America, and we're combing through every opening in every Thrillist city. Get involved on Instagram -- #BestRest2016 -- to let us know your picks and your favorite dishes at each of these new spots.
Tenderloin
This swanky supper club and jazz bar may be the most New York-feeling spot in the city, but the bar and kitchen staff has serious SF street cred. Zuni and Chez Panisse alum Ryan Cantwell serves up Spanish-influenced small plates and hearty large meals such as meatballs, pot pies, and patty melts until 1 am for under $20. While you'll be tempted to linger at the street-level bar -- where you're greeted by a huge center counter and a mural of the neighborhood on almost-black exposed brick -- head downstairs for nightly music, cabaret, and art installations against an over-the-top backlit stage.
Mission
Tartine Manufactory is a museum to San Francisco's artisanal craftsmanship, which Chad Robertson and Elisabeth Prueitt have exemplified since opening Tartine in 2002. The light-filled, 5,000-square foot space at 18th and Alabama streets, which boasts light wood, raw leather, exposed concrete, and hand-crafted everything, houses a bakery, restaurant, and a coffee shop all under one roof. The bakery pumps out award-winning pastries, liege waffles, and fresh loaves, while also serving light California fare, such as grain bowls, until 5 pm. Swing by the coffee station to recharge with a cup from Tartine's own bean roasters, Coffee Manufactory, or stop at the restaurant and bar for slightly more substantial fare, including salads and sandwiches, plus beer, wine, and low-proof cocktails. The Manufactory also has plans to add an ice cream shop to its list of tasty kiosks, so check back in a couple weeks for something sweet.
SOMA
This co-working space-meets-cafe-meets-taproom also screams SF. The public cafe serves Equator Coffee and Tea, pastries, and light lunch options (like Burma SuperStar's famous tea leaf salad) then transitions to a taproom at night with 12 rotating beers. You can pay monthly membership fees to join the co-working space and rent a desk (and phone booth, plugs, and super-fast Wi-Fi) for $3/hour -- or join the laptop-toting work nomads in the cafe for fast Internet and copious plugs.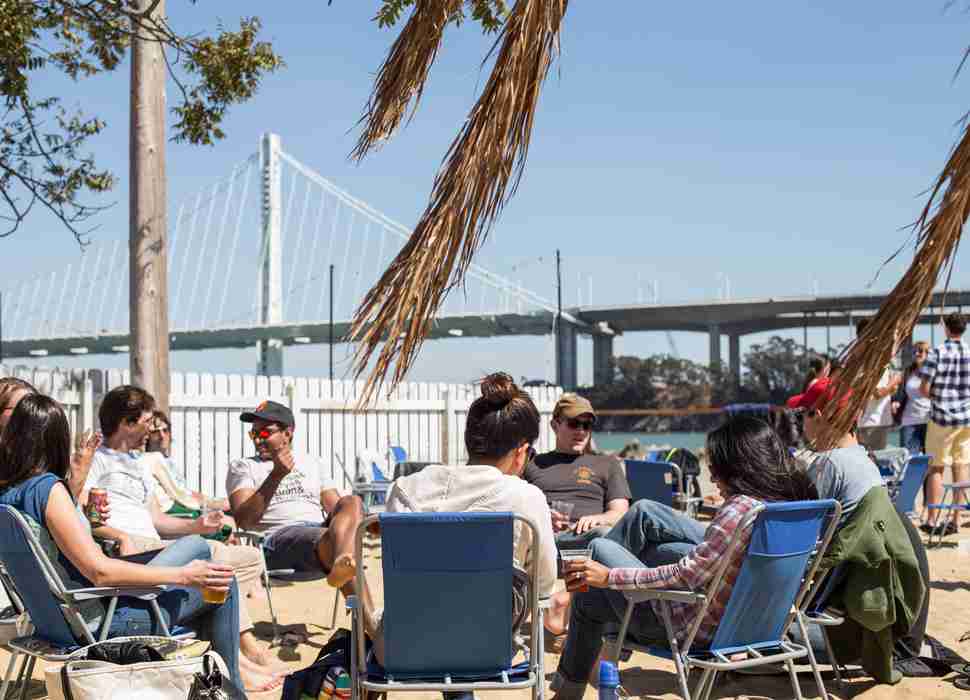 Treasure Island
An airplane hangar and an outdoor beach club (complete with sand) act as the latest home for local craft beer company Woods, which has small outposts in San Francisco and Oakland. If you're not familiar with Woods ales, try one of its adventurous concoctions infused with yerba mate and hibiscus as you play tiny station lawn games and enjoy $5 empanadas with an epic island view. Woods Beach Bar is gearing up for Indian Summer weather with longer hours on Thursday evenings beginning Sept. 15 and is open on weekends through October.
SOMA
The secret bar behind the Cavalier's bookshelf used to be reserved for San Francisco elite, but now it's flung open its hidden entrances to the masses.
Just because anyone can lounge on the zebra banquets and posh leather in this rollicking 1970s-inspired den, doesn't mean it's lost any of its allure. Reimagined as a bohemian salon, Marianne's is all rocker-chic luxury, with glamour that extends to the drink and food selection. Classics like the Long Island Iced Tea are given a twist with tea-infused Flor de Caña Rum, vodka, gin, Combier, lemon, ginger and cola, while originals such as the Indian Summer (made with gin, jalapeño, cucumber, lemon cordial, soda and a basil-salt rim) are offered by the glass or punch bowl. Big Night Executive Chef and Partner Jennifer Puccio is behind the array of flavorful bar bites here, including Brussels sprout chips, crispy stuffed squash blossoms, a refreshing summer melon salad, potted Dungeness crab, and oysters baked or fresh. Marianne's takes reservations for two to eight people, but you can chance it with a walk-in -- enter on Jessie Street or check in at the main Cavalier bar for an escort to the back room, and be prepared to walk into your very own Instagram filter.
SOMA
A massive sports bar has joined the likes of Butter and DNA Lounge, rounding out the offerings in this rowdy stretch of SOMA. It's a sports fan and beer-drinker's paradise with 21 big screen TVs and 40 beers on tap -- as well as more than 100 bottled beers -- in a converted warehouse space. True to fashion, the space comes complete with pinball machines, pool tables, and foosball.
Nob Hill
If you, too, assumed that the massive buffalo logo meant that a BBQ spot was coming to Polk Street, you might be surprised to know that this high-ceilinged bar-cum-restaurant specializes in Asian-fusion cuisine by Executive Chef Tim Luym. Craft beer and small New American tapas with Asian twists are the main offerings, and Buffalo's reasonable prices that mean you can taste much of the menu in one sitting; be sure to try the Buffalo meatballs with keffir lime and poke. There's also an extensive, interesting beer list to get your night off to a buzzy start. The venue is divided into a spacious bar area and a restaurant area suited for small parties. The whole space draws crowds, but Polk Street nightlife invades the wide bar area, in particular, by nightfall until the spot closes at midnight.
Sign up here for our daily San Francisco email and be the first to get all the food/drink/fun SF has to offer.