The best of SF bar snacking
When you're an attorney studying for the big exam, you need sustenance. But who cares about lame lawyer problems, because we're here to talk about the more important kind of bar snacks. You know, the ones that keep you upright while drinking. Here are some of the finest examples you'll find in SF across assorted critical categories
Most Likely to Give You An Immediate Coronary: Deep-Fried TwinkieButter, SOMASure, the bar may be more of a bridge-and-tunnel crowd, but you kinda have to love a place that's white trash-themed and comes complete with this carney-worthy fare. Just don't blame them for the bypass.
Most Essential Fried Thing: Fried Chicken Sandwich
Hi Tops, Castro
Consulted by a former Top Cheftestant, the eats menu at this bros-who-like-bros sports bar is all a step above the stuff you'd expect from such an establishment and, of all the items, the one not to be missed is the absolutely flawless fried chicken sandwich.
Best Shamefully Gluttonous Use of $5: 25-cent wings
Lightning Tavern, Marina
If you happen to be up in the Marina and want to get a ton of deliciousness for very little money, you gotta head to LT on a Wednesday to grab some of their seriously legit wings for cheap enough that you can totally order 20 of them for yourself... and a friend. And her friends.
Best Place To Eat The Namesake: Trick Dog
Trick Dog, The Mission
Sure, the drink menu here's so good that you could have one of everything (and probably should), but don't miss their dog with a house-ground blend of chuck, brisket & sirloin, and topped with onion, pickles, cheddar & house sauce... though we swore he was more of a painkiller guy.
Best Eats Near A Strip Club: Grilled Cheese
15 Romolo, North Beach
Smack dab in the middle of all those classy Broadway joints is the alleyway/ street that leads you up to a fantastic little bar with an even more fantastic grilled cheese... that's made all the better with quince aioli, guanciale & fresh apple... or what happens when Gwyneth's daughter gets bratty.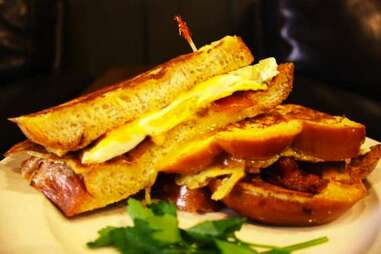 Best Brunch Item Name: Wake 'N Bacon
Dr. Teeth and the Electric Mayhem, The Mission
Since you're probably already dealing with a hangover from this very bar, you might as well bring things full circle and grab this gooey combo of bacon, cheddar, and a fried egg sandwich, all grilled to perfection with a really silly name whose reference we totally don't understand... at all.
Best Late-Night Sustenance: Fried Chicken
The Rock Bar, Bernal Heights
Delivered from just across the street at The Front Porch, you can get all the fried chicken your slightly fuzzy eyes think your stomach can handle... which is, apparently, a ton.
Best Mid-Work Grub: Nachos
Old Ship Saloon, FiDi
If you happen to work in the FiDi (highly likely) and also happen to have a job where a lunchtime beer is cool (less likely), you gotta hit up the Old Ship for, well, beer, but also for their mountainous, gloriously overtopped nachos where you'll never have to worry about getting chips with no cheese.
Best Late-Night Almost-Burgers: Pork Belly Sliders
Alembic, Haight
If you're having a late night at The Alembic, you're already doing a great job. If you're also chowing down on their pork belly sliders with smoked honey mustard, pickles, and mizuna, kudos to you sir.